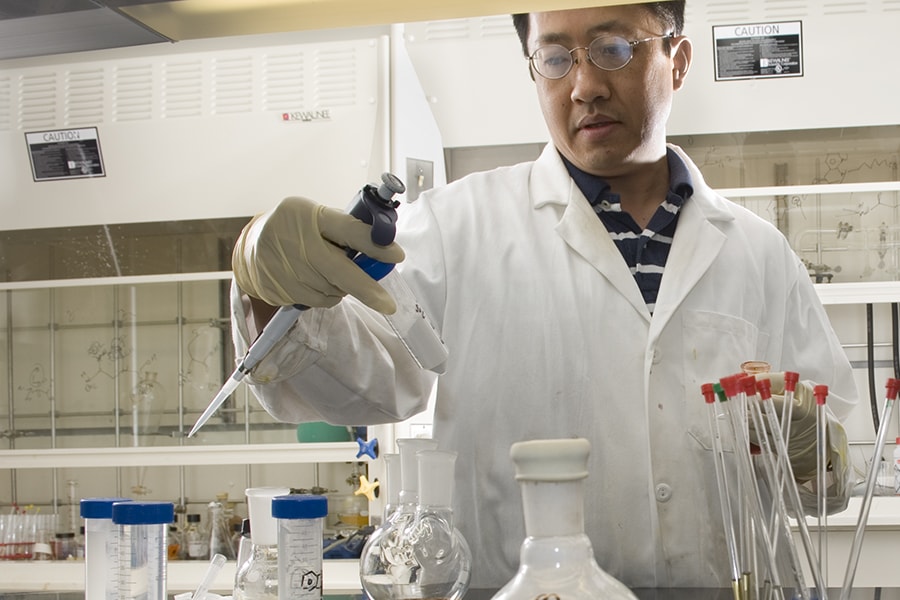 July 18, 2018
News Briefs
Gene Editing Technique Cures Disorders in Mice Before Birth
Researchers at Carnegie Mellon and Yale have for the first time used a gene editing technique to successfully cure a genetic condition in a mouse before birth. Their findings, published in Nature Communications, present a promising new avenue for research into treating genetic conditions during fetal development.
An estimated 8 million children are born each year with severe genetic disorders or birth defects. Genetic conditions can often be detected during pregnancy using amniocentesis, but there are no treatment options to correct these genetic conditions before birth.
"Early in embryonic development, there are a lot of stem cells dividing at a rapid pace. If we can go in and correct a genetic mutation early on, we could dramatically reduce the impact the mutation has on fetal development or even cure the condition," said Danith Ly, professor of chemistry in CMU's Mellon College of Science.
Fireworks This Saturday, July 21
Carnegie Mellon will host a free fireworks show beginning at 9:35 p.m., this Saturday, July 21 on the College of Fine Arts lawn, weather permitting. This show was originally scheduled for July 4, but it was postponed due to lightning and rain in the area.
Seeking Nominations for the 2019 Alumni Awards
Nominations are now being accepted for the Alumni Association's 2019 Alumni Awards, which recognize CMU graduates for their outstanding contributions to the university and the world. Alumni are honored in the following categories: Founders Medal, Alumni Achievement, Alumni Service, Outstanding Recent Alumni and Faculty & Staff Impact.
An online nomination form, list of previous award winners and descriptions of each award category can be found online. The nomination deadline is Sept. 1.
New Procedure for Service of Alcohol at University Events
Recently, the primary dining vendor on campus transitioned to Chartwells. With the change, a new procedure is being implemented for all university events that involve the service of alcohol purchased with university funds or using university resources. There are two changes:
Catering will no longer procure or transport alcohol for events. Therefore, if the event does not involve the direct or indirect sale of alcohol, the recommended procedure is to use the vendors Soiree Partners/Dreadnought Wines to purchase and transport the alcohol to the event.
If the event involves the direct or indirect sale of alcohol, it must take place on licensed premises (e.g., a restaurant with a liquor license) or the alcohol must be purchased, transported and served by a vendor that has a liquor license and an off-premises catering permit allowing it to sell alcohol.
The procedure can be found online. Questions and/or concerns can be directed to social-host@andrew.cmu.edu, the Office of General Counsel (412-268-3747) or to university-contracts@andrew.cmu.edu.
EH&S Continues Building Evacuation Drills
The Environmental Health and Safety Department is continuing its building evacuation drills this summer. The remaining schedule follows.
July 19: 8 a.m. - Noon, Pittsburgh Technology Center, Information Networking Institute, Software Engineering Institute, UTDC, Whitfield Hall and 4721 Fifth Ave.
July 27: 8 a.m. - Noon, Integrated Innovation Institute, 205 S. Craig, 300 S. Craig, 311 S. Craig, 407 S. Craig, 417 S. Craig, 6555 Penn Ave., National Robotics Engineering Center and GATF
Dates are subject to change due to weather conditions.