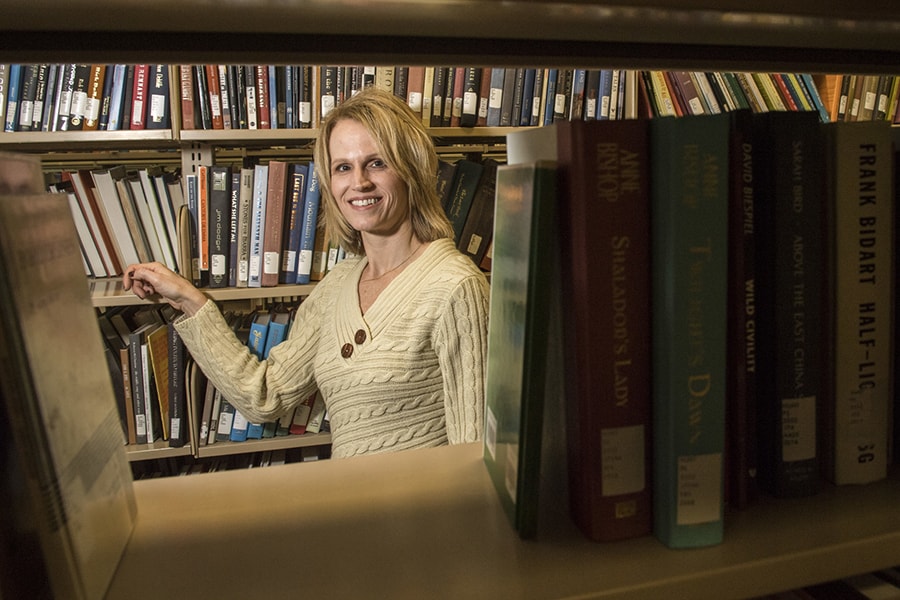 January 30, 2018
Sestili's Community Spirit is Top Shelf
By Bruce Gerson bgerson(through)cmu.edu
Kim Sestili manages the books for University Libraries.
A business administrator, Sestili is responsible for a more than $7 million per year budget for purchasing library materials to support students, faculty and the university's academic and research missions.
"We order various types of materials, and we're always adding new programs, so I have to find the money in the budget to support them," Sestili said. "I work with the librarians on their budgets, run reports and pay the bills."
Materials include databases, printed books and journals, and e-books and e-journals, covering an always-growing vast range of topics.
Sestili's role as accounts manager has evolved since she joined University Libraries in 1993, but her enthusiasm for the job hasn't wavered.
"My co-workers in the libraries are great. We're like a family and that's nice because you really spend more time at work than you do at home," she said. "I also like interacting with the folks in Procurement Services and Finance."
Sestili also loves meeting and working with staff as one of the leaders on Staff Council.
Nominated for a 2017 Andy Award for Spirit, Sestili is a member of Staff Council's Executive Board, chair of its Parental Leave Focus Group, co-chair of its Benefits and Community Picnic committees, and a member of the Wellness Committee.
As chair of the Parental Leave Focus Group, she helped organize a forum and launched a university-wide questionnaire to educate the campus community on the current policy and to gauge its importance among staff. She then helped to draft a proposal that has been submitted to CMU's Total Compensation Committee. The proposal seeks the same benefit for staff that faculty receive — 12 weeks of fully paid leave for the primary care giver and six weeks fully paid leave for the secondary caregiver, including parents who adopt a child.
"People are passionate about this topic. It's important and I wanted to help," she said.
As co-chair of the Community Picnic, she led an effort that greatly enhanced the event with live music, raffle prizes and games.
"The picnic took on more of a community focus last year," Sestili said. "We wanted the Aramark and CulinArt employees to come and picnic with us. CulinArt catered the event, but we had other people come to work it so they could enjoy themselves."
This year's picnic will be held Wednesday, May 23 in Resnik Hall and Wiegand Gym.
Away from campus, Sestili is a personal trainer who works with clients in her home gym, which includes a treadmill, bicycle, free weights and weight machines. She also enjoys traveling, hot yoga and biking.
"On my days off I'll go for 60-mile bike rides all over Pittsburgh. I'm passionate about physical fitness. I don't like to sit. I'm a doer," she said.
Have a suggestion for Staff Spotlight? Send it to piperweekly@andrew.cmu.edu.