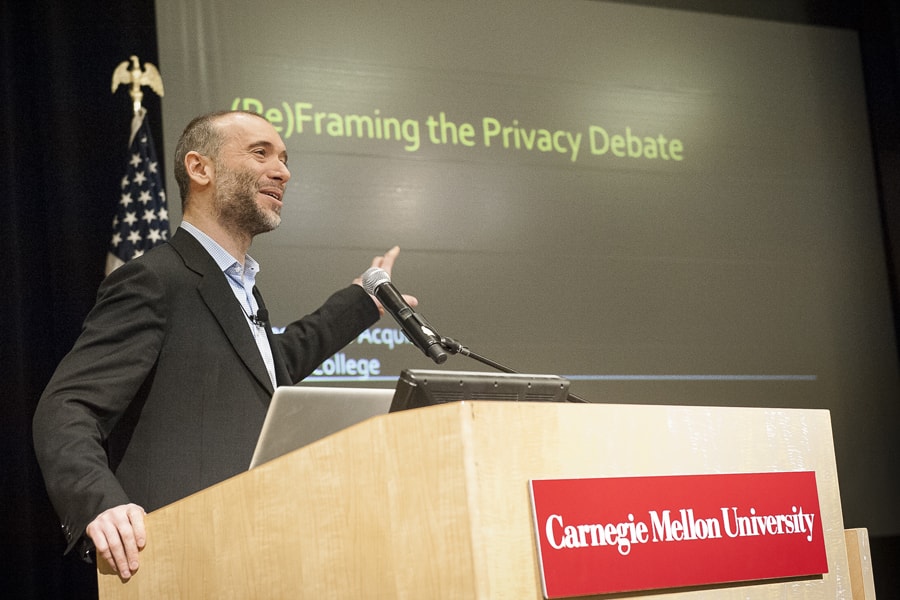 January 17, 2018
News Briefs
CMU Celebrates International Data Privacy Day
As information about ourselves and our daily lives continues to become increasingly digitized, Carnegie Mellon will host its fifth celebration of International Data Privacy Day on Friday, Jan, 26 in the Cohon Center. Data Privacy Day is an annual effort to raise awareness about the importance of privacy and the protection of personal information.
"There's a lot of a data collection going on right now," said Lorrie Cranor, co-director of Carnegie Mellon's privacy engineering master's degree program, a CyLab faculty member and a professor in the departments of Engineering and Public Policy and the Institute for Software Research (ISR). "There are a lot of opportunities for companies and the government to invade your privacy, so it's really important to be educated about who is collecting our data and what we can do to protect our privacy."
This year's Privacy Day celebration will include a privacy clinic, where members of the general public may come and talk with students researching data privacy about ways they can help protect and preserve their privacy in their daily lives. Topics such as privacy on Facebook, privacy settings on smartphones and what private browsing mode actually protects you from will be discussed at the clinic.
In addition, dozens of research projects on digital privacy will be presented at a research poster session, with topics including (but not limited to) context-aware privacy management on smartphones, efficient ad-blocking tools, and using machine learning to classify privacy policy statements at scale.
"Data Privacy Day is an opportunity to showcase all the great research conducted in this area at CMU and also to educate people about the increasing demand in industry for privacy engineers and other privacy professionals," said Norman Sadeh, co-director of the privacy engineering master's degree program, a CyLab faculty member and a computer science professor in the Institute for Software Research.
Machine Learning Will Change Jobs
Machine learning computer systems, which get better with experience, are poised to transform the economy much as steam engines and electricity have in the past. They can outperform people in a number of tasks, though they are unlikely to replace people in all jobs.
So say Carnegie Mellon University's Tom Mitchell and MIT's Erik Brynjolfsson in a Policy Forum commentary in the journal Science. Mitchell, who founded the world's first Machine Learning Department at CMU, and Brynjolfsson, director of the MIT Initiative on the Digital Economy in the Sloan School of Management, describe 21 criteria to evaluate whether a task or a job is amenable to machine learning (ML).
''Although the economic effects of ML are relatively limited today, and we are not facing the imminent 'end of work' as is sometimes proclaimed, the implications for the economy and the workforce going forward are profound,'' they write. The skills people choose to develop and the investments businesses make will determine who thrives and who falters once ML is ingrained in everyday life, they argue.
CMU-Alert Test Friday, Jan. 19
A test of the university's emergency notification service, CMU-Alert, will be conducted at 4:30 p.m. Friday, Jan. 19. In the event of an emergency, CMU-Alert sends voice or text messages to registered phones and emergency alert devices on campus. The messages provide brief details about the nature of the emergency and direct people to www.cmu.edu/alert for more information, instructions and updates.
All students are automatically registered to receive CMU-Alert messages, and faculty and staff are encouraged to sign up for the same. Faculty and staff can register and update their information online at www.cmu.edu/alert by clicking on the "How Can I Be Notified During an Emergency" link. Students can update their information on the site. Users need their CMU username and password to log in.
All contact information is treated confidentially. Registered individuals will be contacted by the CMU-Alert system only if there is an incident or event that threatens public safety or during required periodical tests during the year. The tests are conducted to demonstrate and validate the functionality and reliability of this critical communications service.
Faculty and staff, please note: If you are not already registered for CMU-Alert, you must register before 5 p.m. Thursday, Jan. 18 to receive the test.
Get to Know Human Resources
Get to know HR: visit www.cmu.edu/hr to see this week's "Get to Know HR" hint. The hint points to a piece of information located on the newly-redesigned HR website. You will find a Scotty dog hidden on the page where the information is located.
The first person to find Scotty and email hrcommunications@andrew.cmu.edu with the link to the correct page is this week's winner and may select a reward from a list of CMU-themed items or opt for a "Get to Know HR" opportunity.
W-2s To Be Mailed by Jan. 31
Hard copy W-2 tax forms for 2017 will be mailed out by Jan. 31 and will be available in Workday for all active employees. To learn how to access your W-2 in Workday, view the Retrieving W-2 Tax Form Quick Guide [.pdf]. Any former employee who requires a copy of their W-2 must speak with a CMUWorks Service Center representative by phone to validate their identity. For questions, contact the CMUWorks Service Center at cmu-works@andrew.cmu.edu or 412-268-4600.
Jumpstart Your Business Idea in the NSF I-Corps Program
If you are looking to jumpstart your business idea, the Swartz Center for Entrepreneurship may be able to help. The center is recruiting teams for its spring 2018 NSF Innovation Corps (I-Corps) customer discovery training program. Teams are open to CMU faculty, staff, students and recent alumni and can be reimbursed up to $2,500 to further their business venture. Teams also will receive access to Project Olympus programs, business mentors, and workshops and guidance in writing proposals for external funding. Ninety-nine teams have completed the program and received more than $13 million in funding for their ideas since fall 2014. The application deadline is Feb. 2. Apply at http://bit.ly/2oWuR6v.
Learn more about the NSF I-Corps program. 
Women's Mentoring Program Now Accepting Applications
The Barbara Smith Women's Mentoring Program is now accepting applications for both mentors and mentees. Applications are open to Carnegie Mellon Women's Association (CMWA) members who have regular or temporary part-time or full-time appointments of four months or longer.
Apply today to be a mentor or to be mentored. Applications are due Jan. 19.
You must be a CMWA member to participate. Join online.