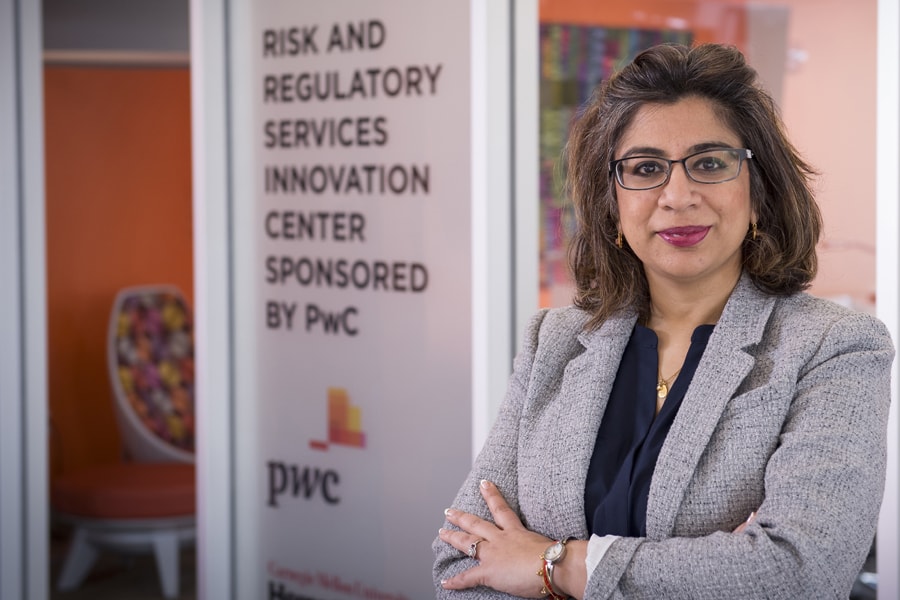 January 09, 2018
Patel Works To Foster Innovative Business Solutions
By Bruce Gerson bgerson(through)cmu.edu
Alka Patel is connecting business problems with faculty and students who can solve them.
Patel is deputy director of Carnegie Mellon University's Risk and Regulatory Services Innovation Center, sponsored by PwC, one of the world's largest risk assurance, consulting and tax compliance firms. Launched one year ago, the center in the Heinz College of Information Systems and Public Policy aims to advance how businesses use technology and analytics to solve issues in information security and public safety.
"PwC is looking for innovative ways to solve real-world business problems for their clients and themselves, and we're a contributing intellectual capital partner helping them to do that," Patel said. "Our interdisciplinary mix of faculty and students and our cross-pollination of ideas and thoughts really yield better research results."
Patel manages the day-to-day operations of the center and helps to facilitate the research projects along with faculty director Alessandro Acquisti.
"I love the environment and the intellectual stimulation at CMU," she said. "Working with faculty members and students has been extremely rewarding."
Patel also acts as an informal adviser to students, helping them to work for the first time with a corporate sponsor.
"I find myself helping them bridge the gap between the technical side and the business side in a number of ways, including helping them with their presentation skills," she said.
The center also has played a role in launching an executive education program for chief risk officers at Heinz College. The first cohort will be completing its work this week.
"The program, which also includes PwC faculty, teaches them how to create a risk plan for their organization, and how to address risk management and risk mitigation within their organizations," she said.
Outside of the office, Patel is a leader in Pittsburgh's Asian community. She recently was appointed to a two-year term on Pennsylvania Governor Tom Wolf's Commission on Asian-Pacific American Affairs. The commission advises the governor on behalf of the Asian community on issues in health and human services, housing, education, employment and business development.
"A lot of our work is educating the community about the issues and challenges facing the Asian-American population. We're hoping to be a voice for our community's diverse needs," she said.
The commission is planning to host a town hall meeting in Pittsburgh on March 4 in conjunction with the Lunar New Year. Patel said the meeting would address the Asian community's impact on the economy, including the Asian community's spending, earning and voting power.
Patel is a registered patent attorney who spent five years at BNY Mellon as a transactional attorney before joining CMU. She's a co-founder of the Allegheny County Bar Association's Asian Attorneys Committee and chair of the association's Women in Law Division. She serves on a number of boards, including the University of Pittsburgh's Alumni Association Board, and is a former school board member for the Chartiers Valley School District.
"Community involvement and engagement is my driver," she said.
Have a suggestion for Staff Spotlight? Send it to piperweekly@andrew.cmu.edu.