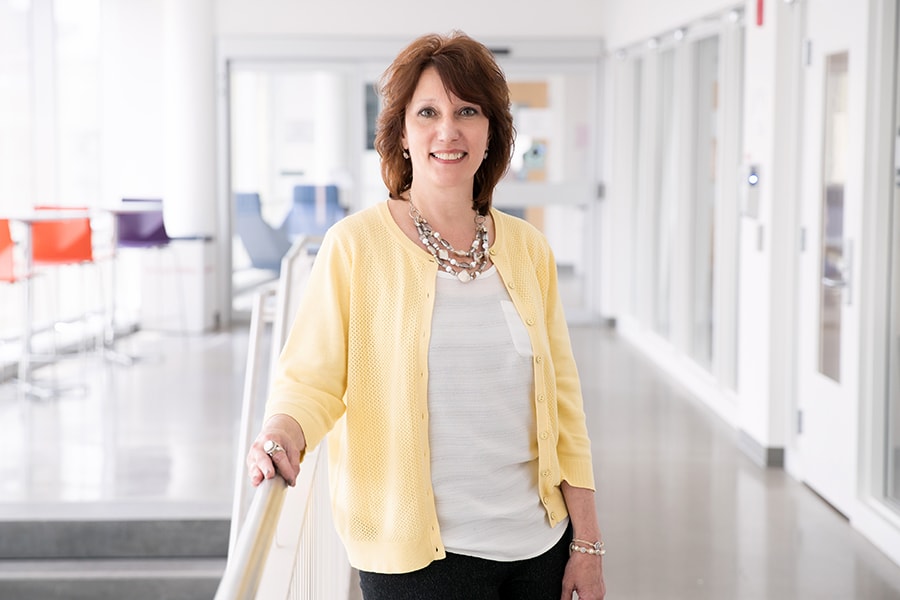 February 08, 2018
Poprocky Feels at Home in the Institute for Software Research
By Kelly Saavedra ksaavedra(through)cmu.edu
Victoria Poprocky began part-time work at Carnegie Mellon University as a telemarketer so she could stay at home while her children were young.
"It worked really well with my life at the time," Poprocky said. "But I also thought if I could get a foot in the door, then maybe I could work at CMU full-time when my kids got older."
That happened a few years later, when she was offered full-time work as the receptionist in the President's Office. The position led to an opportunity in Government Relations, where for eight years she handled administrative tasks associated with the Friedman Fellowship program.
The Friedman Fellowship program awards policy-based internships in Washington, D.C., to about 20 students annually. As part of the selection committee, Poprocky helped to identify internship opportunities in the nation's capital and select the students who were awarded them.
"The students here are so brilliant, but they are so down to earth, too," she said. "Their stories, their hobbies, their travel and their academic studies are so interesting. It's a pleasure to get to know them."
Since 2012, Poprocky has been supporting five faculty members as a reappointments and promotions coordinator in the Institute for Software Research.
"I love it here. I like to take care of people," she said. "I'm a nurturer, in the same way I am with my kids. It's just my strength, I think. I get them what they need, and I get everybody to where they've got to be."
Her busiest time is from May through October, when she is gathering documents, sending out request letters, collecting recommendations, scheduling committee meetings, and finally, assembling a dossier for each individual up for a reappointment or promotion.
During the off-season, she can be found doing a variety of other things.
"In the course of a week my workload is different, and I like that," she said. "Every day you have your 'to do' list, but then you open up an email and it sends you down a new path. It's not just the same old chores or the same job every day."
Poprocky likes to crochet, a hobby she started after joining the Carnegie Mellon Women's Association, whose knitting and crochet club meets regularly. She also is a member of the Food Drive committee for Staff Council.
"I just love to come to work. I love my job, and I love the people," she said.
Have a suggestion for Staff Spotlight? Send it to piperweekly@andrew.cmu.edu.