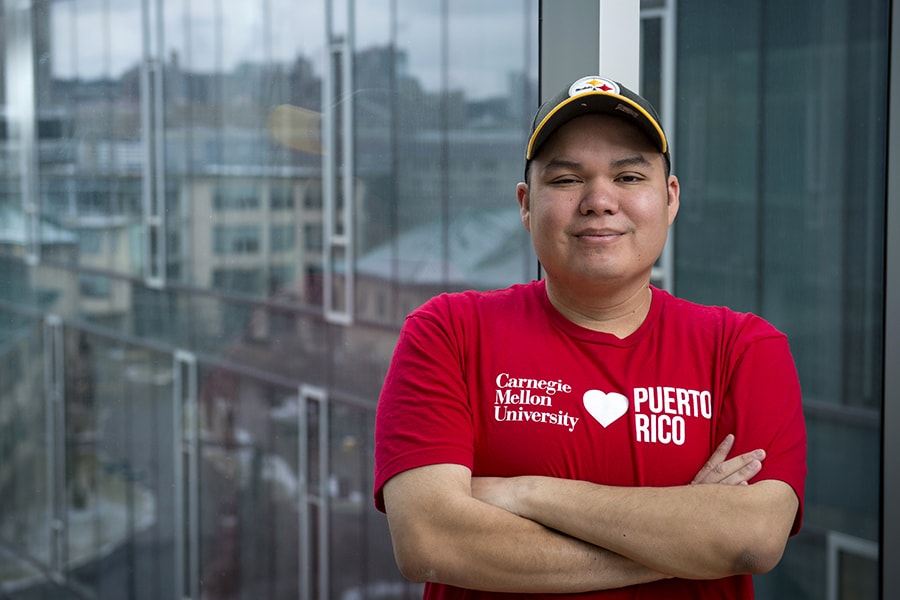 February 14, 2018
Cao-Berg Helped Bring Aid to Puerto Rico
By Bruce Gerson bgerson(through)cmu.edu
Carnegie Mellon University alumnus Ivan Cao-Berg feels a strong connection to his alma mater, the Latino community in Pittsburgh and Puerto Rico.
Cao-Berg is a senior research programmer in the School of Computer Science's Computational Biology Department. He works in the lab of department head Robert Murphy, supporting faculty with information about the latest technology and helping them build software they need to conduct their research.
Born in Argentina, Cao-Berg grew up in Puerto Rico and earned his bachelor's degree in mathematics from Universidad Metropolitana in San Juan. After graduating, a friend brought him to CMU, where he got a summer job working for Murphy. That part-time job evolved into a master's degree in computational biology in 2009, and full-time employment in the Murphy Lab.
Cao-Berg said he likes working with the faculty, many of whom were his professors as a graduate student, especially Murphy.
"I've known many of the faculty for a long time and I can provide the support they want. I really enjoy learning how to use new technologies to facilitate the research," Cao-Berg said. "Dr. Murphy has vision. He can make a statement about the future of our field, and it becomes relevant."
Away from the office, Cao-Berg is active in Pittsburgh's Latino community. When Hurricane María hit Puerto Rico, he joined students to create the Together We Rise movement and helped raise $5,000 for hurricane and earthquake victims in Puerto Rico, Mexico and the Caribbean.
After hearing about student Rosana Guernica's first chartered relief flight to Puerto Rico, he was contacted by leaders of Together We Rise to see if he could help.
"I told them 'Count me in,'" he said.
Cao-Berg made four of the five flights to Puerto Rico with Guernica. He helped with logistics, carried supplies and assisted by making connections with people in the Latino community in Pittsburgh and Puerto Rico.
"After the second trip we got closer to the evacuees and their families and shared their desperation. That was hard. We were happy to bring aid, but at the same time we knew we weren't bringing enough. So, we started planning other trips," he said.
Overall, the five relief flights to Puerto Rico brought 76,500 pounds of supplies to those in need and evacuated nearly 300 people to the U.S. mainland, many of whom required medical aid.
He also is helping Puerto Ricans in Pittsburgh. He, Guernica and Lane Fellow Jose Lugo-Martínez recently delivered winter clothing to 12 Caribbean students at a local college. The gift was made by members of the Indian Community Center in Carnegie, Pa., who held a fundraiser to help people of Puerto Rico.
Cao-Berg is a host of two shows on WRCT-88.3 FM, CMU's student-run radio station. From 6 to 7 p.m. on Thursdays, he hosts "Barrio Latino," the longest running Spanish-speaking talk show in Pittsburgh. It has been on the air for 21 years.
"We have guests and talk about activities in Pittsburgh that interest the local Latino community," said Cao-Berg, who has been behind the microphone for three years. "We had Rosana and some of the other students on. Some of the faculty in Modern Languages bring their students to the show. Some students stop by to read poetry. Some stop by to play music."
Following "Barrio Latino," he hosts "Rumba Live!," which features Latin music from 7 to 9 p.m. on Thursdays.
Cao-Berg also runs the Pittsburgh Spanish Meet-Up Group for social gatherings, volunteers as an interpreter for local nonprofits and has taught Spanish at the Carnegie Library of Pittsburgh.
"I do things that I enjoy. I keep busy," he said.
Have a suggestion for Staff Spotlight? Send it to piperweekly@andrew.cmu.edu.