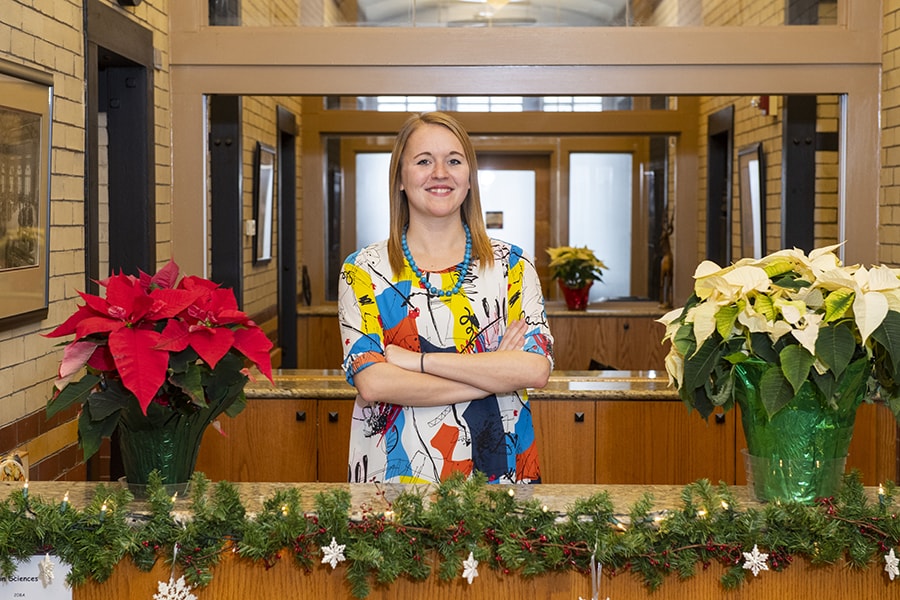 December 17, 2018
Stoyle's House Is an International Home for the Holidays
By Bruce Gerson bgerson(through)cmu.edu
Three students from Turkey, the Netherlands and Germany will be spending the holidays with Carnegie Mellon's Elizabeth "Lizzy" Stoyle, Pittsburgh's unofficial international ambassador.
Having housed more than a dozen students from around the world over the last several years, Stoyle has become known as a go-to person for college students coming to study and intern in Pittsburgh.
An undergraduate adviser in the Department of Social and Decision Sciences, her affinity for hosting international students stems from her passion for traveling abroad. As an undergraduate student at the University of Pittsburgh, she studied in Italy and London. After graduating, she served as a live-in 24/7 residence life coordinator to 19 students in the three-week Pitt in Greece program. This year, she's been to Mexico, Guatemala and Iceland.
"I want international students to come here and have a good impression of Pittsburgh, the USA and Americans in general. Pittsburgh is a great place and I want them to experience it. Hosts in the countries I have visited have helped to positively change my life and I would like to do that for others," she said.
Stoyle, who earned her master's degree at Pitt in higher education management, is living the topic of her thesis — How to Integrate International Students into American Higher Education Institutions.
Presently, she has two CMU graduate students — one from Turkey and one from Germany — staying with her in her three-bedroom house. They'll be traveling over the holidays, so during winter break she is opening her home to international students at Pitt and Duquesne University who need a place to stay.
"It brings out the best in me," Stoyle said. "I'm from Buffalo, so I can appreciate Pittsburgh differently than natives do. With visitors around you tend to do more things, try new restaurants, visit new attractions. This fall alone we went to University of Pittsburgh and Steelers football games; we carved pumpkins, and visited a corn maze and a haunted house; and I took them home to Buffalo to experience a traditional Thanksgiving at my parents' house."
Stoyle is a member of Global Pittsburgh, a nonprofit organization that helps local universities attract international students. She also is involved in CMU's International Host Family Program, an effort that fosters greater engagement between international students and members of the CMU community.
At work, Stoyle advises more than 80 undergraduates on everything from course offerings to research opportunities, internships and study abroad programs. She often follows up with students after exams or about something they discussed in a meeting.
"I'm part adviser, part therapist, part mom, part cheerleader," she said. "A little extra effort goes a long way."
Stoyle is a member of CMU's Staff Council, the Carnegie Mellon Women's Association and the CMWA's Barbara Smith Mentoring Program. She takes fitness classes at CMU and plays kickball, volleyball, softball and dodgeball in the Pittsburgh Sports League.
"Sports keeps me busy four nights a week. When I have some down time I also like reading and puzzles, and of course, planning my next international trip," she said.
Have a suggestion for Staff Spotlight? Send it to piperweekly@andrew.cmu.edu.