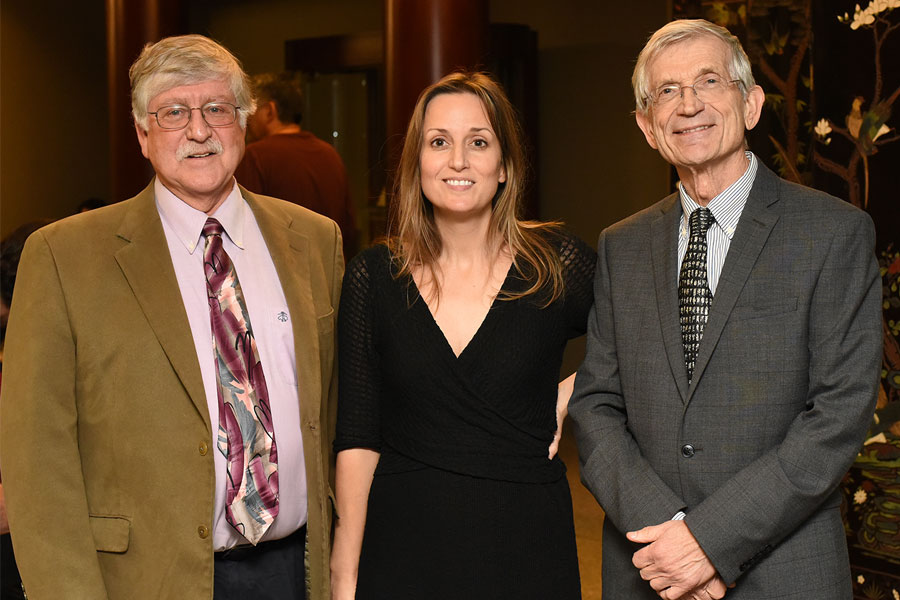 December 19, 2018
Personal Mention
Michael Scheier, Jessica Cantion and Brian MacWhinney have received professorships to support their work in the Department of Psychology. "Distinguished faculty like these three individuals are why CMU's Department of Psychology is consistently recognized among the top psychology departments in the U.S.," said Richard Scheines, dean of the Dietrich College of Humanities and Social Sciences, during a Nov. 26 ceremony in Posner Center.
Scheier was named the Walter van Dyke Bingham Professor of Personality and Health Psychology. A nationally recognized expert in personality, social and health psychology, Scheier joined CMU in 1975 and served as department chair from 2003 to 2013. His research builds on his interest in human motivation. He examines the role that dispositional optimism, purpose in life and adjustment abilities play in dealing with stressful life circumstances, including chronic disease. He has co-authored two research monographs and a textbook on personality, as well as more than 200 chapters and empirical papers. Scheier is a fellow of the American Psychological Association (APA), which recently presented him and his long-time collaborator, Charles S. Carver, with its Distinguished Scientific Contribution Award.
Cantlon received the Ronald J. and Mary Ann Zdrojkowski Career Development Chair in Developmental Neuroscience. Cantlon, who joined CMU this academic year, investigates the origins of mathematical cognition in the developing brain and focuses on the role of evolution in shaping early mathematical logic in humans. She conducted some of the first functional magnetic resonance imaging (fMRI) studies of mathematical cognition in pre-school children. A James S. McDonnell Scholar and Alfred P. Sloan Fellow, Cantlon was recognized by Science News in 2016 as one of 10 Outstanding Young Scientists.
MacWhinney was named the Teresa Heinz Professor of Cognitive Psychology. MacWhinney is widely recognized for his work at the intersection of psychology, computational linguistics and modern languages. He has spent the past three decades revolutionizing ways to study how we learn, use and understand spoken language. MacWhinney's recent work includes studies of online learning of second language vocabulary and grammar, situationally embedded second language learning, neural network modeling of lexical development, fMRI studies of children with focal brain lesions and ERP studies of between-language competition.

David Shribman, executive editor of the Pittsburgh Post-Gazette for the last 16 years, will be leaving his post at the PG and joining the Dietrich College of Humanities and Social Sciences as a scholar-in-residence on Jan. 16. During the spring semester, Shribman will serve as a guest lecturer for courses and host op-ed writing workshops for students and faculty across the university. Before joining the PG, he was the Boston Globe's Washington bureau chief. He was awarded the Pulitzer Prize in journalism in 1995 for his analytical reporting on Washington developments and the American political scene. Prior to working at the Boston Globe, he was a national political correspondent for The Wall Street Journal. Before working at the WSJ, he covered Congress and national politics for The New York Times and was a member of the national staff of The Washington Star. Find out more.
Leah Lizarondo, Marios Savvides and Yulia Zhukoff were named Immigrant Entrepreneurs of the Year by Global Pittsburgh. The awards honored 39 foreign-born entrepreneurs, professionals and immigrant champions from 26 countries, who have made an impact on the greater Pittsburgh community.
Lizarondo, a CMU alumna from the Philippines, received Global Pittsburgh's Social Entrepreneur Award. She is the CEO and co-founder of 412 Food Rescue, which partners with food retailers and other suppliers to pick up their healthy surplus food and deliver it to community nonprofit organizations, where it is directed to individuals and families experiencing food insecurity. Her work has been featured in national media including NPR, Oprah.com, and GOOD Magazine. In 2017, she was named by SmartBusiness as one "poised to shape the Pittsburgh region in 2017 and beyond." Lizarondo earned her master's degree in public policy and management from Heinz College.
Savvides, a CMU professor from Cyprus, received Global Pittsburgh's Technological Innovation Award. He is the founder and director of the Biometrics Center at Carnegie Mellon and a research professor in the Electrical and Computer Engineering Department and CyLab. His research focuses on developing algorithms for robust face and iris biometrics as well as pattern recognition, machine vision and computer image understanding for enhancing biometric systems performance. He has authored and co-authored over 170 journal and conference publications, and has filed over 20 patent applications in biometrics. He is the co-recipient of CMU's 2009 College of Engineering's Outstanding Research Award. Savvides earned his master's degree in robotics and his Ph.D. in electrical and computer engineering at CMU.
Zhukoff, a native of Russia, won Global Pittsburgh's Entertainment Industry (Music Education) Award. She is co-founder of PGH Tango Connection, a dance instruction business that connects people in Pittsburgh through a passion for tango. Through group, individual and private lessons, and by organizing several events during the year, Zhukoff enriches the social and cultural substance of Pittsburgh. She regularly brings internationally renowned instructors and performers to town, and she has led dance student trips to Buenos Aires for in-person, authentic instruction and experiential learning. Through her passion for tango, she serves as a cultural ambassador for the city, travelling to participate and perform at tango events across the country and around the world. Zhukoff is an executive assistant in the Office of Alumni Relations.
Find out more about the Global Pittsburgh awards.



Associate Professor of Mathematical Sciences Wesley Pegden was appointed by Gov. Tom Wolf to a new commission to help reform Pennsylvania's redistricting process. The Pennsylvania Redistricting Reform Commission will "review non-partisan redistricting processes in other states that reduce gerrymandering, provide opportunities for public comment at community meetings and online, and make recommendations to the governor and legislature for a non-partisan redistricting process in Pennsylvania," according to a statement accompanying Wolf's executive order creating the body. "This commission will bring together diverse experts and citizens to explore ways that Pennsylvania could use policies, technology and data to curb gerrymandering and ensure fair maps," Wolf said. Pegden's work regarding fair division and redistricting has been repeatedly cited in recent debates in the United States regarding gerrymandering — the process of carving up electoral districts to disproportionately benefit one political party. Find out more.