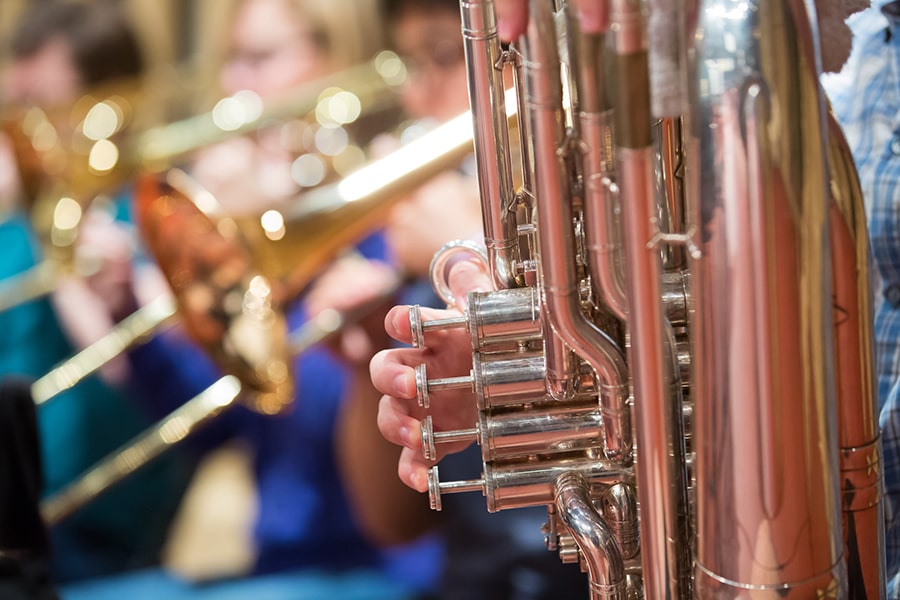 December 05, 2018
CFA Winter Festival Celebrates the Arts at CMU
By Pam Wigley pwigley(through)andrew.cmu.edu
Carnegie Mellon University's College of Fine Arts (CFA) will celebrate its students' work during the Winter Celebration weekend, beginning Thursday, Dec. 6 with the annual School of Music Holiday Concert. 
School of Music
The CMU surrounding community members look forward to the School of Music's annual holiday concert, featuring Carnegie Mellon's Philharmonic and Chorus. This seasonal concert, conducted by Andrés Cárdenes, Daniel Nesta Curtis, Thomas W. Douglas and George Vosburgh, features a variety of works, including Benjamin Britten's "A Ceremony of Carols," Franz Gruber's "Silent Night" arranged by Lenny Young, Ricky Ian Gordon's "Joy", Leonard Bernstein's Profanation from "Jeremiah" Symphony and Antonin Vivaldi's "The Four Seasons."
The first concert, which is free and open to the public, will take place at noon, Thursday, Dec. 6, in the CFA's Great Hall, no ticket required. The second winter concert will start at 8 p.m., Friday, Dec. 7, at the Carnegie Music Hall in Oakland. Both concerts are sponsored in part by TIAA, which is giving support for the third consecutive year and, this year, is celebrating its 100th anniversary! To purchase tickets, visit: http://cmumusic.eventbrite.com/.
School of Art
The School of Art's annual Open Studios event this year is titled "Under Construction" and takes place from 5 - 9 p.m. Friday, Dec. 7, on the third and fourth floors of the CFA Building. You're invited to join this community-wide art party as upperclassmen showcase their new work in a variety of media, including paintings, print media, photography, sculpture and installation, animation and video, as well as performance. In addition to the showcase, you may enjoy refreshments, music, karaoke, and student-designed games. There's something for everyone, and you may even find a gift for that person on your holiday gift list that's particularly hard to buy for.
School of Architecture
Students in the School of Architecture Advanced Synthesis Option (ASO) Studios will participate in final reviews of semester-long design projects on Friday, Dec. 7. Visitors will get a glimpse of the future of architecture as students participating in Thesis will present their work from 9 a.m. - noon in Margaret Morrison Carnegie Hall, Room 307.
The high-rise timber construction studio reviews take place from 12:30 - 4:30 p.m. in the College of Fine Arts, Room 214. Students from the high-rise studio present their projects between 1-5 p.m. in Margaret Morrison Carnegie Hall, Room 303. View the engaging work of the students from the studio focused on serving humanity that visited the Venice Biennale this semester in Margaret Morrison Carnegie Hall, Room 203, from 1-5 p.m.
School of Design
All week long, the School of Design has been celebrating student work! You can get in on the fun, which continues into next week if your schedule prevents you from visiting this weekend. Find out more.
BXA Exhibition
As part of the School of Art's Open Studios, the BXA first-year seminar invites you to their class exhibition, "Remixing the Wunderkammer," from 5-6:30 p.m. Friday, Dec. 7, in the College of Fine Arts Room 303. This show explores topics such as context, representation across media, remix and adaptation, ideology/ideologies, dream logic and reality, aesthetic vocabularies, collections and curation, intellectual property, and the instability of meaning. The exhibited works are the culmination of a semester spent thinking about the interdisciplinary nature of creative and scholarly life
Miller Institute for Contemporary Art
Friday, Dec. 7, from 12-6 p.m., the Miller Institute for Contemporary Art features "Paradox: The Body in the Age of AI," curated by Miller Director Elizabeth Chodos. The exhibition is on view through Feb 3, 2019. This exhibition explores the primacy of the human body as it's poised on the precipice of a potential fusion with artificial intelligence. Inspired by the Moravec Paradox, the show looks deeper into the unconscious role the body's sensorimotor habitat has in shaping our awareness, imagination, and socio-political structures.
Artists featured are Zach Blas, Brian Bress, Nick Cave, Kate Cooper, Stephanie Dinkins, Jes Fan, Claudia Hart, Eunsu Kang, Jillian Mayer, Sarah Oppenheimer, Siebren Versteeg  Find out more.