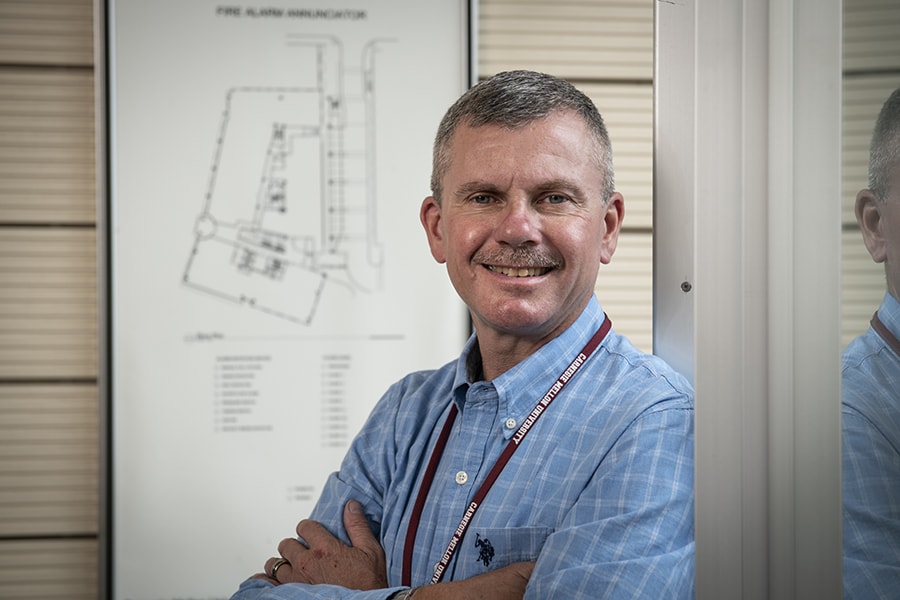 August 28, 2018
Lane Leads Revival of Floor Marshal Program
By Bruce Gerson bgerson(through)cmu.edu
Fire safety specialist Steve Lane is working to rebuild Carnegie Mellon's floor marshal program from the ground up.
Lane, one of three fire safety experts in the Environmental Health and Safety Department, is seeking volunteers on every floor of every university building to help their fellow occupants evacuate in the event of a fire or other emergency. He is hosting training sessions for interested individuals that provide an overview of floor marshal responsibilities and hands-on, one-on-one training with each marshal in their work location.
"The more trained people we have the better," said Lane, who joined CMU last January. "We've identified areas where we need to actively recruit people to get the coverage we need. It's always good to have a backup, and a backup for the backup."
Lane's presentation talks about the need for marshals and what they need to know and do to keep people safe.
"Marshals should know their buildings' emergency evacuation plan BEFORE an emergency happens. They need to be aware of their surroundings, take charge, be assertive and maintain control," he said. "And don't let folks go back into the building until the 'all clear' is given."
The second part of the training program is a personalized approach.
"We take the emergency plan and walk the entire building with the floor marshals. We make sure all the marshals are familiar with all the exits, where they lead and where the assembly points are. There are probably some spaces in the building that the marshals have never seen, so we start at the top and work our way down to the basement," Lane said.
There are about 160 floor marshals on the roster thus far, but Lane would like to have three times that many. Upcoming training sessions are scheduled for 10 a.m. Sept. 13 and Oct. 11. Those interested can register online or send email to safety@andrew.cmu.edu. Each session also includes an active shooter training program presented by CMU Police Chief Tom Ogden.
Lane encourages everyone on campus to attend the training sessions.
"It's good background for everyone. I'd like to reach every single person on campus," he said.
Prior to coming to CMU, Lane was a Mt. Lebanon, Pa., firefighter for 24 years before working for a private firm as a fire inspector. He said he was attracted to CMU because of its hometown feel.
"The campus is really a small town, and I enjoy getting out on campus and meeting people. I love the educational component of the job, talking with people and sharing the knowledge," Lane said.
Lane works under Fire Safety Manager Tom Plietz and alongside fellow fire safety specialist Dean Simpson. The team inspects every university-owned building and oversees the annual inspections of more than 4,000 fire extinguishers on campus as well as the fire hydrants, sprinkler systems and fire alarms. He and his colleagues also are updating the evacuation plans for all university buildings.
An Army and Air Force veteran, Lane is an instructor at the Allegheny County Fire Academy and the Community College of Allegheny County. In his spare time, he enjoys camping and bicycling along the Great Allegheny Passage.