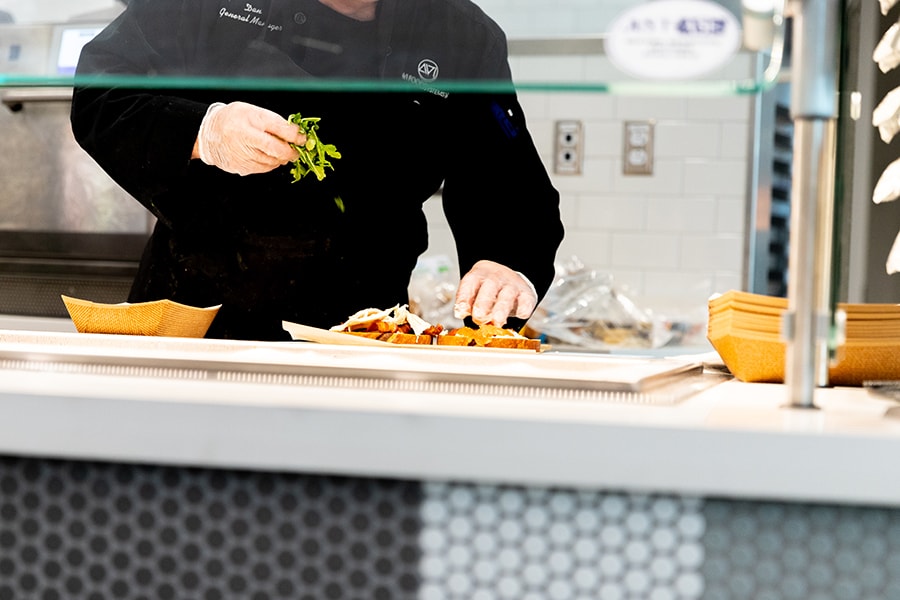 August 28, 2018
What's Cookin' on Campus?
By Mandi Semple msemple(through)andrew.cmu.edu
Hungry for something new? You are in luck, because this year Dining Services at Carnegie Mellon University is cooking up re-imagined menus all across campus! 
With more than 15 refreshed primary dining vendor locations, a brand new dining venue in the Tepper Building and major renovations to some of dining's most beloved spaces, you are sure to find what you are craving wherever you are on campus.
"This year, our dining program takes a major leap toward the goal of offering a best-in-class dining program: one that is social, collaborative, and healthy in its approach to food, the community, and the environment," said Pascal Petter, director of Dining Services.  "Our new partnerships and enhanced dining spaces offer more customizable menus and foods prepared from scratch using fresh and sustainably sourced ingredients."
Chartwells
Beginning July 1, Chartwells Higher Education, a division of Compass Group, joined CMU Dining Services as the primary dining vendor. Look for a refreshed dining experience from Chartwells on the catering menu and at the following locations:
Catering – As CMU's new primary catering vendor on campus, Chartwells will work with you to create a custom gathering, featuring creative menus and authentic recipes made from the freshest, seasonal ingredients.
Located on the second floor of the Cohon Center, the Marketplace has a refreshed look and all new concepts: 
Rohr Commons featuring Pure and Tazza D'Oro
Rohr Commons, featuring AVI Pure and Tazza D'Oro, is open for business in the new Tepper Building. Pure includes multiple retail concepts featuring menus that are made from wholesome and natural ingredients that are free of artificial colors, artificial flavors and sweeteners, and the use of antibiotics and growth hormones.
The Carvery offers specialty and build-your-own sandwiches made with house-roasted meats.
The Met features specialty burgers made from your choice of bison, beef, chicken, or house-made plant-based ingredients.
Trattoria features pizza made from scratch and baked in a brick oven.
Sprout is a 100 percent organic salad bar that makes it easy and delicious to eat healthfully.
In a hurry? Grab a Fresh to GO! meal or snack. RAW serves delicious and nutritious raw vegan options prepared simply.
Tazza D'Oro serves sustainably sourced Counter Culture coffee and espresso, as well as delicious panini, pastries and desserts sourced from local vendors.
Enjoy a community lunch at the Tepper Quad Grand Opening on Thursday, September 13.
The Underground
Campus's favorite hang-out just became an even better place to relax and unwind! After a major renovation this summer, The Underground has new and flexible seating, improved lighting, and an open kitchen environment, including a dessert station reminiscent of an old-fashioned ice cream parlor. The new menu features all-day, home-style breakfast, classic and creative burgers and sandwiches, fresh entrée salads prepared with organic greens, small batch, kettle cooked soups, the UG's famous chicken strips and crispy fries, and of course, dessert!
La Prima
Wean Lobby and La Prima Espresso were renovated this summer, collaboratively funded by the President's Office, Provost's Office and Dining Services, and guided by goals of the Task Force on the CMU Experience to enhance campus infrastructure. The renovated space creates a completely new experience: increased speed of service, improved traffic patterns, enhanced indoor and outdoor seating and improved lighting. Expanded food and beverage options include cold brew, nitro coffee on tap and new partnerships with local food vendors to expand vegetarian and vegan items offerings.
AVI Market C
Stephanie's in Mellon Institute closed this year to make room for a brand new AVI Market C, a 24-hour self-service convenience store. Market C features an extensive variety of selections including sandwiches, wraps, salads, pastries, hot and cold beverages and snacks.
(Due to ever-growing academic space demands, Gingers Express in Baker Hall has closed to accommodate academic needs. Nearby dining locations include Maggie Murph Café-Rothberg's Roasters in Hunt Library and Zebra Lounge in the College of Fine Arts.)
Are you ready to take your taste buds on a tour of dining? Enjoy free, tasty samples from Dining Services at Taste of the Tartans from 11 a.m. - 2 p.m., Tuesday, September 18 in Rangos Ballroom.