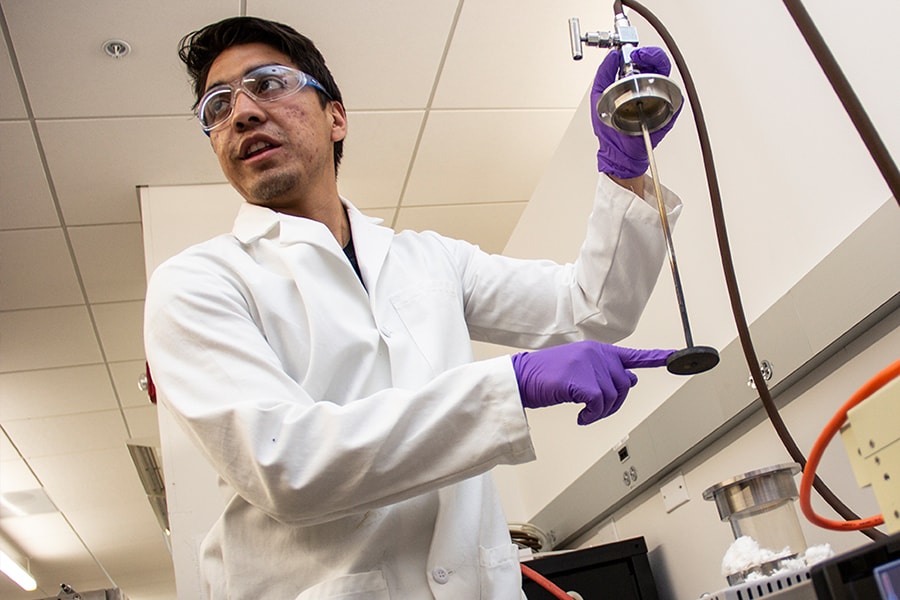 August 22, 2018
Personal Mention
Edgar Mendoza, a Ph.D. candidate in mechanical engineering, recently received the National Science Foundation's Graduate Research Fellowship to pursue his research in ceramic additive manufacturing with his advisers, professors Jack Beuth and Reeja Jayan. High-purity ceramics have great advantages, such as high hardness and temperature resistance, but they can be made only with temperatures achievable in an industrial blast furnace. Jayan researches how to reduce these temperature requirements, and Mendoza aims to apply this technology to additive manufacturing with Beuth's help. Additively manufacturing, or 3D printing, ceramics at relatively lower temperatures could assist the aerospace, automobile and energy industries. Find out more. 

Under the new leadership of Director Elizabeth Chodos, the Regina Gouger Miller Gallery is relaunching this fall as the Miller Institute for Contemporary Art.  The Miller ICA will harness the power of contemporary art to connect local and national audiences to new ideas and fresh ways of thinking about some of society's most pressing issues. Since joining the university one year ago, Chodos recognized Carnegie Mellon's responsibility to the greater public. "I believe deeply that art has the power to transform and that contemporary art offers society a vehicle to participate directly in social change," she said. The Miller ICA marks a new chapter for the free and open public space. Defined by robust programming like other institutes for contemporary art across the country, the Miller ICA's transformation will be highlighted by a fresh vision and mission, a new website and identity. The changes will allow for new ways to connect online and in person, and a suite of dynamic programs that amplify the intersection of current events, CMU's groundbreaking research and contemporary art. Learn more.

Kathy M. Newman, associate professor of English and literary and cultural studies, wrote an entry for the blog Working-Class Perspectives on the impact of the film "Sorry to Bother You." The movie, Newman says, offers important, pro-union viewpoints that everyone can learn something from. "If you've ever walked a picket line you know how it changes your relationship with your co-workers, your job and your street — how being out and loud and proud shows your community that you deserve a better deal, and that everyone else does too," Newman wrote. Working-Class Perspecitves offers commentary on working-class culture, education and politics. Read the piece. 

Alumnus Drew Gehling pleased both sides of the aisle, starring in an apolitical story about politics. Gehling, a 2005 graduate of the School of Drama, played the lead role in "Dave," a new musical that premiered at Washington, D.C.'s Arena Stage at the Mead Center for American Theater. Based on the 1993 movie starring Kevin Kline and Sigourney Weaver, "Dave" is the story of what happens when philandering U.S. President Bill Mitchell suffers a stroke and is covertly replaced by a look-alike. Dave is a high school history teacher whose innocence and idealism happen to make him a perfect leader. Gehling would love to see "Dave" go to Broadway as he has recently starred in two Broadway productions; he played Doctor Pomatter in "The Waitress" and Bob Gaudio in "Jersey Boys." Find out more.