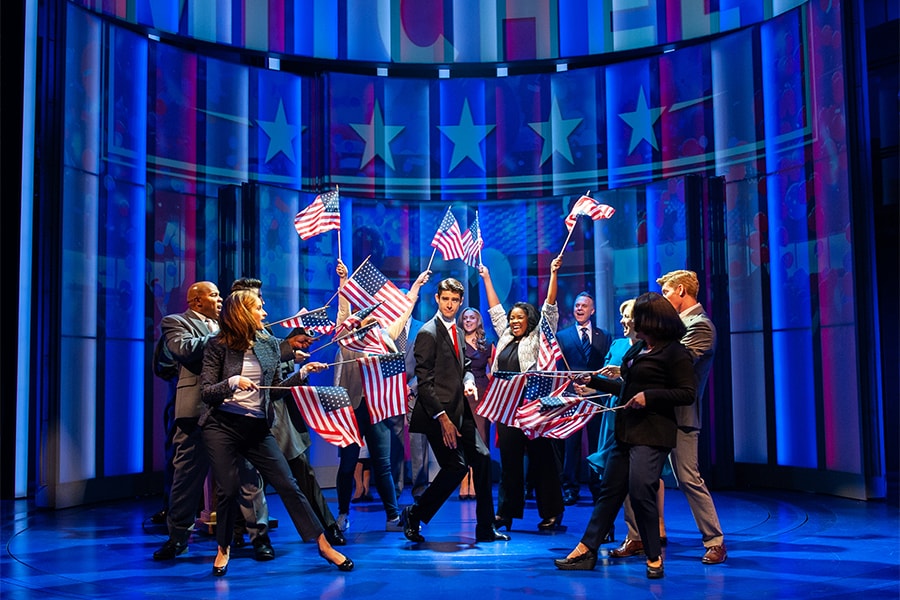 August 14, 2018
Gehling's "Dave" is a Politician Everyone Likes
By Katie Booth
Media Inquiries
Carnegie Mellon University alumnus Drew Gehling is pleasing both sides of the aisle, starring in an apolitical story about politics.
Gehling, a 2005 graduate of the School of Drama, is starring in "Dave," a new musical which is premiering at Washington, D.C.'s Arena Stage at the Mead Center for American Theater.
Based on the 1993 movie starring Kevin Kline and Sigourney Weaver, "Dave" is the story of what happens when philandering U.S. President Bill Mitchell suffers a stroke and is covertly replaced by a look-alike. Dave is a high school history teacher whose innocence and idealism happen to make him a perfect leader.
"'Dave' offers something very very pure and simple," Gehling said. "...[the idea that] the basic actions of a human being trying to do the right thing are at the heart of what our government should be."
Ever since Gehling was cast, he swore off watching the movie. He didn't want to imitate Kline's performance but, rather, to focus on capturing the overall spirit of the role. But for Gehling, the preparation for this role — and for working with Director Tina Landau — began long before he stopped watching the movie. It began in the classrooms of CMU.
It was his freshman year, under Professor Catherine Moore, that he first studied Landau's acting theories. Today he applies those tools directly to working with her.
"I have [Moore] to thank for ... being able to show up having done my homework," said Gehling, who did that homework a decade ago.
Back then, Gehling chose CMU less for the training than the people.
"Everybody loved — ate, slept and breathed — the work they were doing," he said.
But as committed as his peers were to their work, they were also encouraged to explore. This was another big draw for Gehling, who had one foot in theater and another in medicine.
Even today he remains involved in the medical community. Drawing on those interdisciplinary values, in 2012 he enrolled in Columbia University's post-baccalaureate pre-med program and began to research vocal stress in actors and performers. In 2014, he published a paper, "Backstage at Broadway: A Demographic Study," in the "Journal of Voice." Since then, his theater career has taken off, and his dreams of being a doctor are on hold.
Now, Gehling is relishing a different sort of cross-pollination, politics and theater, until the show wraps up its run on Aug. 19. While Gehling would love to see "Dave" go to Broadway — he has recently originated the role of Doctor Pomatter in "The Waitress," and played Bob Gaudio in "Jersey Boys," both on Broadway — he also appreciates that D.C. audience members are more likely to see reflections of themselves in Dave.
Through the story of this guileless outsider, said Gehling, "[the play is] able to walk a line of being outside politics yet fully and completely writing a love letter to it."