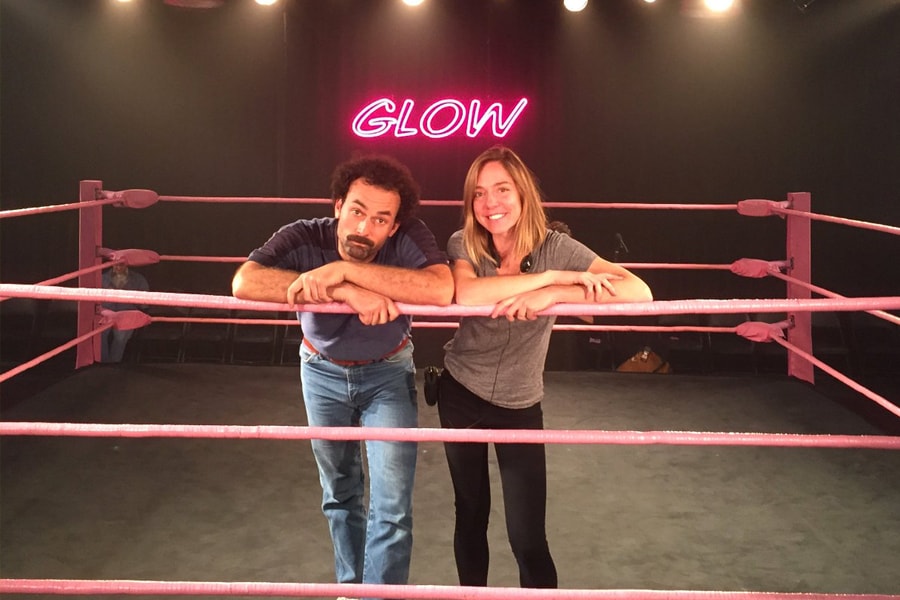 August 22, 2018
News Briefs
Alumni Tag Team Their Way Through Hollywood
Early in the second season of Netflix's hit comedy series "GLOW," a small army of female amateur wrestlers rampage through a mall as a young man wielding a camera and a furry mustache chases them. They challenge old ladies to races, stage fights on escalators and generally terrorize unsuspecting shoppers.
Carnegie Mellon alumnus Victor Quinaz stars as cameraman Russell Barroso, who chronicles the wrestlers' journey in nine episodes of GLOW's second season. Fellow CMU School of Drama alumnus Sian Heder directed one of the 10 second-season episodes.
Variety Magazine calls season two "spunky, tenacious and determined" — adjectives that also describe how best friends Quinaz and Heder arrived on the set of one of television's hottest shows.
"Sian and I had one of the best journeys of that school," said Quinaz, one year her junior in CMU's School of Drama. "We were both scholarship kids, and we needed money so badly that she and I would have to miss parties to go do odd jobs."
Vote for CMU in SXSW PanelPicker
Each year, CMU at South by Southwest (#CMUatSXSW) shows Austin and the world how the work happening at Carnegie Mellon is shaping the future. From the future of work to "shapeshifting" furniture, CMU wants to tell that story again in 2019. See the CMU presentations on the ballot and cast your vote.
Educators Undergo Transformation at LearnLab Summer School
Industry professionals, faculty and researchers gained a conceptual background and hands-on experience in designing, setting up and running technology-enhanced learning experiments at CMU's 14th annual Simon Initiative LearnLab Summer School. Participants also learned how to analyze the data from those experiments using CMU's advanced tools.
Vasudeva Rao Aravind, a physics professor at Clarion University and a previous summer school attendee, knew exactly where his students faltered in his course for non-physics majors. He was able to calculate this thanks to last year's program, where he learned to build a cognitive tutor to assist his students where they needed it most. When Aravind returned to this year's five-day program, one day was all it took for him to make significant improvements.
"LearnLab Summer School has empowered me with the knowledge to make my own tutor based on my own teaching style and my students' learning styles. And now, I can analyze the student data to see where the tutor is doing well and where it could be better," Aravind said.
Swartz Center Seeks Teams for Fall NSF I-Corps Program
The Swartz Center for Entrepreneurship is recruiting teams for its fall 2018 NSF Innovation Corps (I-Corps) customer discovery training program. Teams are open to CMU faculty, staff, students and recent alumni and can be reimbursed up to $2,500 to further their business venture. Teams also will receive access to Project Olympus programs, business mentors, and workshops and guidance in writing proposals for external funding. More details about the program and eligibility can be found online. There have been 113 teams in the program since fall 2014 and they have received more than $18 million in additional funding for their ideas. The deadline for teams to apply is Sept. 7 at https://bit.ly/2mN1XSk. For more information on the program, please contact Melanie Simko, program manager, at msimko@cmu.edu.
Pittsburgh Renaissance Festival Tickets Available
Staff Council is offering discounted tickets to the Pittsburgh Renaissance Festival each weekend through September. Other offers this fall include tickets to performances in Pittsburgh's Cultural District, Kennywood's Phantom Fright Nights, Idlewild Park's Hallowboo and Scarehouse: Pittsburgh's Ultimate Haunted House. See all the Staff Council discounts online.
Floor Marshal, Active Shooter Training Sessions Offered
Due to a number of requests from faculty and staff, Environmental Health & Safety is offering two additional sessions for the combined Floor Marshal and Active Shooter training. You do not have to be a floor marshal or facility coordinator to attend these sessions. This training is appropriate for all faculty and staff. The first hour is dedicated to fire safety topics and appropriate actions during an emergency, while the second hour specifically addresses an active shooter scenario.
The sessions are at 10 a.m. on Thursdays, Sept. 13 and Oct. 11.  Seating is limited for each session, so registration is required. Register online.