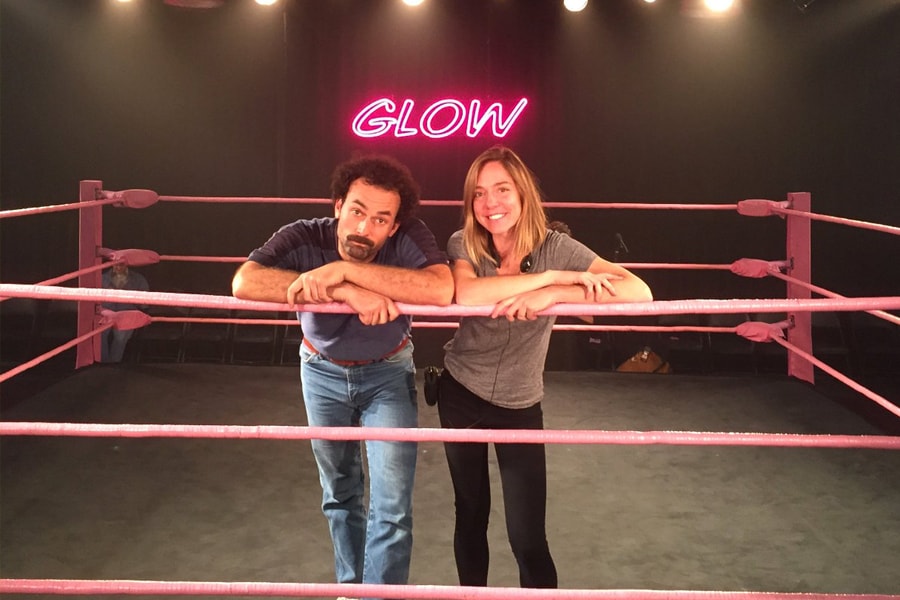 August 08, 2018
CMU Alumni Tag Team Their Way Through Hollywood
Early in the second season of Netflix's hit comedy series "GLOW," a small army of female amateur wrestlers rampage through a mall as a young man wielding a camera and a furry mustache chases them. They challenge old ladies to races, stage fights on escalators and generally terrorize unsuspecting shoppers. Carnegie Mellon University's Victor Quinaz stars as cameraman Russell Barroso who chronicles the wrestlers' journey in nine episodes of "GLOW"'s second season. Fellow CMU School of Drama alumnus Sian Heder directed one of the 10 second-season episodes.
Variety Magazine calls season two "spunky, tenacious and determined" — adjectives that also describe how best friends Quinaz and Heder arrived on the set of one of television's hottest shows.
"Sian and I had one of the best journeys of that school," said Quinaz, one year her junior in CMU's School of Drama. "We were both scholarship kids, and we needed money so badly that she and I would have to miss parties to go do odd jobs."
Quinaz said they grappled about dramatic theory while working side by side in the box office but they don't quibble anymore. "I've learned not to fight with Sian."
When Quinaz moved to New York after graduation, Heder helped him get a job at the bar where she worked. When both actors found more success behind the camera than in front of it, they leaned on each other for support.
"Sian's always had my back. We're family," Quinaz said.
Today, they're both highly sought-after writers and directors. Heder wrote for several seasons on Netflix's other female-centric hit comedy "Orange is the New Black." She also wrote and directed Sundance darling "Talullah," starring Ellen Page and Allison Janney (Netflix).
In addition to Quinaz's starring role in "Glow," he is a writer on the animated Netflix comedy "Big Mouth" and a producer on Netflix's hard-hitting docu-series "Last Chance U." He's also the writer and director behind films including "Periods," "Breakup at a Wedding," which stars Heder, and "Hollidaysburg," the latter two produced by Before the Door, the production company created by his drama school pals Zachary Quinto and Neal Dodson.
While Netflix and Before the Door productions are bigger budget affairs, Quinaz knows Russell Barroso's quick and cheap, filmmaking-at-any-cost ethos well.
In his senior year, Quinaz's professors tried to halt the young actor from writing and directing his first feature film starring all of his classmates, among them Cote de Pablo, Matt Bomer, Pablo Schreiber, Katy Mixon and Joe Manganiello. The professors would've preferred their seniors focus on Broadway preparations.
Quinaz responded like any good Hollywood producer would: he put in a call to the most powerful person he could, then-CMU President Jared Cohon, who helped Quinaz secure equipment, space and the approval of the School of Drama.
"For most of us, it was our first experience in front or behind the camera," Quinaz said. He shot it in the nooks and crannies of his senior year schedule, skipping parties to edit the film on an early model iMac purchased with Cohon's help.
"Far and away the most valuable thing I took from my years at CMU were my friendships," Quinaz said.
These days, he sees his friends in writers rooms, directors chairs or sitting across the table from him in pitch meetings. The best part? Not only do his closest friends share his dreams — they get to help each other reach them.