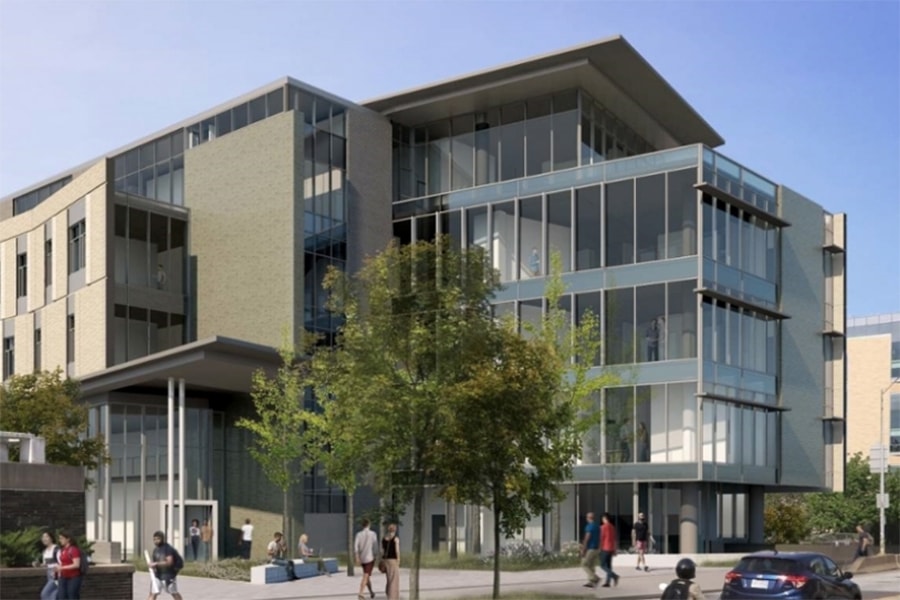 August 01, 2018
News Briefs
Architect Reveals Design of TCS Hall
The architectural firm Bohlin Cywinski Jackson (BCJ) has released the design for TCS Hall, which will house computer science, computational finance, and mechanical engineering offices and labs when it opens in spring 2020. The 90,000-square-foot building is being funded in part by a gift from Tata Consultancy Services, a global IT and business solutions company.
Constructed on a site between 4615 Forbes Avenue and Junction Hollow, TCS Hall will serve as a gateway to campus for those entering from Forbes Avenue and as a keystone for further development north of Forbes.
The building has been redesigned to almost double its size since ground was initially broken in 2017. BCJ says the building will feature a "Student Collaboration Porch," a drone highbay, flexible makerspace and an outdoor robot yard.
Both TCS Hall and ANSYS Hall, now under construction next to Hamerschlag Hall, are projects led by BCJ's Gregory Mottola, design principal, and Kent Suhrbier, principal in charge. Mottola and Suhrbier are alumni of CMU's School of Architecture.
CMU Teams Take Top Spots in Microsoft Localization Competition
Carnegie Mellon alumni and students found their way to a first- and second-place finish in the fifth annual Microsoft Indoor Localization Competition, held in the Palácio da Bolsa in Porto, Portugal. Knowing how to pinpoint a specific location inside a building has broad applications, from rescue and recovery, augmented reality and manufacturing, to medicine, transportation and tourism.
Contestants were separated into two categories and judged by their devices' ability to report their location in either two or three dimensions. Each device traversed an area of the palace's first and second floors, as well as the large staircase connecting them, and reported their location as they followed the predetermined path. Their readings were then compared against ground truth readings from a LiDAR sensor, a method similar to radar. This was used to calculate average location error.
First place went to ECE Ph.D. candidate Niranjini Rajagopal, ECE Ph.D. student John Miller, ECE master's degree student Krishna Kumar and CyLab Postdoctoral Researcher Anh Luong.
Yodel Labs, a CMU startup spun off by ECE alumni Patrick Lazik, who earned his doctorate in 2017, and Nick Wilkerson, who earned his master's degree in 2014, finished second in the competition.
Libraries To Implement Food Policy Changes, Sept. 9
As a result of conversations with members of the campus community and feedback from a food survey, University Libraries are implementing changes to its food policy, effective Sept. 9. Signage announcing the new policy will begin to appear Aug. 1 and Libraries employees will begin to educate visitors about the upcoming changes. View the full food policy.
As of Sept. 9, the following changes will be implemented:
Non-alcoholic drinks in covered containers and small, contained snacks are permitted throughout Libraries spaces with the exception of:
Hunt Library, Fine and Rare Books Room;
Hunt Library, University Archives;
Hunt Library, Computer Cluster in the basement;
Mellon Institute Library, Main Reading Area; and
The Posner Center.
Meals and food in carryout containers are permitted only in the following areas:
Hunt Library, First floor;
Hunt Library, Basement;
Sorrells Library, Collaborative Work Area; and
Mellon Institute Library Periodicals Rooms.
To ensure the physical spaces of the Libraries continue to enhance the quality of the CMU student experience, University Libraries ask that you please observe these policies, which apply to the Hunt, Sorrells and Mellon Institute locations as well as the Posner Center.
Pardon the Dust! Dining Venues Getting a Refresh
In order to refresh dining venues for the upcoming academic year, some locations will be closed Aug. 4 - 12. See what's open and what's closed, and get an up-to-date look at all the dining locations.
High School Students Learn About Careers, College Life at CMU-Q
Secondary school students from across Qatar spent three weeks learning about careers in science, technology and business during the annual Summer College Preview Program at Carnegie Mellon University in Qatar. This year was the largest class yet, with 79 students participating.
Throughout the program, students explored the fields taught at CMU-Q — biological sciences, business administration, computer science and information systems — and learned about college life. For many students, the program is an introduction to their future careers. Nearly 25 percent of last year's freshman class at CMU-Q attended the summer program as high school students.
"The Summer College Preview Program exposes students to college-level math and writing and encourages them to develop new skills through project work. This is an important introduction to new fields of study for many students," said Kemal Oflazer, associate dean of research at CMU-Q, who addressed students and parents at the SCPP closing ceremony.
Whitehead's Research Could Revolutionize Medicine 
Ribonucleic Acid is a crucial component in human gene expression, and it may have the ability to treat virtually every known disease.
Katie Whitehead, an assistant professor in the Department of Chemical Engineering, is leading the way with research that could one day enable personalized RNA therapies. After identifying the genes that are being over- or under-expressed in a given disease, researchers like Whitehead can introduce specific RNA molecules into the affected cells — where it is most needed — to correct the problem.
Much of Whitehead's work has focused on lipid nanoparticles — small spheres made of fat — that encase the RNA and deliver it to a target area. By altering the chemistry of the lipid nanoparticle delivery vehicles, she can control where in the body the RNA affects gene expression. So far, her group has mainly found success in achieving expression in the liver and spleen, but her long-term goal is to be able to deliver things anywhere in the body.
CMU Joins Mini-Grid Innovation Lab for Africa
Engineering and Public Policy Associate Professor Paulina Jaramillo and Post-doctoral Research Associate Nathan Williams aim to improve access to electricity in rural Africa via the new Mini-Grid Innovation Lab.
CrossBoundary Energy, a renewable energy investment fund for Africa, and The Rockefeller Foundation launched the lab for sub-Saharan Africa. The goal is to develop and analyze new business models for community-based, green energy systems to accelerate sustainable rural electrification. The lab is working with partners on the ground as well as Carnegie Mellon and other academic institutions.
If deployed and funded effectively, mini-grids could drastically improve electrical power distribution in rural Africa. With current technology, CrossBoundary estimated that investing $11 billion USD would connect 100 million people to mini-grids.