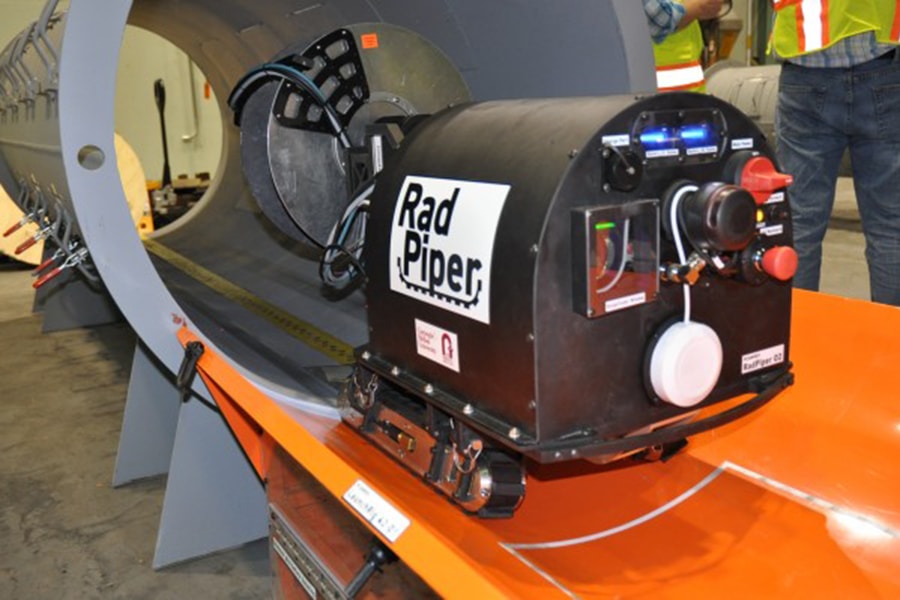 August 15, 2018
News Briefs
Robotics Team Delivers Pipe-Crawling Robot to DOE
A team from Carnegie Mellon's Robotics Institute has delivered a 270-pound robot called RadPiper to the U.S. Department of Energy's former uranium enrichment plant in Piketon, Ohio, where it will be used to identify uranium deposits on pipe walls.
RadPiper is an autonomous, tracked robot that crawls inside miles of 30-inch and 42-inch-diameter pipe at the Portsmouth Gaseous Diffusion Plant, which is being decommissioned and prepared for demolition. The robot is equipped with radiation detectors and can identify sections of pipe that have hazardous uranium deposits.
This technology, developed by a team led by Robotics Professor William "Red" Whittaker, could potentially save millions of dollars in decommissioning costs by identifying those sections of pipe that need special handling and disposal. The rest of the pipe could remain in place and be demolished safely and less expensively with the rest of the process buildings — three gigantic structures that span the size of 158 football fields.
The CMU team has worked closely with DOE and Fluor-BWXT Portsmouth, the decommissioning contractor, to develop the robot. Fluor-BWXT staff members are now testing the robot as they work toward its deployment. The robot also could be used in the decommissioning of a similar plant in Paducah, Kentucky.
CMU Joins Meltwater To Advance Data Science
Students and faculty at the School of Computer Science are collaborating with the digital media intelligence firm Meltwater to advance the state of the art in artificial intelligence education and research using the company's AI platform.
Meltwater, which has the world's most diverse collection of open and licensed data, has opened its underlying AI platform, Fairhair.ai, to Carnegie Mellon and other select universities. The Fairhair.ai platform allows students and faculty to create, connect and organize web-scale information to generate real-time analytics that support decision-making from online data.
CMU will use Fairhair.ai in graduate AI courses and as a resource for the university's data science and AI research community.
"Sharing access to real-world data helps students, researchers and data scientists solve real-world problems more rapidly," said Eric Nyberg, director of CMU's Master of Computational Data Science program and a professor in the Language Technologies Institute. "In addition to realistic real-time data sources, the platform also includes AI modeling and integrated cloud computing to greatly simplify the process of building and optimizing new web-scale analytics."
Growing Fat Cells on Silk May Help Researchers Better Understand Diseases
Carnegie Mellon's Rosalyn Abbott is analyzing fat, or adipose tissue, to learn about the characteristics of disease mechanisms and metabolic behavior. As obesity continues to be a serious health concern in the United States, more research is necessary to combat rising health risks and potential metabolic disorders.
"Our lab is focused on trying to determine what affects our metabolism in healthy and diseased states," said Abbott, an assistant professor of biomedical engineering since August 2017. "That is the umbrella that everything else falls under, whether it's trying to create more accurate models to predict human responses, or looking at how different factors are influencing this change in metabolism during disease processes."
Abbott's lab develops human adipose tissue models to explore mechanisms of different diseases. Most research about human metabolism comes from using animal tissue models, but these models don't always translate to human disease mechanisms. Adipose tissue itself cannot maintain its structure outside the body, so Abbott and her team use silk as a scaffolding material to help sustain the tissue's structure. Silk is a natural biomaterial that has a wide range of versatile engineering applications.
Parking Permit Distribution Aug. 20-24
Parking and Transportation Services will distribute parking hangtags Monday through Friday, Aug. 20-24. Your CMU ID is required to pick up your hangtag. The schedule follows:
Monday, Aug. 20: 9 a.m. – 1 p.m., Dithridge Garage Lobby
For the following parking areas only: 300 S. Craig, Clyde Street, Dithridge, Fifth & Craig, 4700 Fifth Avenue, GATF, Henry Street, Whitfield and Zebina Way.

Tuesday, Aug. 21 through Friday, Aug. 24: 9 a.m. – 3 p.m., Parking Office, East Campus Garage
For all locations.

If you are not available to pick up your permit during any of the listed times, permits also may be picked up at the Parking and Transportation Services Office during normal business hours any time prior to Aug. 31. Permits that are not picked up by Aug. 31 will be considered unclaimed and will be cancelled and removed from the database unless you have made other arrangements. Please send email to parking@andrew.cmu.edu if you are unable to pick up the permit by Aug. 31, or if you wish to have someone else pick up your permit in your absence.
If you have questions, send email to parking@andrew.cmu.edu, or call 412-268-2052 between 8 a.m. and 4:30 p.m., Monday through Friday.
Floor Marshal, Active Shooter Training Sessions Offered
Due to a number of requests from faculty and staff, Environmental Health & Safety is offering two additional sessions for the combined Floor Marshal and Active Shooter training. You do not have to be a floor marshal or facility coordinator to attend these sessions. This training is appropriate for all faculty and staff. The first hour is dedicated to fire safety topics and appropriate actions during an emergency, while the second hour specifically addresses an active shooter scenario.
The sessions are at 10 a.m. on Thursdays, Sept. 13 and Oct. 11.  Seating is limited for each session, so registration is required. Register online.