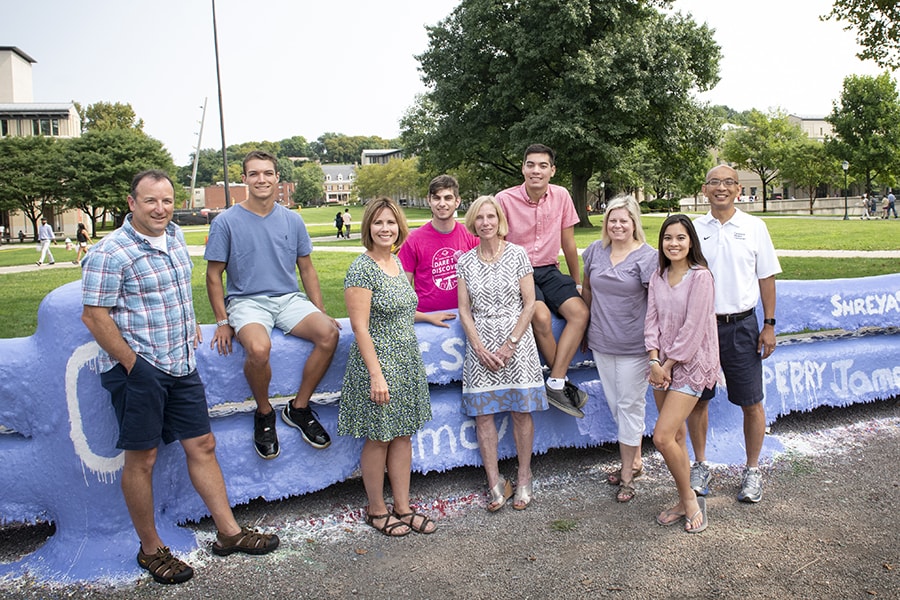 August 19, 2018
Carnegie Mellon Orientation a Family Affair
By Bruce Gerson bgerson(through)cmu.edu
It's a classic Carnegie Mellon University story that touches students, alumni, faculty, staff, buggy drivers and pushers.

Two head orientation counselors in 1990 become lifelong friends, marry fellow CMU graduates, and now their oldest children are attending first-year orientation this week as members of CMU's Class of 2022.
Janet Ertel Gess and Conrad Zapanta were among the new wave of head orientation counselors who brought the first-year program from rural, woodsy, campsite cabins back to the Pittsburgh campus.
"That was the first year it was different," said Gess, who earned her bachelor's degree in chemical and biomedical engineering in 1991 and is now a technical writer for a statistical software company. "Anne Witchner's vision was to bring it back to campus and to focus on the academic and social things you need to know. It was more of a program to get the kids going."
Witchner, who has been in charge of orientation off and on for 20 years since 1990, said Gess, a former Spring Carnival buggy driver and Kiltie Band dance line member, and Zapanta, a former buggy pusher, represented the "cream of the crop" as head orientation counselors.
"They took on positions that were new, but they had the wisdom to know that we were providing our students with a much-needed opportunity," said Witchner, associate dean of Student Affairs. "Their maturity, willingness to take risks and listen made them excellent role models and team players."
Witchner, whose son, David Levin, is a head orientation counselor this year, earned her bachelor's degree in English at CMU in 1973. She credits Gess and Zapanta with helping to shape today's weeklong orientation program, an award-winning, campus-wide event that indoctrinates new students to the campus and academic communities and includes the participation of faculty, staff and alumni.
"As you can imagine the program was on a much smaller scale back then, but it was the start of what we have developed, today," she said. "It is a great story about how students help shape the campus and the major influence they have on the future."
Zapanta, who earned his bachelor's degree in 1991 in mechanical engineering with an option in biomedical engineering, is now associate head for undergraduate education and a teaching professor in biomedical engineering at CMU. He earned his Ph.D. in bioengineering at Penn State and worked for a heart valve company in Texas before returning to CMU in 2006.
As an outgoing head counselor, he recalls making a few suggestions to Witchner, which included adding more preparation time, having counselors who represent the full CMU community and keeping a good balance in respect to the social and academic aspects of the program.
"The devil is in the details and you can't overplan for something like this," he said.
Zapanta and Gess fondly remember their time as counselors and both noted fellow counselor and lifelong friend Debbie Jacobs Cohn. Cohn's son is a CMU sophomore this year.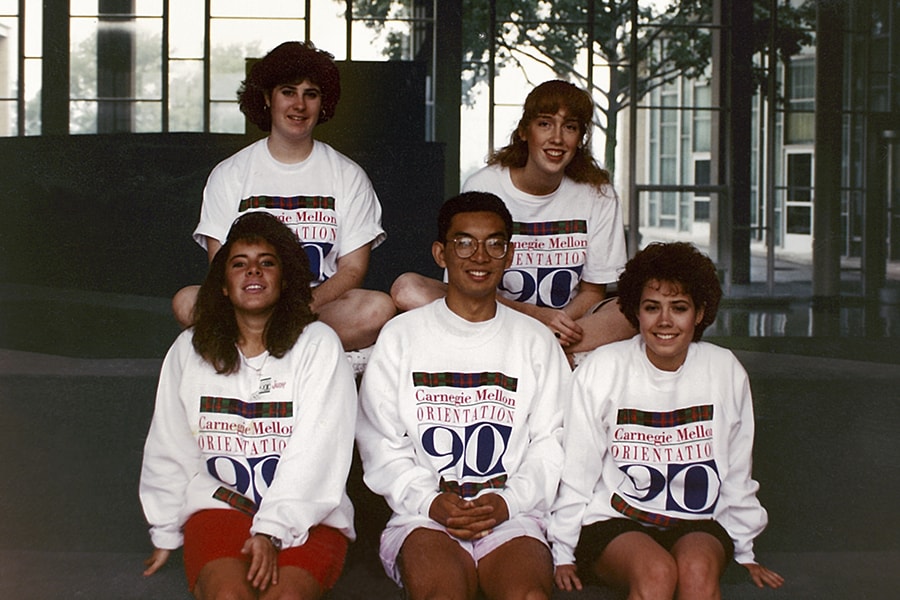 The 1990 Head Orientation Counselors. Top Row: Debbie Jacobs Cohn and Maggie O'Toole; Bottom Row: Judy Grossman, Conrad Zapanta and Janet Ertel Gess
"There was so much preparation, energy and problem-solving supervising 40 to 50 counselors — it was exhausting," Zapanta said. "I remember the five of us had different skill sets and different connections to campus, but by the end we knew what each other was thinking."
"It was amazing how everyone had a purpose and a vision and we all worked toward it," said Gess, who earned her master's degree in statistics from the Rochester Institute of Technology. "It was fascinating to see how students can come together, and with some direction and support, can make it happen."
Gess' son, Ryan, plans to study electrical and computer engineering. His father, Michael, is a 1992 graduate of CMU's School of Computer Science who works in the Applied Research Lab at Penn State.
"I think orientation is a great opportunity to throw yourself out there and make tons of new friends. I'm looking forward to meeting my new classmates and learning about what resources are available to me as a student," said Ryan, who plans to join the baseball club, the Plaid Parliament of Pwning hacking team, and participate in buggy and intramural sports.
Zapanta's twins, Katy and Josh, plan to study dramaturgy and mechanical engineering or materials science engineering, respectively. Their mother, Laura, is a 1989 graduate of the Mellon College of Science. She was a buggy driver for the student club CIA (Carnegie Involvement Association), and Conrad was her Hill 5 pusher. Today, Laura is a biological sciences professor at the University of Pittsburgh.
Katy said dramaturgy combines her passion for theatre and her love for history and writing.
"I'm looking forward to meeting the entire School of Drama. I love meeting new people but the overwhelming amount of new faces will definitely take me out of my comfort zone," said Katy, who plans to join a sorority, get involved in a campus ministry and possibly follow her mother's footsteps as a buggy driver.
Josh said he is interested in joining the CMU Rocket Club.
"CMU is a place full of brilliant people with an incredible work ethic and plenty of positive influence on others. I look forward to meeting new people at orientation," he said.
At the end of orientation week, Witchner said she hopes students have a sense of confidence to begin classes, understand the resources and opportunities the university provides and recognize the importance of diversity and their responsibility as students and residents of the CMU community.
"Orientation is the expression of the collaborative spirit of this place," Conrad Zapanta said. "Orientation creates the culture early and you cannot spend too much time creating culture. Anne has done a wonderful job."
Conrad Zapanta will be the keynote speaker at Convocation, beginning at 5 p.m., Thursday, Aug. 23 in the Orientation Tent on the College of Fine Arts lawn. Convocation marks the beginning of the Class of 2022's academic career. Zapanta will talk about the things he wished he knew when he was a freshman.
Ryan Gess and Katy and Josh Zapanta are among 92 first-year students who have at least one CMU alumni parent, and 34 first-year students who have a parent working at CMU.