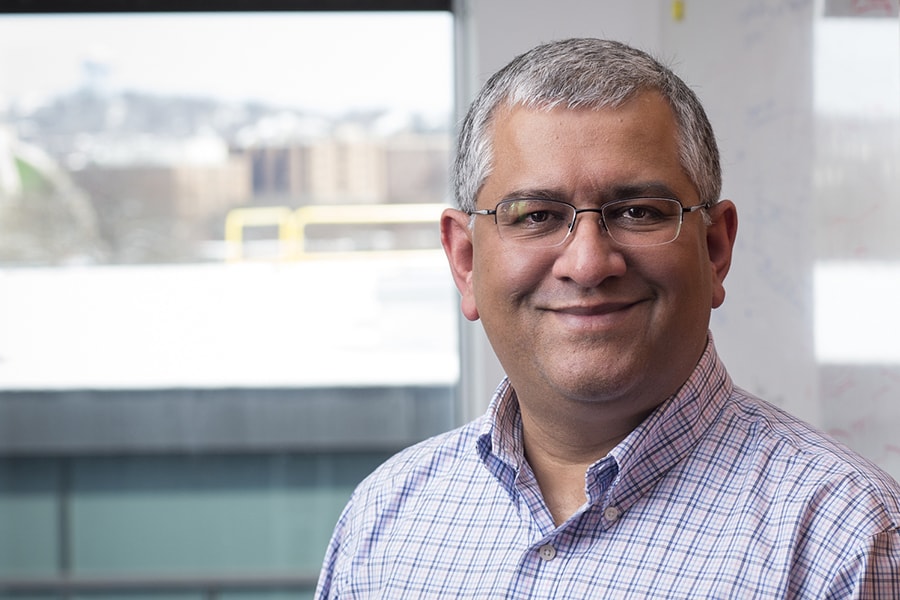 April 05, 2018
Personal Mention
Srinivasan Seshan has been appointed head of the Computer Science Department (CSD), effective July 1. He succeeds Frank Pfenning, who will return to full-time teaching and research. "We are all excited about Srini Seshan's new role as head of CSD," said School of Computer Science Dean Andrew Moore. "He is an outstanding researcher and teacher, and I'm confident that his expanded role in leadership will help the department reach even greater heights." Seshan joined the CSD faculty in 2000, and served as the department's associate head for graduate education from 2011 to 2015. His research focuses on improving the design, performance and security of computer networks, including wireless and mobile networks. He earned his bachelor's, master's and doctoral degrees in computer science at the University of California, Berkeley. He worked as a research staff member at IBM's T.J. Watson Research Center for five years before joining Carnegie Mellon. Find out more.

College of Engineering Dean James H. Garrett Jr. has been elected a Distinguished Member of the American Society of Civil Engineers (ASCE), the highest hnonor available to civil engineers. Garrett is one of only 10 members of the Class of 2018 ASCE Distinguished Members. Throughout his research career, Garrett has focused on how sensors and data analytics can make cities more adaptive and efficient. This approach aims to give our built infrastructure the ability to detect and report on problems directly to the humans charged with maintaining those structures, allowing for more proactive and cost-effective infrastructure management. Prior to becoming dean in 2013, he was head of the Department of Civil and Environmental Engineering for six years. Garrett earned his bachelor's (1982), master's (1983) and doctoral (1986) degrees in civil and environmental engineering from Carnegie Mellon.


Illah Nourbakhsh, professor of robotics and director of the CREATE Lab, and Molly Wright Steenson, associate professor of design, are the first recipients of K&L Gates Professorships, which were created with funding from the K&L Gates Endowment for Ethics and Computational Technologies at CMU. Nourbakhsh received the K&L Gates Professorship in Ethics and Computational Technologies. Steenson was awarded the K&L Gates Career Development Professorship in Ethics and Computational Technologies. They will be honored at the Carnegie Mellon University – K&L Gates Conference on Ethics and AI, April 9-10. Nourbakhsh's research projects explore community-based robotics, including educational and social robotics and ways to use robotic technology to empower individuals and communities. Steenson investigates the past and present implications of AI and computation on design and architecture. She is the author of "Architectural Intelligence: How Designers and Architects Created the Digital Landscape" (MIT Press, 2017), which discusses the radical history of AI's impact on design and architecture. Find out more.

Lorrie Cranor has received the 2018 Leadership Award from The International Association of Privacy Professionals (IAPP). Cranor, a professor in the Institute for Software Research and the Department of Engineering and Public Policy, accepted the award at the IAPP's Global Privacy Summit on March 27. "Lorrie Cranor, for 20 years, has been a leading voice and a leader in the privacy field," said IAPP President and CEO Trevor Hughes. "She developed some of the earliest privacy enhancing technologies, she developed a groundbreaking program at Carnegie Mellon University to create future generations of privacy engineers and she has been a steadfast supporter, participant and leader of the field of privacy for that entire time. Her merits as recipient for our privacy leadership award are unimpeachable. She's as great a person as we have in our world." The IAPP Leadership Award is given annually to individuals who demonstrate an "ongoing commitment to furthering privacy policy, promoting recognition of privacy issues and advancing the growth and visibility of the privacy profession." Cranor helped develop and is now co-director of CMU's MSIT-Privacy Engineering master's degree program as well as director of the CyLab Usable Privacy and Security Laboratory. Find out more.

Rosana Guernica has been named one of "Larry's Hometown Heroes." KDKA Radio's annual event hosted by Larry Richert honors individuals who are giving back and making a difference in their local community. Guernica, a decision science major, was honored for her work coordinating and delivering aid to Puerto Rico following the devastation from Hurricane Maria. After the hurricane hit Puerto Rico, Guernica began chartering flights to bring supplies and evacuate at-risk patients who couldn't find a way out. Between October and December 2017, Guernica applied organizational behavior and decision-making tools from her studies to complete five relief trips that delivered 76,500 pounds of supplies to the island and evacuated 296 people to the U.S. mainland. To pay for the flights, she raised more than $250,000, the bulk of which came from an online crowdfunding campaign. Learn more.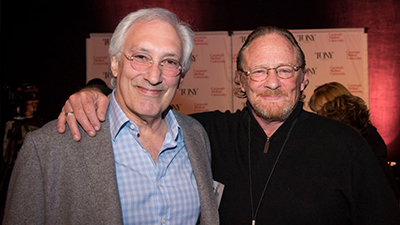 Steven Bochco, a 1966 graduate of the School of Drama who changed the face of television with groundbreaking hits, died Sunday, April 1, after a valiant fight with leukemia. He was 74.
Generations of fans were glued to their TV sets to watch Bochco's hits such as "Hill Street Blues," "NYPD Blue" and "L.A. Law." He also created "Doogie Howser, M.D.," which made its leading  man, Neil Patrick Harris, a star.
Bochco was one of the first series creators to use ensemble casts and earned 10 prime time Emmy Awards for his work. When "Hill Street Blues" debuted it offered a realistic look at the lives of the police officers and support staff working at the fictitious Hill Street station. It was credited with changing the face of television.
"Steven's work made a dramatic impact across the entertainment industry," said Dan J. Martin, dean of CMU's College of Fine Arts. "His writing focused on dramatic realism, something that the industry hadn't seen on the small screen at the time 'Hill Street Blues' premiered in 1981. He truly led the way for a new genre of innovative television."
"Steven will be greatly missed in our community and the arts and entertainment industry at large," said Peter Cooke, head of CMU's School of Drama. "He was extremely generous with his time for our students and an enthusiastic donor to the school, where he supported a drama scholarship fund. He was a visionary and willingly shared his expertise with us all."
Carnegie Mellon awarded Bochco an Alumni Achievement/Merit award in 1986, and he was the keynote speaker at CMU's Commencement in 1996.
Fellow School of Drama alumnus and Bochco friend Charlie Haid, who was cast as Officer Andy Renko in "Blues," remembered Bochco.
"Steven had a profound influence on my life, both personal and professional," Haid said. "We created magic and madness together, laughed and cried, fought and forgave, for more than 50 years. I'm but one of an amazing family that grew up together with Steven and mourn the loss of our pal."
Pictured above is Steven Bochco and fellow CMU alumnus Charlie Haid at Carnegie Mellon's centennial celebration for the School of Drama in 2014 in Los Angeles.