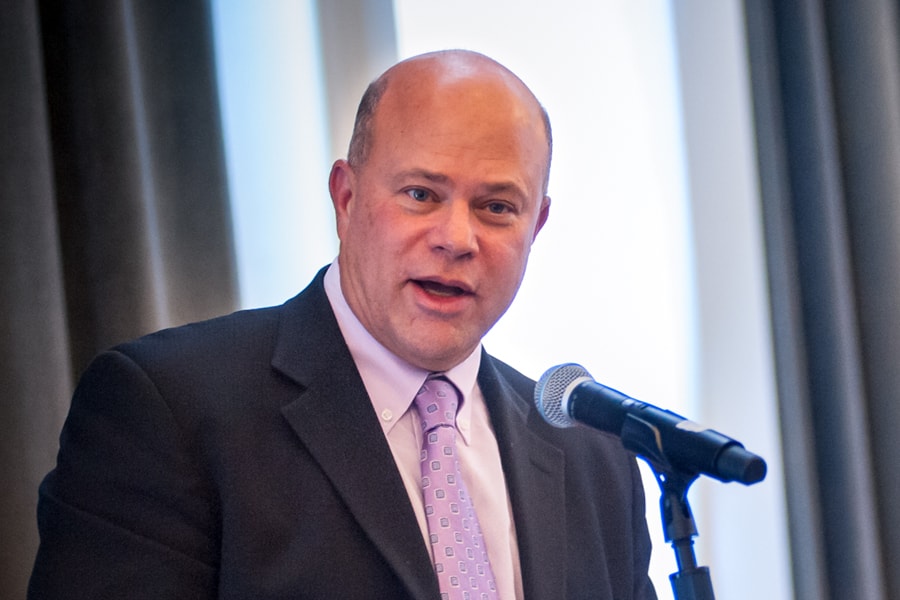 April 18, 2018
News Briefs
Q&A With David Tepper Set for April 26
The Tepper School of Business welcomes David Tepper, founder and president of Appaloosa Management, L.P., to campus on Thursday, April 26. Tepper will host a Q&A with students, which is open to the entire Carnegie Mellon community, from 5:30 - 6:30 p.m.
Tepper, who earned his MBA from CMU in 1982, will be this year's keynote speaker at Commencement. He also will receive an honorary degree in business practice. Learn more.
CMU, Sony Sign Research Agreement on AI and Robotics
The School of Computer Science has entered into an agreement with the Sony Corporation to collaborate on artificial intelligence (AI) and robotics research.
Initial research and development efforts will focus on optimizing food preparation, cooking and delivery, because the technology necessary for a robot to handle the complex and varied tasks of food preparation and delivery could be applied to a broader set of skills and industries. Applications could include those where machines must handle fragile and irregularly shaped materials and carry out complex household and small business tasks. Additionally, robots developed for food preparation and delivery must operate in small areas — an ability that could be valuable for many other industries.
"Making and serving food is an immense challenge for automation, so we're excited about the types of machines and software that might emerge as we jointly explore a variety of approaches and solutions," said SCS Dean Andrew Moore. "Both Sony and CMU aim high, so we are confident this research will produce technologies that impact robotics across a broad number of applications."
Staff Council's Ice Cream Social Today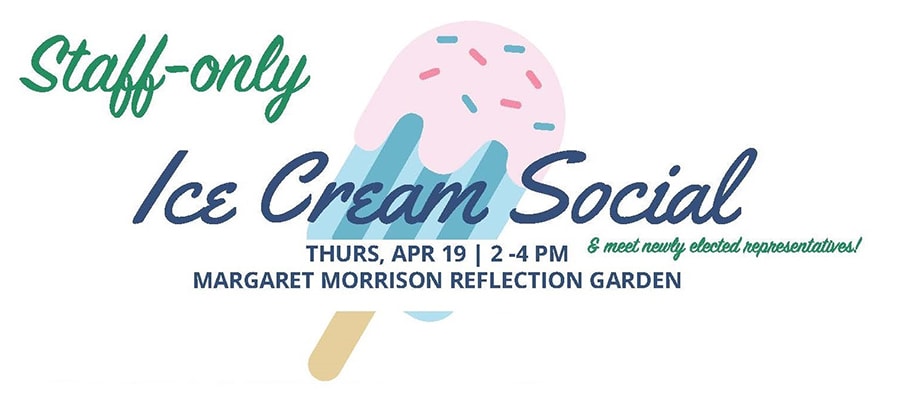 All CMU staff are invited to join members of Staff Council for an All-Staff Ice Cream Social from 2 to 4 p.m., today, Thursday, April 19 in the General Motors Dining Room, overlooking the pool in the Cohon Center. Get to know your representatives and what initiatives are underway as Staff Council kicks off Spring Carnival for staff with an assortment of novelty ice cream bars. You'll also get a chance to meet the newly elected divisional representatives and hear the winners of our recent raffle.
3-DIY: Printing Your Own Bioprinter
Researchers at Carnegie Mellon University have developed a low-cost 3-D bioprinter by modifying a standard desktop 3-D printer, and they have released the breakthrough designs as open source so that anyone can build their own system.
The researchers — Materials Science and Engineering (MSE) and Biomedical Engineering (BME) Associate Professor Adam Feinberg, BME postdoctoral fellow TJ Hinton, and Kira Pusch, an alumna with a bachelor's degree in materials science and engineering — published a paper in the journal HardwareX that contains complete instructions for printing and installing the syringe-based, large volume extruder (LVE) to modify any typical, commercial plastic printer.
"What we've created," Pusch said, "is a large volume syringe pump extruder that works with almost any open source fused deposition modeling (FDM) printer. This means that it's an inexpensive and relatively easy adaptation for people who use 3-D printers."
Not only does the device cut down on cost, it allows users to print artificial human tissue on a larger scale and at higher resolution, opening doors for researchers, makers and professionals to experiment with 3-D printing biomaterials and fluids. Find out more.
Sign Up for CMU's "Tri 3" Spring Triathlon
The Department of Athletics, Fitness and Recreation is hosting a spring triathlon, beginning at 6:30 a.m., Friday, May 4. The "Tri 3" Super Sprint Distance Triathlon includes:
a 400-meter swim in the pool or 1,500 meter row in the Fitness Center;
a 6-mile bike in the Cycling Studio; and
a 1.5 mile walk/run in the Fitness Center (on the track, weather permitting).
All CMU students, faculty and staff are eligible to participate. Prizes will be awarded to top finishers.
To sign up, pick up a registration form at the Fitness Desk or Equipment Desk in the Cohon Center. Contact Pattye Stragar at pls@andrew.cmu.edu with questions.
Calling All Artistic Staff; Display Your Work May 26
Do you create art in your spare time? Would you like the opportunity to display it for the CMU community?
A group of volunteers from the Community Picnic Committee is planning a 2-D art exhibition for CMU staff from 11:30 a.m. – 1:30 p.m. in the Cohon Center's Kirr Commons during the picnic on May 26. Space is limited, so the organizing committee reserves the right to make the final selections for display.
If you would like to submit a piece for consideration, please contact Sharrell Rushin at srushin@andrew.cmu.edu for details. Volunteers are needed for set-up and during the exhibition/picnic. If you would like to volunteer, contact Krista Campbell at kcampbell@cmu.edu.
Last Call: CMU Night at PNC Park is April 24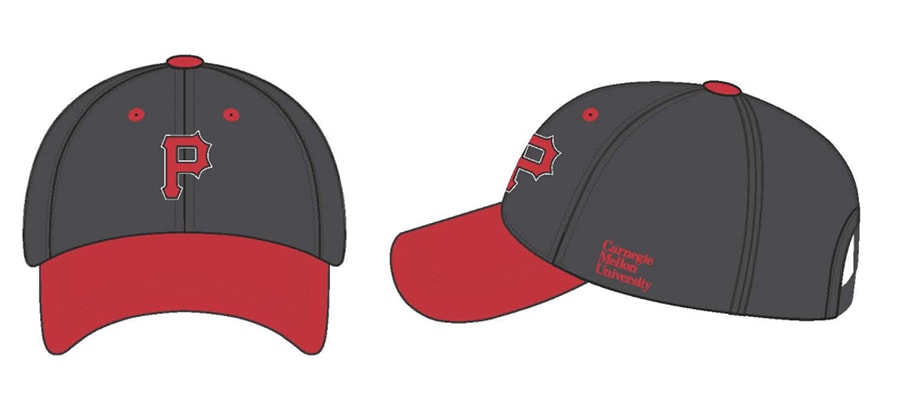 The third annual CMU Night at PNC Park will be Tuesday, April 24, when the Pittsburgh Pirates take on the Detroit Tigers at 7:05 p.m. Tickets are $25 for corner box seats and $17 for seats in the infield grandstand. Individuals purchasing tickets will receive an official Pirates/CMU baseball cap.
Volunteers Needed to Serve as Floor Marshals

The Environmental Health & Safety Department is seeking volunteers to serve as floor marshals where they work. Floor marshals serve the campus community by:
Participating in fire and emergency evacuation drills;
Assisting with evacuations to pre-designated emergency assembly points;
Assisting University Police and emergency response personnel in preventing re-entry into buildings until it has been deemed safe;
Reporting injured persons or those who need help to emergency responders; and
Providing other assistance as needed.
Volunteers will take part in floor marshal training provided by EH&S staff. Continuing education and training also will be provided. Interested? Send email to safety@andrew.cmu.edu.
Last Call: Register Your Child for Take Our Daughters & Sons to Work Day
Registration is underway for Carnegie Mellon's Take Our Daughters & Sons to Work Day on Thursday, April 26. Find out more at the Take Our Daughters and Sons to Work website, and register your child.
The Take Our Daughters & Sons to Work program introduces girls and boys between the ages of 8 and 15 to what a parent or mentor in their lives does during the work day. The program also aims to show children the value of their education and make them aware of some of the many professions and fields they can pursue.
In the morning, the children "shadow" their campus host. Lunch includes a welcome from the campus community and entertainment. In the afternoon, participants can attend a variety of short presentations in areas such as the fine arts, business, robotics and science and technology. Each presentation features engaging activities facilitated by faculty, staff and students.
Volunteers Needed:
Members of the campus community are needed to assist with registration, serve as lunch aides, chaperone guided tours across campus, and monitor the children waiting to be picked up from the gym. The time commitment for each role is detailed below.
Registration: 10:45 a.m. through about 12:15 p.m.
Lunch: 11:45 a.m. through 1 p.m.
Guides: 1 to 3:30 p.m.
Monitors at Pick-Up: 3 to 4 p.m.
Please email ggruber@andrew.cmu.edu for more information. Since these positions include direct contact with children as defined by the Pennsylvania Child Protective Services Law (as recently amended by "Pennsylvania Act 153") you will be required to obtain certain clearances prior to participating in the event. The university is prepared to provide you with the necessary information and assistance in complying with Act 153's requirements.