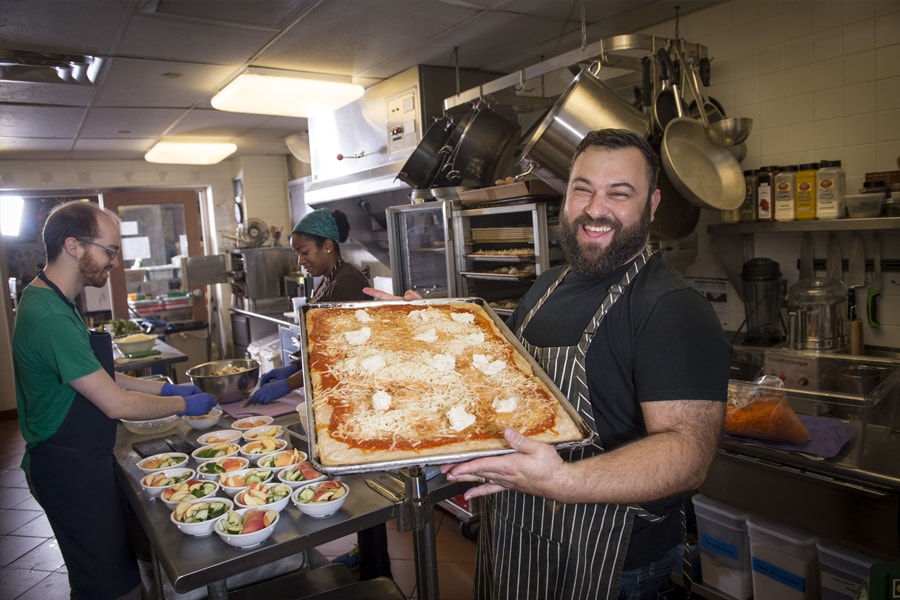 October 23, 2017
Carlson Brings Healthy, Sustainable Menu to Cyert Center
By Bruce Gerson bgerson(through)cmu.edu
Shawn Carlson is making sure children at the Cyert Center for Early Education are eating healthy.
Carlson is the chef at the Cyert Center, a full-day early care and education program for children ranging in age from 12 weeks to kindergarten. He prepares morning and afternoon snacks and lunch for about 200 preschoolers and 60 staff members at the center's Morewood Gardens and Penn Avenue locations.
A graduate of the Pennsylvania Culinary Institute who has worked at several high-end restaurants in Pittsburgh, Carlson takes a sustainable approach to cooking.
"I use a lot of fresh produce, fruits and vegetables and buy from many local farms and purveyors," Carlson said. "Kids always eat macaroni and cheese, pizza and chicken fingers, but I try to introduce them to new flavors and healthier foods. They've been very receptive to that."
Carlson sets the lunch menu two weeks in advance, featuring mostly chicken and turkey with some salmon and cod mixed in. There is no red meat on the menu because Carlson said it is harder for children to digest.
A recent two-week menu included butternut squash soup with a quinoa pilaf; orecchiette pasta with creamy pumpkin sauce and turkey sausage; chicken breast with sweet potato farro and cranberries; vegetarian chili with cornbread; chicken and vegetable lentil soup with crostini; chicken Bolognese with mezze penne; and ground turkey tacos with tomato and Tillamook cheddar.
"The feedback from the kids, staff and parents has been great," he said.
Carlson also gets vegetables from the Cyert Center garden, which the children help to grow.
"At the beginning of the year we'll talk about what I can use in the kitchen. The kids grow lettuce, tomatoes, carrots, cucumbers, zucchini, kale and a lot of herbs," he said. "They get a kick out of growing it, picking it and giving it to me to prepare."
Carlson worked in the restaurant business for years, including stints as a chef at the Pittsburgh Zoo and PPG Aquarium and Phipps Conservatory and Botanical Gardens. He said he was looking for a change when he came to the Cyert Center.
"Working 14 to 16 hours a day is a tough grind and coming to CMU has been very rewarding. Working with the kids is fun and the people are great," he said.
"I've been here for two years and I've never had a bad day."
Have a suggestion for the Staff Spotlight? Send it to piperweekly@andrew.cmu.edu.