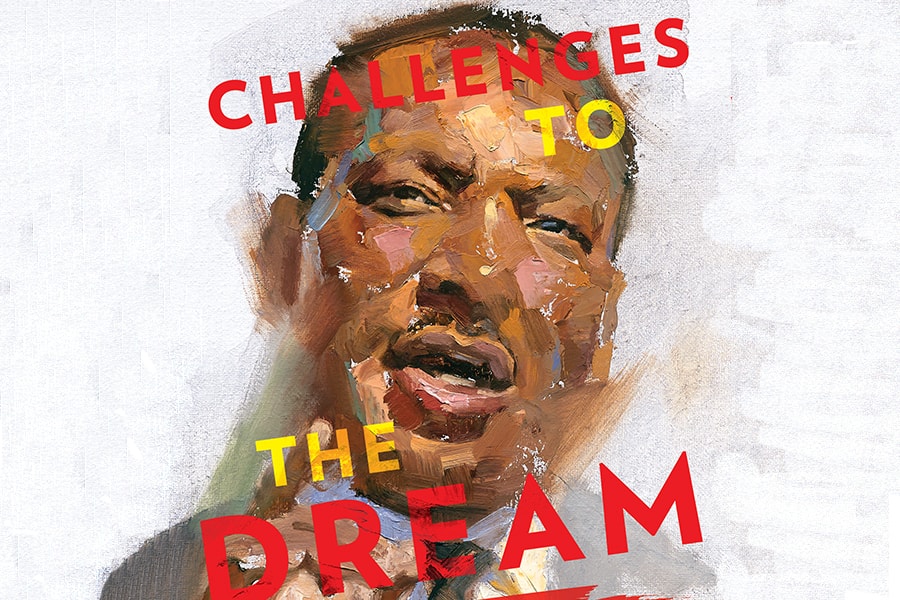 October 11, 2017
News Briefs
Anthology Details Youth's Struggles With Diversity
What started as an annual writing contest encouraging students to express their personal struggles with race and discrimination is now an anthology featuring 91 pieces by 83 writers on topics ranging from racial and cultural stereotypes and school bullying to homophobia and questions of identity.
Published by CMU Press, "Challenges to the Dream: The Best of the Martin Luther King, Jr. Writing Awards at Carnegie Mellon University" is a powerful selection of poetry and prose. Its purpose is to  share moving pieces and to encourage and extend more conversations about racial, political, gender, cultural and other diversity issues.
"The mission of the MLK Day Writing Awards is to create a space for daring, eloquent and inventive work, in the belief that the process of writing itself can help young people explore and break down issues of difference in their lives," said Jim Daniels, the Thomas Stockham Baker University Professor of English and founding director of the awards program.
Excerpts of the book will be read from 4:30 - 5:30 p.m., Friday, Oct. 13, during the grand opening celebration for the new Center for Student Diversity and Inclusion.
Portuguese Entrepreneurs Working at CMU
Three teams of Portuguese entrepreneurs are visiting the United States through Oct. 29 to advance their business ventures. This is the fourth edition of the "Entrepreneur in Residence Program," also known as inRes.

"With its unique and innovative format in Portugal, inRes allows teams to contact specialists, mentors, clients and investors, which is often vital for their success, and this is an advantage that all participants have acknowledged," said João Claro, national director of the Carnegie Mellon University Portugal Program and coordinator of inRes.
Funded by the Portuguese Foundation for Science and Technology, inRes gives participating teams the opportunity to benefit from the resources at CMU's Swartz Center for Entrepreneurship for six weeks at the Pittsburgh campus. Afterward, a weeklong visit to CMU's Silicon Valley campus provides an intensive phase of business model validation, fine-tuning of technology solutions, and contacts with companies and investors.
Synthetic Muscle Gets Punch from Design Method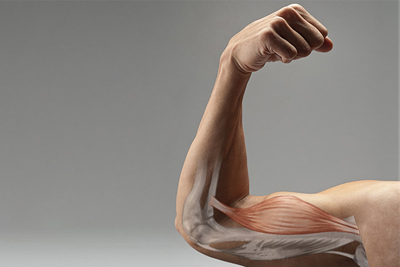 Researchers at Carnegie Mellon's College of Engineering are taking a multidisciplinary approach to building synthetic muscles for applications in regenerative medicine and robotics.
Each time a bicep flexes, millions of molecular motors work together in a complex process. These motors — called myosin — are chemically powered proteins. Combinations of them perform different muscular functions like maintaining a heartbeat or lifting weights. By coupling computational design search methods with biomechanical fundamentals, the researchers created a formal approach for designing myosin systems with specific properties. The findings were published in Proceedings of the National Academy of Sciences.
The team developed a new computational model that designs systems in which multiple myosin types operate together. Laboratory experiments then confirmed the computational predictions.
"This computational method will help us to understand muscle better through one of its building blocks, myosin, and help us toward building synthetic muscle in the future. It is similar to using an erector set with nanometer sized proteins to build a moving system," said Philip LeDuc, a professor of mechanical engineering.
Air Pollution a Greater Cost When Shipping Oil
While the policy debate surrounding crude oil transportation costs has emphasized accidents and spills, a new study by Carnegie Mellon and University of Pittsburgh researchers indicates the debate is overlooking a more serious cost — air pollution and greenhouse gas emissions.
The researchers presented their findings in a paper, titled "The External Costs of Transporting Petroleum Products by Pipelines and Rail: Evidence From Shipments of Crude Oil from North Dakota," published by The National Bureau of Economic Research.
The team included Karen Clay, professor of economics and public policy in CMU's Heinz College of Information Systems and Public Policy, Akshaya Jha, assistant professor of economics and public policy in Heinz College and the College of Engineering's Department of Engineering and Public Policy; Nicholas Muller, the Lester and Judith Lave Professor of Economics at CMU's Tepper School of Business, and Randall Walsh, associate professor of economics at the University of Pittsburgh. The work was conducted as part of CMU's Wilton E. Scott Institute for Energy Innovation.
Celebrating Tartan Racing's Urban Challenge Victory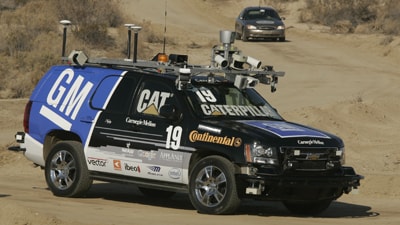 Carnegie Mellon will celebrate the 10th anniversary of Tartan Racing's victory in the 2007 DARPA Urban Challenge, Oct. 12-14. The event will honor the accomplishments of a talented team and the passion that built a heritage of innovation that ultimately led to the dawn of vehicle autonomy.


Highlights of the weekend include a Friday dinner at Phipps Conservatory, featuring keynote speaker Red Whittaker, world-renowned roboticist and leader of Carnegie Mellon's Tartan Racing team. On Saturday, noteworthy pioneers in vehicle autonomy from CMU and industry will share their thoughts on autonomy, the underlying technologies, impact on society and what the future may yet have in store.
Flu Vaccine Clinics Set for October, November
Once again, the university is offering flu vaccines at no cost to faculty and staff members. New this year, the flu vaccine clinics will be hosted by Human Resources and administered by Giant Eagle Pharmacy.
Upcoming clinics are:
Oct. 12, 8:30 a.m. - Noon, NREC Lawrenceville, 1st floor auditorium
Oct. 23, 11 a.m. - 4 p.m., Cohon Center's McKenna/Peter/Wright Room
Nov. 1, 10 a.m. - 2 p.m., Cohon Center's McKenna/Peter/Wrigh Room, (Benefits, Fitness Fair)
Nov. 7, 8:30 a.m. - Noon, Mellon Institute Social Room 328
Nov. 13, 9 a.m. - 2 p.m., Cohon Center's McKenna/Peter/Wright Room
Visit the Flu Vaccine Clinic Website for the clinic schedule and more information. To obtain your flu vaccine, you will need to present your Carnegie Mellon ID card. While walk-ins are welcome, for faster service it is recommended that you schedule an appointment.