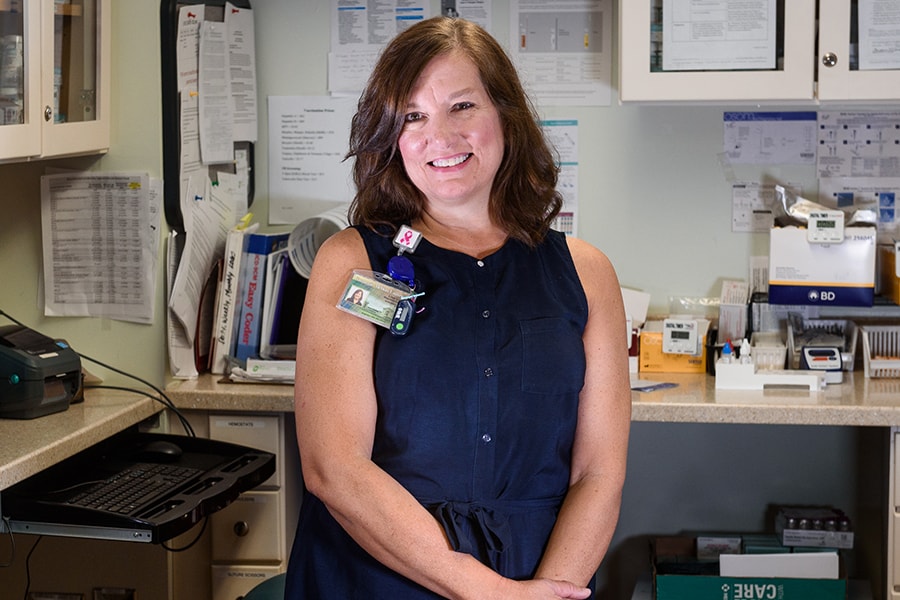 October 11, 2017
Lonchar Leads With Her Love of Nursing
By Kelly Saavedra ksaavedra(through)cmu.edu
Lisa Lonchar loves helping students feel better and keeping them healthy.

She has been doing it for eight years at Carnegie Mellon University as a registered nurse supervisor in University Health Services.
From flu season preparations to seeing patients to following up with first-year students on their immunization requirements, Lonchar said the beginning of the fall semester is her department's busiest time of year.
"There are usually six nurses working at a time. Each of us has our own niche for the day, but that niche is not the same day after day," Lonchar said.
"Some nurses will be providing care to students who come in for their scheduled appointments while others will be in the back doing testing. One nurse will be triaging while another handles walk-ins. It's different for each of us every day, and that makes the job a lot more challenging, more interesting."
Lonchar had always been interested in the sciences and decided to try the nursing path after graduating high school. Prior to CMU, she was a nurse at West Penn Hospital for 25 years. It was there she found she was able to really make a difference in people's lives.
"I really enjoyed taking care of the patients. If I could get a patient recovering from open heart surgery through the night and know they were going to be okay — even though they were unaware — that was a really gratifying feeling," she said.
Similarly gratifying was being able to share good news with a patient's family.
"If we saved someone's life doing CPR, letting the families know their loved one was going to be okay after something very traumatic like that happened was very, very gratifying," she said.
At University Health Services, Lonchar said collaboration is key.
"We are one big team, and very well oiled, I'd say. We work very well together. We couldn't do all the things we do here without good teamwork. We all help each other out," she said.
Lonchar enjoys the administrative duties of her job — she plans the schedule for the nursing staff and is in charge of immunization requirement compliance — but it is the clinical interaction with the students that makes it all worthwhile.
"The patient interaction, the direct care. That's what nursing is," she said.
Have a suggestion for the Staff Spotlight? Send it to piperweekly@andrew.cmu.edu.