October 04, 2017
Andy Awards Recognize Outstanding Staff
By Bruce Gerson bgerson(through)cmu.edu
Four individuals and one team received this year's Andy Awards for their outstanding job performance and significant impact on Carnegie Mellon University.
The Andy, CMU's top staff prize, recognizes individuals and teams in five categories. And the winners are ...
Spirit
Aaron George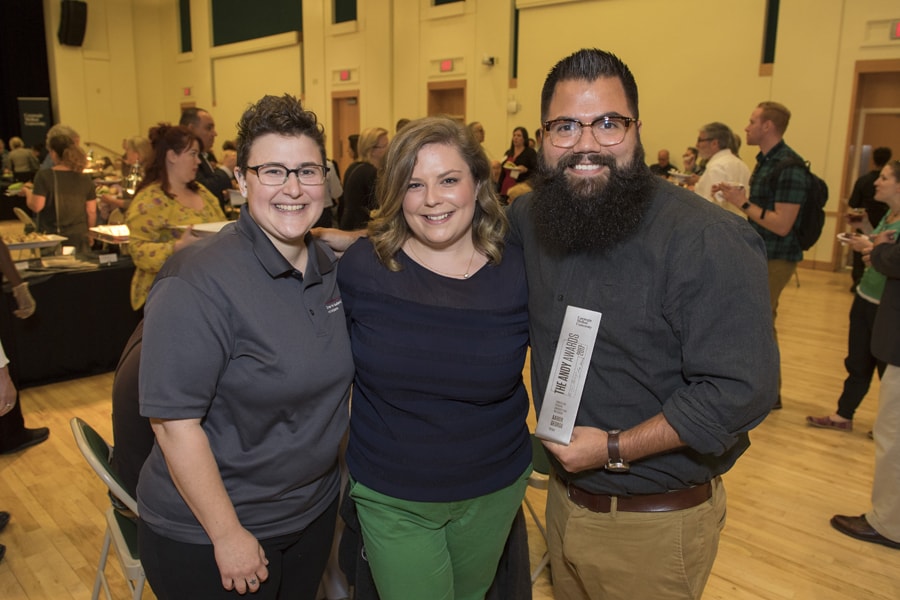 Aaron George (right) with nominators Jess Klein (left) and Ashley Christ.

Aaron George is passionate about his work with students.
As a housefellow for Hamerschlag and Scobell residence halls, George attends to the needs of male student residents and seeks ways to help them mature as young men. He works with fraternities and is a member of the core group supporting the Student Center for Diversity and Inclusion. He also works with the Office of Title IX Initiatives.
"Aaron's commitment to developing healthy ... masculinity is evidenced in both the one on one relationships that he develops with his students as well as in the types of educational programs he has worked to develop and present in the community," said Holly Hippensteel, assistant vice president for Community Standards and Diversity Initiatives and interim director of Title IX Initiatives.
Hippensteel said George is always available when students or colleagues need help.
"He brings a positive, can-do attitude to every task. He is a ready and willing partner who will eagerly jump in to help, even if it presents a new challenge," she said.
Ashley Christ, coordinator of Greek Life, said George inspires her.
"He is incredibly comfortable at challenging students to rethink gender norms and societal pressures," said Christ in her nominating letter. "These topics are never easy to approach, but Aaron always engages with others in a way that invites them to think differently in a nonthreatening style."
Jess Klein, coordinator of Gender Programs and Sexual Violence Prevention, said George sets a great example.
"Aaron is just a good guy, plain and simple. His integrity alone is something to admire. He believes in doing the right thing, even when it's hard," she said.
Commitment to Excellence
Jennifer Weidenhof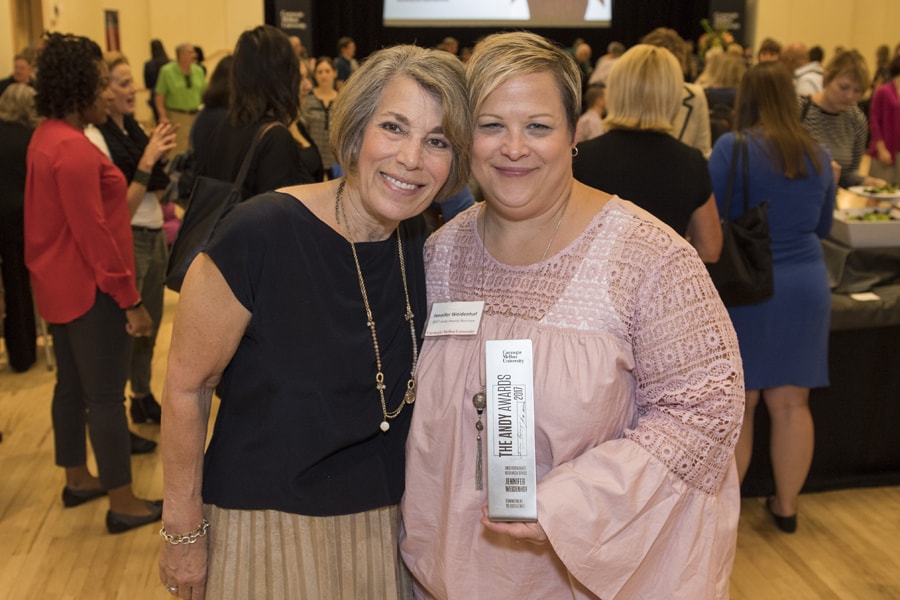 Jen Weidenhof (right) with her nominator Stephanie Wallach.
Magical is how several nominators and supporters described Jennifer Weidenhof's performance in handling her many roles as program coordinator for the Undergraduate Research Office and Fellowships and Scholarships Office.
In nominating Weidenhof, Stephanie Wallach, assistant vice provost for undergraduate education, praised her colleague for effectively and efficiently managing "Meeting of the Minds," creating new websites and apps, solving database problems, interacting with students, faculty and staff, managing the office finances and supporting new programs.
"We are a small office with a big impact on students and faculty across campus. Jen is humble. Yes, she is the person — the 'magician' behind the scenes — who makes much of what we do to serve students and faculty possible," Wallach said.
Thomas Keating, a retired professor and longtime member of the Undergraduate Research Office, said Weidenhof combines the coordination skills of a project manager with the patience of a kindergarten teacher.
"She is a magician, a cajoler, a part-time psychologist, and above all, an understanding friend who has bailed out all of us when we most needed a little extra time," Keating said.
In a supporting letter, Necia Werner, associate teaching professor of English, wrote about Weidenhof's logistical contributions to "Speak Up!" a communications workshop series organized by undergraduate students engaged in campus research. Werner called Weidenhof "the glue" that kept everything together and the "smiling face" that made everyone relax.
Vice Provost for Education Amy Burkert said Weidenhof's standard of service and desire to make a positive impact is unwavering.
"She defines a commitment to excellence and demonstrates it every day in her work," Burkert said.
Teamwork and Collaboration
The Advanced Robotics for Manufacturing Administrative Team
(George Darakos, Barbara Fecich, Jean Harpley, Debbie Harvard, Jeff Legault, Christoph Mertz, Mark Nolan and Cheryl Wehrer)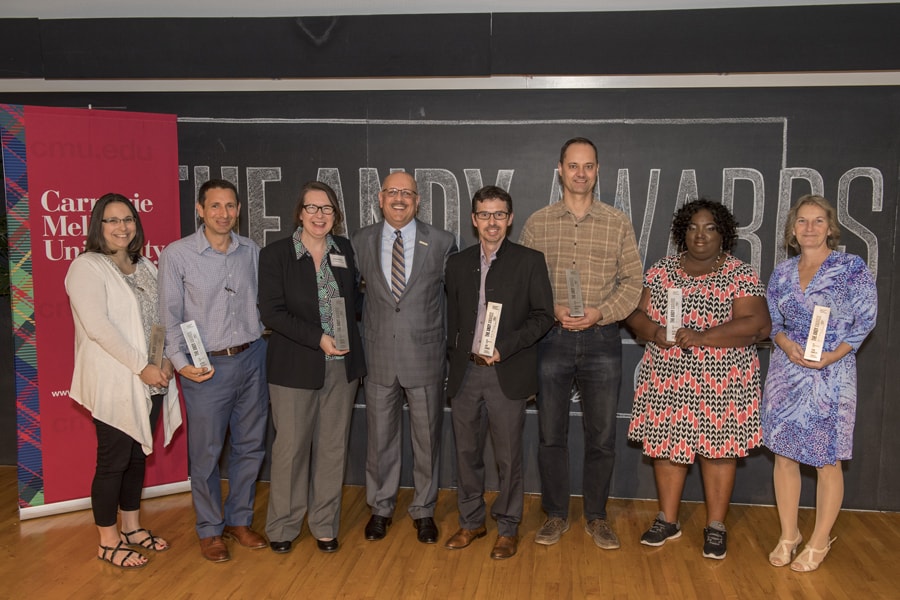 The ARM Administrative team with Interim President Farnam Jahanian. Members pictured are (l-r): Barbara Fecich, George Darakos, Cheryl Wehrer, Jeff Legault, Christoph Mertz, Deborah Harvard and Jean Harpley.

The Advanced Robotics for Manufacturing Administrative Team provided the critical, yearlong administrative support for Carnegie Mellon's winning proposal to lead an Advanced Robotics for Manufacturing Institute in Pittsburgh. In January 2017, the Department of Defense awarded $80 million to CMU, which raised an additional $173 million from more than 220 partners.
Robotics professor and team nominator Howie Choset praised the team for their expertise and diligence.
"Simply put, we crossed the finish line in submitting and securing the cost-match because of our incredible team. The team epitomizes Carnegie Mellon — hard work, collaborative team skills and ingenuity. Because of them we were selected and we have them to thank for the opportunities it will create for Carnegie Mellon and others in the region," Choset said.
ARM Institute CEO Gary Fedder, professor of electrical and computer engineering and robotics, called the team effort in compiling the 812-page proposal "mammoth in every measure."
"It really did take a 'village' to complete the proposal … pulling together the consortium of organizations … collecting all of the necessary information in a timely manner, building the timelines, cost spreadsheets and justifications, and organizing, editing and formatting required this entire team with its array of skills," Fedder wrote in a supporting letter.
David Bourne, principal scientist in the Robotics Institute, said the team's work went above and beyond their "day jobs."
"These people … define why CMU is such a special place. The principals often get fame as a reward. But these special people and others like them do it for the community and the love of others," Bourne said.


Commitment to Students
David Holcomb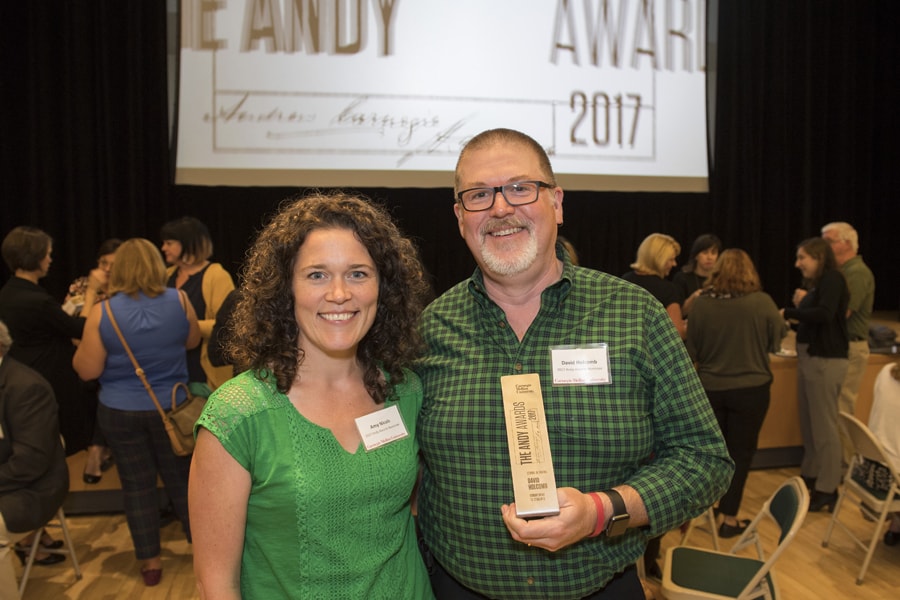 David Holcomb (right) with fellow nominee Amy Nichols.
David Holcomb is an extraordinary instructor, mentor and adviser. The production manager in the School of Drama has played a principal role in building the curriculum for the bachelor's and master's degree programs in stage and production management, and in molding future leaders of the industry.
In her nominating letter, Tina Shackleford, associate teaching professor, said Holcomb's classes in production management provide students with the practical skills they need to fully manage shows at CMU.
"His heart is in the work, but so are his energies, enthusiasm and wisdom," she said. "When I speak with faculty at other colleges, they are often surprised that we have students who fully manage our productions, since most schools do not. The difference is David Holcomb."
Shackleford said Holcomb is always available for students.
"The chairs outside his office are constantly filled with those needing a little help," she said.
Richard Block, associate head of the Drama School, called his work with students "nothing short of astonishing."
"He could not be more encouraging to all of his students," Block said. "He is particularly patient with those who struggle. His hope … is that those who were not overly successful while a student will eventually find their individual path to success."
Master's degree student Rachel D'Amboise said Holcomb's classes are some of the most challenging she has taken and his guidance is exceptional.
"In helping us find the answers ourselves without simply telling us, he holds true to one of the deepest truths of education: that it is more important to teach students how to think than what to think," she said.
Innovative and Creative Contributions
Robert Kollar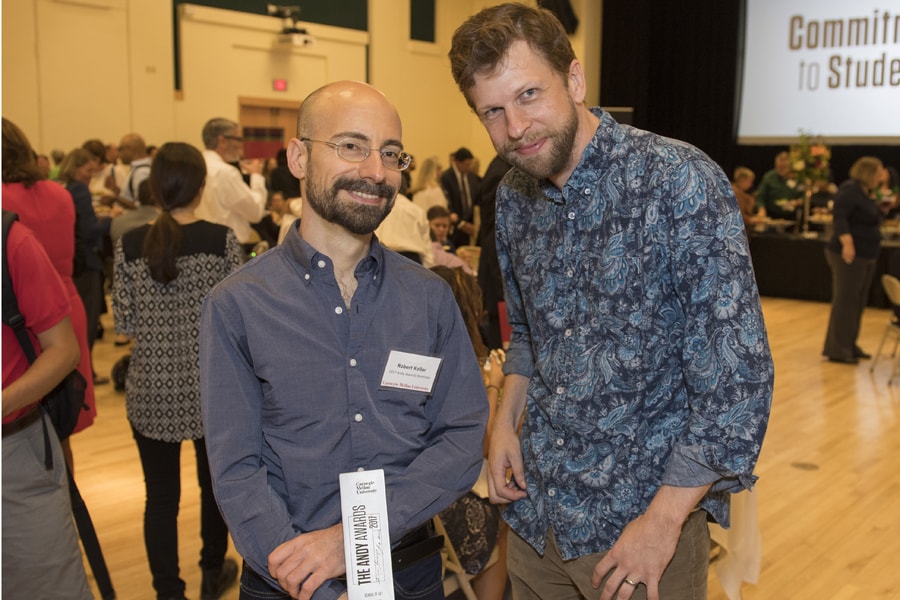 Robert Kollar (left) with his nominator Richard Pell.

Robert Kollar is a treasure in the School of Art.
For 21 years, the 1992 CMU art alumnus has been responsible for maintaining the electronic, computing and audio-visual equipment for the school. In addition to keeping things running, he has led major improvement projects, such as upgrading the media resources and designing and installing a new projection system in the Kresge Theater.
This past year, Kollar created a video projection wall that displays faculty and student works. He designed an electronic photo roster and calendar of events, and made two displays that feature publications authored by faculty. Kollar also helped to produce the new and improved school website.
Richard Pell, an associate professor of art, said Kollar goes above and beyond his job description.
"Every summer on his own initiative, he devises and suggests a project to the benefit of the school, and implements the work himself," Pell wrote in his nominating letter. "Bob encompasses the union of the technological and the artistic that is the hallmark of the School of Art. Bob Kollar is a treasure."
John Carson, former head of the school, said Kollar is a "wizard" in solving computer problems for faculty and praised his dedication, efficiency and willingness to go beyond his official job duties.
In a supporting letter, Golan Levin, an associate professor of electronic art, said the School of Art's top national ranking in multimedia education is partly a result of Kollar's efforts.
"There is simply no doubt in my mind that we have only been able to achieve this because of the tireless, quiet and exceptionally competent support of Bob Kollar," Levin said.