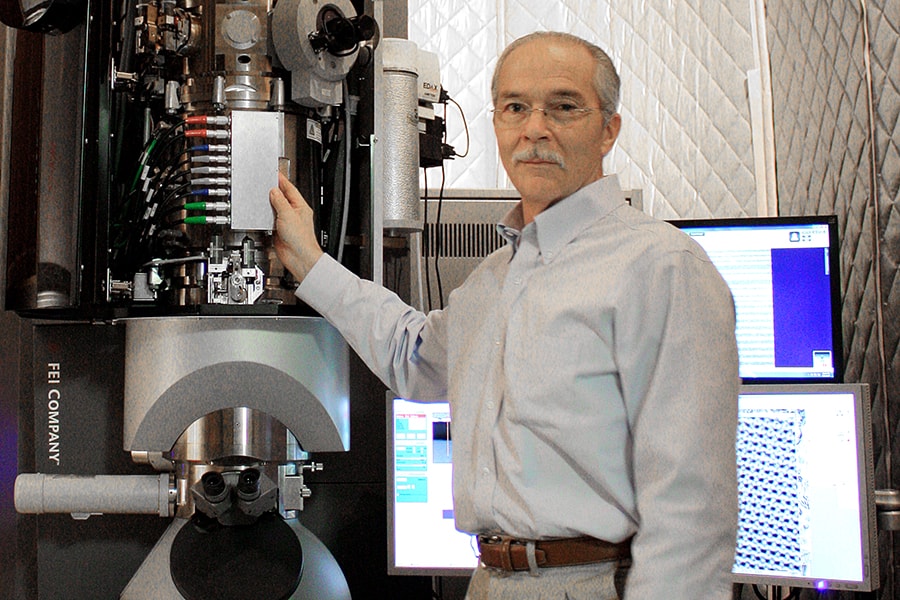 October 04, 2017
Nuhfer Serves 50 Years at CMU, Builds World-Class Lab
By Bruce Gerson bgerson(through)cmu.edu
Tom Nuhfer, the founding director of the Materials Characterization Facility in CMU's Materials Science and Engineering Department, was recognized for 50 years of service to the university during this year's Andy Awards ceremony.
Nuhfer, who is counted among the inventors, makers, artists and builders that CMU is celebrating during its 50th anniversary this year, helped build the facility into a world-class electron microscopy teaching and research laboratory, where engineers can identify the structures of a material down to the atom.
"I love electron microscopy and the technique of characterization. It became quite the passion and I wanted to build the facility into something special to leave behind," Nuhfer said.
The Materials Characterization Facility in Roberts Engineering Hall is filled with high-powered technology, including X-ray machines, computing equipment and ultra-sensitive microscopes. The crown jewel of the lab is the Titan, a high-resolution electron microscope.
"The Titan gives us major credibility as a world-class facility. That's what attracts industry," he said. "That's been the focus and the pinnacle of my career — building this facility and bringing in these instruments at this level."
To help support the lab, Nuhfer led the creation of an industrial consortium that includes the Bechtel Bettis Atomic Power Laboratory; Arconic (formerly Alcoa); U.S. Steel; PPG Paints; and Kennametal. The National Energy Technology Laboratory also uses the facility.
"Our industrial partners buy days to use our instruments. They send their engineers and scientists here. Some of them are our graduates. It's a good relationship we've developed in the local industry," he said.
The facility plays a major role in academic research.
"We have more than 200 users in the College of Engineering, and many of the published papers in materials science and engineering, electrical engineering, chemical engineering and biomaterials have microscopy components to them," said Nuhfer, who has authored and co-authored more than 400 papers.
Nuhfer joined CMU's Metallurgy Department as a technician in 1967 after serving in Vietnam as a member of the U.S. Navy. He was promoted to a technical engineer and senior scientist and eventually became director of the Materials Characterization Facility. He attended night school at CMU and earned his bachelor's degree in materials science and engineering in 1981.
"Our work has changed as the department has evolved. We've gone from metals to materials science, to nano-materials to biomaterials, polymers and nanotubes. But resolution is always the issue," he said.
In 2009, Nuhfer won the Andy Award for Outstanding Dedication and the College of Engineering Staff Award for Excellence.
"I feel like I'll leave something good behind. My hope is that the facility will maintain and grow when I retire," he said.
Have a suggestion for the Staff Spotlight? Send it to piperweekly@andrew.cmu.edu.