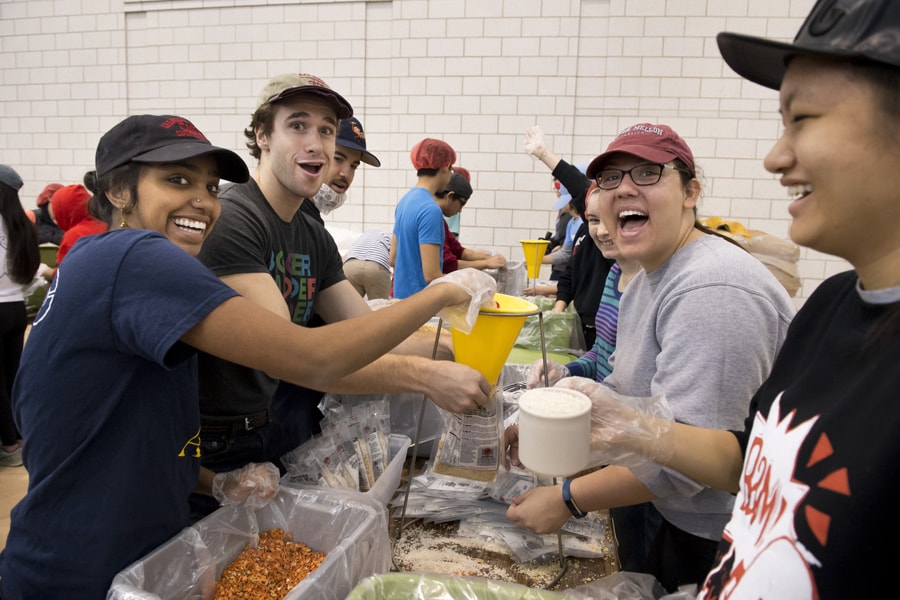 November 01, 2017
News Briefs
900 Volunteers Needed To Rise Against Hunger, Saturday
Carnegie Mellon will once again Rise Against Hunger from 11 a.m. - 1 p.m., Saturday, Nov. 4 in the Cohon Center's Wiegand Gymnasium, where 900 volunteers from the CMU community will come together in assembly-line fashion to pack 150,000 highly nutritious dehydrated meals for shipment to Madagascar, an African nation facing a deadly outbreak of disease.
The meals include rice, soy and vegetables, and a micronutrient packet developed by and donated through The Kraft Heinz Company Micronutrient Campaign. The powders in the packet contain 19 of the meal's 23 essential vitamins and minerals, which help to prevent iron-deficiency anemia and other health issues.
Rise Against Hunger (formerly Stop Hunger Now) is an international hunger relief organization that distributes food and aid to the world's most vulnerable. It aims to mobilize the necessary resources to end hunger by 2030.
The meal packaging program was created to give dedicated individuals and organizations — from businesses to civic clubs — the opportunity to participate in a hands-on international hunger relief program and to become educated, engaged advocates for the world's hungry.
Volunteers are being recruited by CMU's Office of Student Leadership Involvement and Civic Engagement, Partners Allied in Civic Engagement and the Alpha Phi Omega service fraternity. Last year, more than 560 CMU volunteers packaged 125,000 dehydrated meals for the global hunger-relief agency.
Resiger to volunteer this Saturday.
Open Enrollment is Underway
Open Enrollment for 2018 benefits ends at 5 p.m. ET, on Monday, Nov. 13. Open Enrollment is your annual opportunity to review your benefit coverage options and make choices for the upcoming calendar year.
Elections made during Open Enrollment are effective Jan. 1, 2018, and will remain in effect for the entire calendar year. Open Enrollment is the only time you can change your benefit elections, unless you experience a qualified life or family status change during another time of the year.
If you do not elect your benefits during the Open Enrollment period, you will be automatically enrolled in the same benefits you are currently enrolled in (except for flexible spending accounts, which you must actively enroll in each year to participate).
Enrollment changes can be submitted online through Workday. Workday Quick Guides are available to assist you with the online enrollment process. For information about 2018 benefits, including rates and the 2018 Benefits Guide, visit the 2018 Open Enrollment website.
Food Drive Runs Through Nov. 13
Please join the campus community in helping to fight hunger in Pittsburgh!
This year marks the 24th year of Carnegie Mellon's Annual Food Drive, sponsored by CMU's Staff Council. The drive, which benefits the Greater Pittsburgh Community Food Bank, runs through Nov. 13.
Please consider making a donation of food or other non-perishables during the food drive. Collection containers will be placed in many university buildings.
Monetary donations also are welcome and help to bring fresh foods to the table. For every $1 donated, the Greater Pittsburgh Community Food Bank can buy five meals. Please make checks payable to "Greater Pittsburgh Community Food Bank."
You also can make your monetary donation online at https://tinyurl.com/2017CMUFoodDrive. By contributing this way you can support CMU in its friendly campus challenge with the Unviersity of Pittsburgh.
Open Houses at the Children's School
The Children's School, an early childhood laboratory school run by the Psychology Department, will be holding Open Houses for potential Children School parents at 8 a.m. and 12 noon on Jan. 11. Applications for 2018/2019 half-day preschool for 3- and 4-year-olds, and full-day Kindergarten are being accepted. Families do not have to be affiliated with Carnegie Mellon University in order to enroll, and generous scholarships are available.
Please contact Maggie Rosenblum for more information about admission, to schedule a tour and to obtain an application. The $50 application fee will be waived for any applications received before Dec. 1.
Nominate a Stellar Student for 2018 Student Engagement Award
The CMU Alumni Association is seeking candidates for its Student Engagement Award, which recognizes students who have enriched the quality of life at the university. Nominations are due Nov. 30.
"We want to highlight CMU students that are truly engaged with the campus and alumni communities through this award," said Lynn DeFabio, director of Alumni Relations. "The Student Engagement Award recognizes those who have created meaningful connections with the CMU community that improved the experience for others."
The focus of the award has shifted from service recognition to honoring those students who have made an impact on the CMU community and are leaving a legacy that benefits current and future students, as well as fosters alumni engagement.
Last year's honoree, Angela Ng, a 2016 graduate of the College of Engineering, is a great example of the kind of student this award is designed to honor, DeFabio said. Ng was a fifth-year scholar who led many student organizations and projects that improved campus life, such as the Mindfulness Room, a quiet, meditative space free from distractions where students can slow down, sit down and wind down.
"We're looking for those who know our amazing students best — CMU faculty and staff — to help us put together a great slate of nominees who are leaving a legacy for their fellow students and are creating pride in their alma mater," DeFabio said.
Nominees must be currently enrolled as an undergraduate or graduate student. Nominations can be made online and must include a completed form; the nominee's resume, CV, bio or LinkedIn profile; and supporting letters.
Celebration of Education Nominations Due Nov. 6
Nominations for CMU's 2018 Celebration of Education awards are due Monday, Nov. 6. Nominations are being accepted for the:
Doherty Award
Ryan Award
Academic Advising Award
Barbara Lazarus Award
Gelfand Award
Teaching Innovation Award
Find out more about the awards and submit your nominations online.
Contact the Eberly Center with questions.
Veterans Day Ceremony Nov. 10; Student Veterans Photos Wanted
On Friday, Nov. 10 the Naval ROTC Unit at CMU will be conducting a Veterans Day Ceremony at the flagpole on the Cut. The ceremony will take place from 7:50 to 8:10 a.m. All veterans as well as the campus community are invited to attend.

The ceremony will include raising of the colors, a salute to veterans, remarks by Commanding Officer Captain William Breitfelder and other guests. It also will be part of the opening ceremonies of Homecoming Weekend.
 
As part of the celebration all student veterans are asked to send a photo of themselves while they were in the military to Michael Danko, ROTC Programs Manager and Veterans Benefits Coordinator. The photos will be used to create a poster to display on campus to feature CMU's student veterans and recognize their service.

Please send photos to Michael Danko by Oct. 30. For more information, contact Danko at 412-268-8747 or mdanko@andrew.cmu.edu.
Two More Flu Vaccine Clinics Set for November
Once again, the university is offering flu vaccines at no cost to faculty and staff members. New this year, the flu vaccine clinics will be hosted by Human Resources and administered by Giant Eagle Pharmacy.
Upcoming clinics are:
Nov. 7, 8:30 a.m. - Noon, Mellon Institute Social Room 328
Nov. 13, 9 a.m. - 2 p.m., Cohon Center's McKenna/Peter/Wright Room
Visit the Flu Vaccine Clinic Website for the clinic schedule and more information. To obtain your flu vaccine, you will need to present your Carnegie Mellon ID card. While walk-ins are welcome, for faster service it is recommended that you schedule an appointment