June 08, 2017
News Briefs
Professors Concerned Over U.S. Withdrawal from Paris Agreement
Professors Jay Apt, Inês Azevedo, Jared Cohon, Neil Donahue, Granger Morgan, Allen Robinson and Jay Whitacre, directors and co-directors of Carnegie Mellon's environmental and energy research centers, co-authored a statement expressing their grave concerns over the United States withdrawal from the Paris Agreement. Read their statement.
Success in College: Start Your Student Off on the Right Foot
Carnegie Mellon's Office of Academic Development is offering a free workshop for your graduating high school student that will help them adapt to the rigor of the college classroom and help to prepare them for their college career.
Workshop topics include:
• Time Management and Productivity Strategies;
• Ways to Effectively Use (and not use) Technology on Campus;
• How to Manage Stress, Combat Procrastination and Develop a Workflow;
• How and Why to Utilize Campus Resources and Talk to Your Professors;
• Setting Long-term and Short-term Goals (and how to reach them!); and
• Understanding Meaningful Note-taking and Exam Preparation Techniques.
Topics will be covered through collaborative and activities, group work and discussions. Lunch is included (please specify any dietary restrictions on registration page). Register your student. 
Waitlist for Parking Enrollment Now Open
The waitlist for parking enrollment is now open through June 15. (For faculty and staff who wish to retain their current parking assignment, no action is required.)
If you wish to be added to the waitlist, visit the following link https://parking.campusservices.cmu.edu. Click "login" on the left-hand side of the screen. Once you are logged in, click "order permit" and follow the instructions.
Please add your name the waitlist if you are a:
Current permit holder interested in switching to a different location.
New applicant requiring to park on campus for the 2017-18 year.
Student (undergrad/grad) interested in parking for the 2017-2018 year.


Please note: Waitlist assignments are not guaranteed. Refer to the FAQ page on the Parking and Transportation website for any additional questions regarding the waitlist process. If you have any questions, contact Michelle Porter at mporter@andrew.cmu.edu.
Employee Day at Kennywood Park is June 10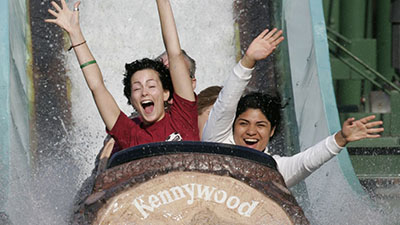 This year's staff picnic at Kennywood Park is Saturday, June 10.  CMU employees can purchase two Funday tickets for $15 each (valid only on June 10) and additional Funday tickets for $23 each. Pavilion 7 will be reserved for the CMU community. The children's (ages 10 & under) prize giveaway and ice cream distribution will be at 1 p.m. at Pavilion 7.
Ticket sale times and dates are as follows:
June 8, Cohon University Center, 11:30 a.m. - 1 p.m.
June 9, Cohon University Center, 11:30 a.m. - 1 p.m.
You must have your own CMU ID to purchase tickets. Cash only.
"Tartan Ink" Now Accepting Orders; Storefront To Open in July

Campus Services is pleased to announce the opening of a new copy, print and ship center "Tartan Ink," located in the basement of the Cohon University Center, down the hall from the Credit Union.
Please note: the storefront will be closed for renovations during the month of June. However, orders for this location are being accepted via email, at the Tepper Copy Center in the basement of Posner Hall, or online.
Also, you can use WebCopy to submit copy and print requests online. WebCopy accepts most standard file formats and sizes up to 100MB. The site is secure, so confidential matter can be safely submitted via Webcopy. If you have hard copy files, you can still go online, fill out the form, and request pick up of your originals.
The Tartan Ink opening marks the beginning of a joint venture between the University Copy Centers and Printing & Mailing Services under the leadership of Pat Herbster and Dan Tyson. With their vision of serving the campus community, they have revitalized the services offered and expanded services to include UPS shipping once the new storefront opens.
Stay tuned for more details on Tartan Ink's grand opening in early July. Please direct questions or concerns to James Ward at jward1@andrew.cmu.edu.
Warner Hall Elevator Out-of-Service Through Early July
The elevator machinery and controls for Warner Hall are over 50 years old – well past their expected useful life — so to ensure safety and reduce risk of an unplanned interruption, the university will fully overhaul the elevator this summer, beginning close of business on Monday, May 22. Unfortunately, as a result, the elevator must be out-of-service during this seven-week project. It is expected the elevator will be up and running by Monday, July 9.
The work will create hardship for building occupants and campus visitors. Special arrangements and alternate work locations are being developed for those who require them during this period. There will be a receptionist and signage located on the first floor of Warner Hall to assist building occupants and campus visitors.
Nominations Now Open for the Andy Awards
Nominations are now being accepted through July 6 for the 2017 Andy Awards, the university-wide staff recognition program that honors staff for their outstanding performance and significant impact on the university.
Awards are given in five categories: Commitment to Excellence, Commitment to Students, Innovative and Creative Contributions, Spirit and Teamwork, and Collaboration.
The nomination process has been streamlined this year making it easier for you to nominate deserving recipients.
Learn more about the Andy Awards and nomination process.
Tennis Anyone?
Mike Belmonte, the associate head tennis coach at Carnegie Mellon, is offering private tennis lessons this summer through Aug. 1. One-hour lessons are $60. Interested parties should contact Belmonte at mgbelmon@andrew.cmu.edu or 412-370-7268.