June 15, 2017
News Briefs
CMU-Africa Graduates 100th Student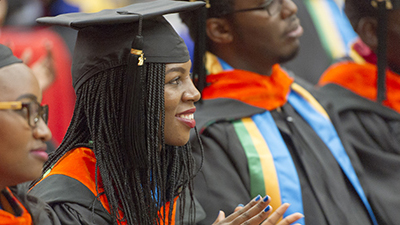 Carnegie Mellon University Africa hosted its fourth graduation ceremony June 6 in Kigali, Rwanda, for 33 students from Rwanda, Kenya, Tanzania and Uganda who earned master's degrees in electrical and computer engineering and information and communication technology.

With this year's class CMU-Africa reached a milestone of 100 graduates. They join more than 100,000 Carnegie Mellon alumni worldwide.

College of Engineering Dean James H. Garrett Jr. shared some advice with the graduates. He said he had been involved in graduations since 1982 as a CMU student, parent, faculty member, department head and dean.

"Don't be afraid to stretch beyond your comfort zone to participate in the transformation underway throughout this continent," Garrett said during the ceremony. "Live in the present. Be in the moment. The opportunity in Africa is now." Read more.
Success in College: Start Your Student Off on the Right Foot
Carnegie Mellon's Office of Academic Development is offering a free workshop for your graduating high school student that will help them adapt to the rigor of the college classroom and help to prepare them for their college career.
Workshop topics include:
• Time Management and Productivity Strategies;
• Ways to Effectively Use (and not use) Technology on Campus;
• How to Manage Stress, Combat Procrastination and Develop a Workflow;
• How and Why to Utilize Campus Resources and Talk to Your Professors;
• Setting Long-term and Short-term Goals (and how to reach them!); and
• Understanding Meaningful Note-taking and Exam Preparation Techniques.
Topics will be covered through collaborative and activities, group work and discussions. Lunch is included (please specify any dietary restrictions on registration page). Register your student. 
Last Call for Parking Enrollment Waitlist
Today, June 15, is the last day to add your name to the waitlist for parking enrollment. (For faculty and staff who wish to retain their current parking assignment, no action is required.)
If you wish to be added to the waitlist, visit the following link https://parking.campusservices.cmu.edu. Click "login" on the left-hand side of the screen. Once you are logged in, click "order permit" and follow the instructions.
Please add your name the waitlist if you are a:
Current permit holder interested in switching to a different location.
New applicant requiring to park on campus for the 2017-18 year.
Student (undergrad/grad) interested in parking for the 2017-2018 year.


Please note: Waitlist assignments are not guaranteed. Refer to the FAQ page on the Parking and Transportation website for any additional questions regarding the waitlist process. If you have any questions, contact Michelle Porter at mporter@andrew.cmu.edu.
"Tartan Ink" Now Accepting Orders; Storefront To Open in July

Campus Services is pleased to announce the opening of a new copy, print and ship center "Tartan Ink," located in the basement of the Cohon University Center, down the hall from the Credit Union.
Please note: the storefront will be closed for renovations during the month of June. However, orders for this location are being accepted via email, at the Tepper Copy Center in the basement of Posner Hall, or online.
Also, you can use WebCopy to submit copy and print requests online. WebCopy accepts most standard file formats and sizes up to 100MB. The site is secure, so confidential matter can be safely submitted via Webcopy. If you have hard copy files, you can still go online, fill out the form, and request pick up of your originals.
The Tartan Ink opening marks the beginning of a joint venture between the University Copy Centers and Printing & Mailing Services under the leadership of Pat Herbster and Dan Tyson. With their vision of serving the campus community, they have revitalized the services offered and expanded services to include UPS shipping once the new storefront opens.
Stay tuned for more details on Tartan Ink's grand opening in early July. Please direct questions or concerns to James Ward at jward1@andrew.cmu.edu.
Nominations Now Open for the Andy Awards
Nominations are now being accepted through July 6 for the 2017 Andy Awards, the university-wide staff recognition program that honors staff for their outstanding performance and significant impact on the university.
Awards are given in five categories: Commitment to Excellence, Commitment to Students, Innovative and Creative Contributions, Spirit and Teamwork, and Collaboration.
The nomination process has been streamlined this year making it easier for you to nominate deserving recipients.
Learn more about the Andy Awards and nomination process.
Tennis Anyone?
Mike Belmonte, the associate head tennis coach at Carnegie Mellon, is offering private tennis lessons this summer through Aug. 1. One-hour lessons are $60. Interested parties should contact Belmonte at mgbelmon@andrew.cmu.edu or 412-370-7268.