July 19, 2017
Workshop Gives Incoming Students a Head Start
By Bruce Gerson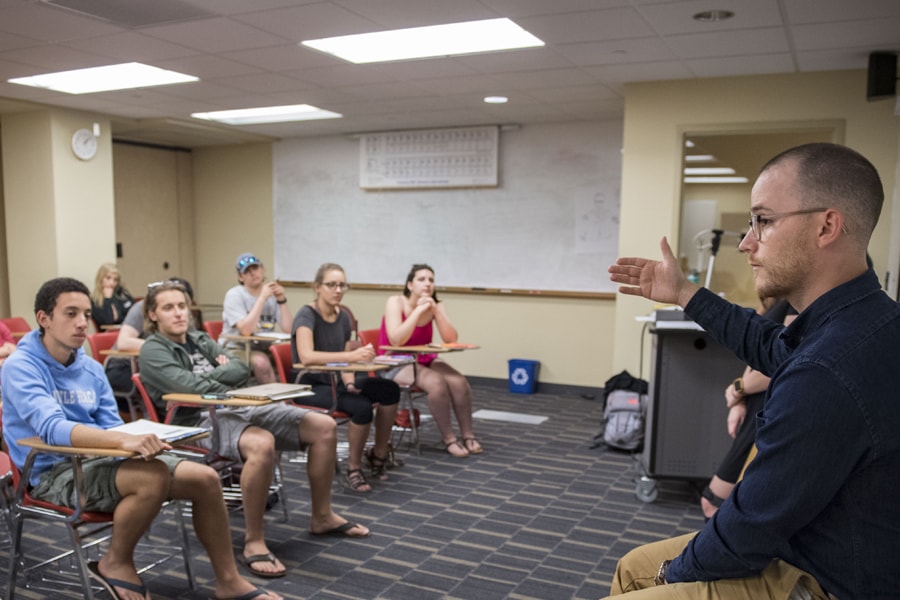 Mike Poljak, CMU's academic coaching program coordinator, leads one of the workshop sesssions.
Twenty-two children of CMU faculty and staff received valuable advice during an Academic Development workshop to help start their college careers.
The brainchild of Linda Hooper, director of CMU's Academic Development program, "Academic Success in College: Starting Off on the Right Foot," addressed important topics like time management, using technology on campus, managing stress, note taking, study strategies and techniques, and setting goals.
Of the 22 workshop participants, 13 will attend CMU.
"It's a broad-strokes preparation for college," said Mike Poljak, CMU's academic coaching program coordinator who directed the second annual workshop. "A lot of these students did really well in high school, and they haven't run into any difficulties yet. So we want to open their eyes to the difficulties that may come, and give them some skills and ideas to handle them."
Poljak oversees about 25 CMU students who have been trained to serve as academic coaches. The coaches meet weekly with fellow students to help them develop effective study skills and to cope with difficult situations that may arise. Two of the coaches, Mikaela Lewis and Roman Kaufman, helped lead the two-day, 16-session workshop.
Lewis, a senior studying biology and psychology, has been an academic coach since the spring of her freshman year. This fall she will be starting an accelerated master's degree program in health care policy and management at the Heinz College of Information Systems and Public Policy.
Her top three tips to first-year college students are to stay positive and not stress over the little things; do not commit to too many activities at once; and to create a structured weekly schedule and stick to it as much as possible.
"They have to remember that things can get stressful more quickly in college," Lewis said. "If students know what time they have available and where their time is going, they will be able to manage it better and determine a schedule that works best for them."
Kaufman, a junior majoring in mechanical engineering, also is an academic coach. He encourages students to embrace a healthy routine; make deliberate plans to accomplish tasks; and make pursuing activities outside of studies that make them happy and help them cope with adversity a priority.
"Relying on inspiration, willpower or midnight-before-it's-due heroics cannot be sustained. A consistent daily or weekly routine is the way to healthily juggle the CMU workload," Kaufman said.
Dan Bittner, the son of Kimberly and Robert Bittner, who work in the Admission Office and National Robotics Engineering Center, respectively, said he found the workshop very useful.
"I'm actually learning things. It's a lot of information you think you know, but it helps to be told by someone who has been in your shoes," said Bittner, who will study musical theater in the School of Drama.
Alex Havrilla, whose father, Jeffrey, works at the Software Engineering Institute, also said it was valuable to learn from CMU students.
"Being able to hear insider anecdotes about CMU gives you a better idea of what to expect and how to plan for success. You learn best from your peers. They have a lot of valuable stories to share with the rest of us," said Havrilla, who plans to major in mathematical sciences.
Jenna McKinley, whose mother, Deborah Shank, works in the Tepper School of Business, said she enjoyed the discussion about short-term and long-term memory. She learned that associating something you know with what you learn, and reviewing notes each day can help transition information into knowledge.
Jonathan Monroe, whose father, Robert, is an associate teaching professor at the Tepper School, liked learning about the "don't know notebook." Kaufman and Lewis illustrated taking notes on paper in a two-column format with class notes on the left side and questions about what you don't understand on the right side. This allows you to quickly locate the questions you need to resolve.
"That's something I think I will be using," Monroe said.