January 26, 2017
Piper Spotlight: M. Shernell Smith
By
Bruce Gerson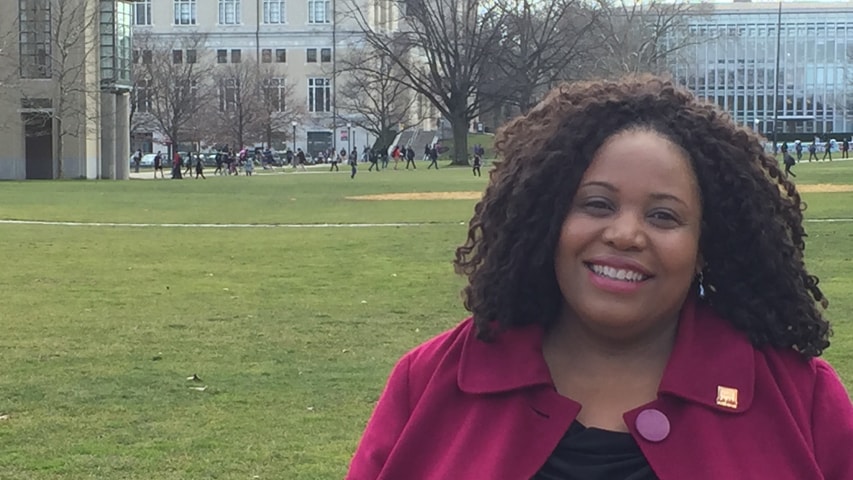 M. Shernell Smith is passionate about the many roles she plays to engage students and staff, and to help enhance the CMU Experience.
Smith is an assistant director for the Office of the Dean of Student Affairs. She helps to coordinate multi-cultural, diversity and inclusion programming for the campus community, such as CMU's Martin Luther King Jr. celebration, and is an adviser to various student organizations, like the Asian Student Association. She's a housefellow for students in the Margaret Morrison Apartments, Woodlawn Apartments, Roselawn Apartments and Spirit House, and a college liaison for the College of Engineering.
She also advises sustainability initiatives on campus, like Sustainable Earth and the upcoming Sustainability Weekend in April, and she has used her green thumb to help students grow CMU's community garden on Winthrop Street. She even helps with CMU's annual International Film Festival. Last year, she worked with Jolanta Lion to create a weekend course to introduce students to the socio-political significance and artistic merits of film.
Smith also is a change agent for staff. Since joining Staff Council four years ago, she has served as a member of the Relations and Grievance Committee, secretary, vice chair and now chair.
"I joined because I wanted to advocate for more experiences and initiatives that directly impact the daily lives of staff," said Smith, who commended the administration for ensuring that staff were included in the planning process for Strategic Plan 2025, and for its sustaining commitment to attracting, retaining and developing world-class staff.
Smith wants all staff, like students, to feel empowered, included and valued.
"Inclusion and advocacy is not just an important part of my work in Student Affairs but it is an important part of my work in Staff Council as well," she said.
In her spare time, Smith serves on the board of the Thomas Merton Center and works with the Urban League of Pittsburgh, the Greater Pittsburgh Higher Education Diversity Consortium and Pennsylvania Women Work, a nonprofit dedicated to empowering women.
"I'm able to bring the CMU experience into the Pittsburgh community and the Pittsburgh community into the CMU experience," Smith said.
"In my work you can't just talk about meaningful engagement and social action. I believe you must live a fully engaged life of activism."
Have a suggestion for the Piper Spotlight? Send it to piperweekly@andrew.cmu.edu.