February 23, 2017
News Briefs
Synthetic Nanoparticles Achieve Complexity of Protein Molecules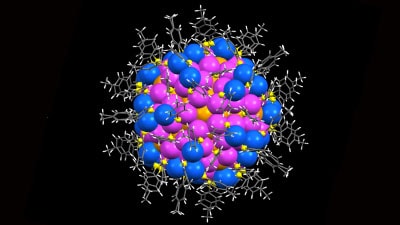 Chemists at Carnegie Mellon have demonstrated that synthetic nanoparticles can achieve the same level of structural complexity, hierarchy and accuracy as their natural counterparts — biomolecules. The study, published in Science, also reveals the atomic-level mechanisms behind nanoparticle self-assembly.
The findings from the lab of Chemistry Professor Rongchao Jin provide researchers with an important window into how nanoparticles form, and will help guide the construction of nanoparticles, including those that can be used in the fabrication of computer chips, creation of new materials, and development of new drugs and drug delivery devices.
"Most people think that nanoparticles are simple things, because they are so small. But when we look at nanoparticles at the atomic level, we found that they are full of wonders," Jin said.
Nanoparticles are typically between 1 and 100 nanometers in size. Particles on the larger end of the nanoscale are harder to create precisely. Read more.
Now Enrolling: The Cyert Center for Early Education—Penn Avenue
Scheduled to open in May 2017, the Cyert Center for Early Education—Penn Avenue was created in response to the limited number of spaces available at the Morewood Gardens site. 
Informed by the work of a cross-campus committee chaired by Mary Jo Dively, V.P. and General Counsel, the expansion of the Cyert Center for Early Education was approved by President Subra Suresh in December 2015. Construction on the second site began in October 2016 under the direction of Campus Design and Facility Development (CDFD), led by Ralph Horgan, associate vice presdient for CDFD, and Utkarsh Ghildyal, project manager.
Located at 6555 Penn Avenue near Bakery Square, the new Penn Avenue site is a full-day, early-care and education program with classrooms for infants, toddlers and preschoolers. It will follow the Cyert Center for Early Education's philosophical base for learning, which is strongly influenced by the Reggio Emilia Approach.
Jennifer Kemp, who has been an educator at the Cyert Center for Early Education since 2010, has been named assistant director for the Penn Avenue center. 
For enrollment information, visit The Cyert Center for Early Education—Penn Avenue website.
CMU Team Offers Swimming Lessons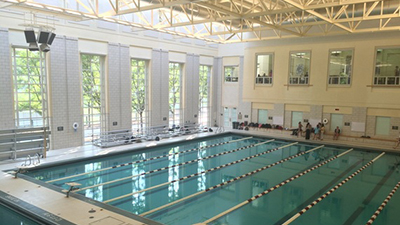 Carnegie Mellon's swimming and diving team will be offering 30-minute swimming lessons this spring for children, ages 3 and up, and adults in the CMU pool. Lessons, taught by members of the team, are designed to benefit swimmers at all levels, from beginners to advanced. 
Lesson dates are: March 27, 28, 29 and 30; and April 3, 4, 5 and 6. Times are 4:30 – 5 p.m.; 5 – 5:30 p.m.; 5:30 – 6 p.m.; and 6 – 6:30 p.m.
The cost is $25 per lesson, and $20 per lesson for individuals taking between 5-8 sessions.

To register, send email to jsica@andrew.cmu.edu with the dates and times you would like, as well as the name of the swimmer(s), age, and a brief description of their ability level. Individuals must sign waivers prior to their first lesson.

Send questions to jsica@andrew.cmu.edu or call 412-268-6082.
Applications Now Available for ProSEED Seed Grants
ProSEED Seed Grant applications are now available for the Crosswalk program and Berkman Faculty Development Fund. For more information on individual programs, please visit the ProSEED website.
Berkman Faculty Development Fund Application, due March 15
ProSEED/Crosswalk Seed Grant Application, due March 22
Learn more about ProSEED. Email questions to proseed@andrew.cmu.edu.
Help Name the Repository
Help the University Libraries name Carnegie Mellon's new research repository and get a chance to win $500 in research/travel grants or an iPad or Apple Watch!
 
Built on the figshare platform, this new service is intended to be an online archive that provides open access to the scholarly work being done at CMU. Anyone with access to the Internet will be able to discover, view and download the research data and other scholarly outputs of CMU contained in this new repository.
 
All members of the CMU community are invited to help name the new repository. Names should be original and distinctive. Although not required to enter the contest, it is also encouraged that you to submit taglines and logos to use for marketing and promotional purposes. A committee comprising University Libraries and campus leaders will evaluate the entries and announce the winner at the end of the Spring semester. All entries must be received by Friday, March 24, 2017. Submit your entry.
Submit Your Feedback on Parental Leave
Staff Council is asking CMU staff members to share their thoughts on the issue of parental leave by completing a questionnaire. Responses will be kept confidential, unless you choose to share your name and email address at the end of the questionnaire.