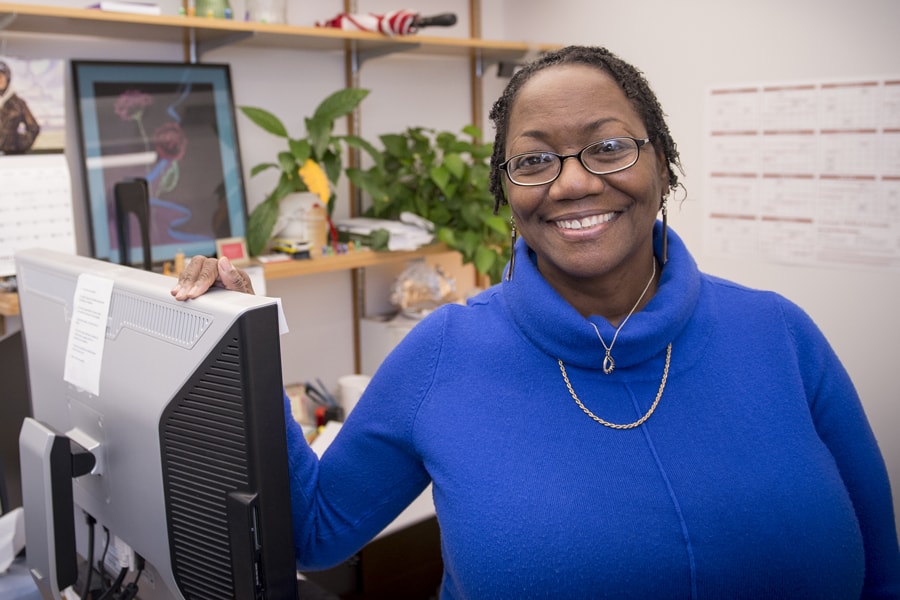 December 19, 2017
Smith Tells Tales From the Heart
By Bruce Gerson bgerson(through)cmu.edu
Home is where the heart is, and Sylvia Smith's heart is with Carnegie Mellon University and its School of Computer Science.
Smith is manager of business services for the 30-member Computing Facilities Group, which helps to purchase and maintain computing equipment for SCS. She is responsible for record keeping, billing, answering questions and resolving concerns.
"Our goal is to supply the SCS community with the computing equipment they need to do their jobs the best. We are here to help," she said.
Smith joined the Computer Science Department as a receptionist in 1979 and quickly felt at home.
"My heart has always been with Computer Science because of its people," she said.
She said world-renowned professors like the late Angel Jordan, Herb Simon and Allen Newell were "honest-to-goodness, down-to-earth people who cared first about the people they worked with." Many faculty fit that mold today, she said, including Mahadev "Saty" Satyanarayanan, Raj Reddy, William Scherlis, David Garlan and David Touretzky.
"I think of them as family," Smith said.
Smith has been a longtime member of Staff Council and has served on many of its committees, including the Relations and Grievance, the Constitution and Elections committees. She takes pride in knowing Staff Council was instrumental in the university approving domestic partner benefits and in instituting the PTO policy, bringing together sick days and vacation days under one umbrella. Smith noted Staff Council's input into CMU's Strategic Plan 2025.
Smith is a mentor in Carnegie Mellon Women's Association's Barbara Smith Women's Mentoring program.
"I have met some great women through that program. It's awesome. I do it because it's the right thing to do," she said.
In her spare time, Smith enjoys writing nonfiction. She is a member of Mad Women in the Attic, a writing group at Carlow University. Three of her works have been published, including "Christmas Break," a short story about her visit to Georgia to see her granddaughter and two great grandchildren. The piece was published in Mad Women's "Voices in the Attic" anthology.
"I can only write what I know. I'm not a fiction writer, but I'm a great storyteller," she said.
Have a suggestion for Staff Spotlight? Send it to piperweekly@andrew.cmu.edu.