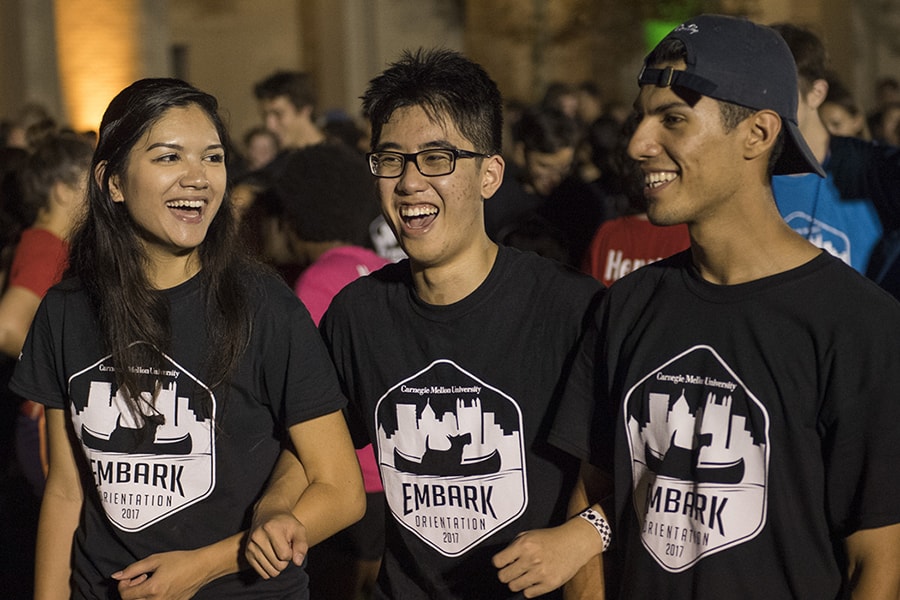 December 22, 2017
Orientation Program Wins Back-to-Back National Honors
By Kelly Saavedra ksaavedra(through)cmu.edu
For the second consecutive year, Carnegie Mellon University's Orientation Week program has won the Outstanding Use of Theme Award from the National Orientation Director Association (NODA). 
This year's theme, "Embark," whose logo featured a Scotty dog in a boat against the Pittsburgh skyline, represented incoming students embarking on their new journey. It was selected by the seven students who served as head orientation counselors, and the design was refined by CMU's Marketing & Communications
creative team
. 
The theme was woven into the eight-day program through T-shirts, novelty items, websites and marketing materials. Students gathered on the Cut to form a replica of a boat for the annual aerial photo during Playfair, the popular Orientation event that brings the entire class together for the first time. 
For last year's award-winning theme, "Capture the Moment," students formed the shape of a camera to replicate that year's logo. "Capture the Moment" was incorporated in a similar way as "Embark" throughout the 2016 Orientation Week program. 
Anne Witchner, associate dean of Student Affairs, said winning themes have some defining characteristics. 
"I believe NODA looks for creativity, consistency and depth," she said. "A successful theme is catchy, clear and concise. It's welcoming. It easily translates to something visual. And it says something about what it means to be a student at CMU." 
Witchner said winning the award two years in a row reinforces how good the Orientation Week program is at CMU and helps the student organizers feel good about how hard they worked. 
"It is really empowering for the students involved and validates their work. But the program also wouldn't be as good as it is without the collective work of our staff in areas like
Student Affairs
,
University Libraries
,
Marketing & Communications
and
Facilities Management and Campus Services
," Witchner said. 
"We can plan these great programs, but nothing happens without people from departments all across campus working together to make it happen." 
The Orientation Week program at CMU is designed with a different focus on each day to help new students acclimate to the university. 
Opening day focuses on creating a seamless move-in experience, followed by a day of programs geared toward family members. Monday is filled with residential programming; Tuesday showcases the richness of the campus; and programs on Wednesday address decision-making. 
A formal convocation is held on Thursday, followed by elective programming and Pittsburgh-related events to round out the week.