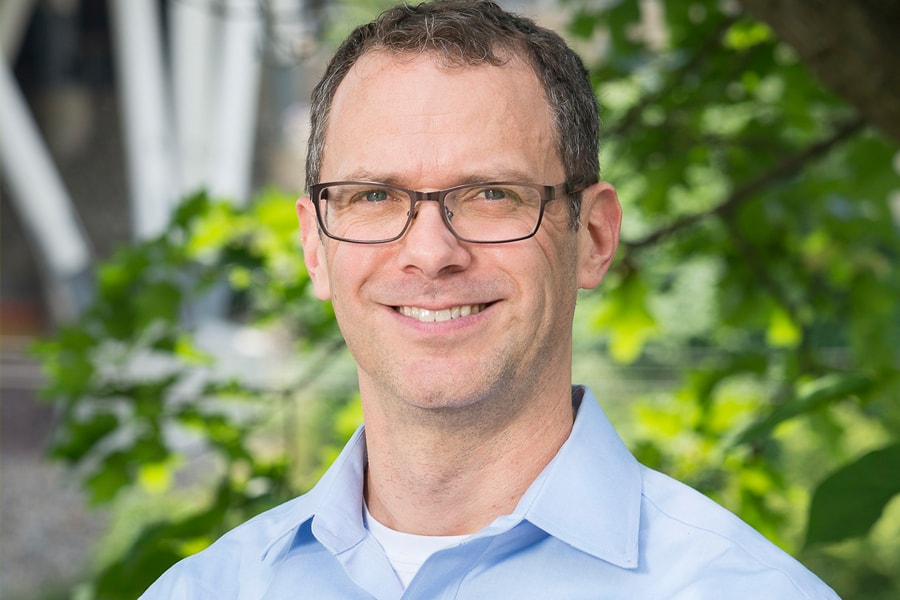 December 06, 2017
Personal Mention
Jay Whitacre, director of the Wilton E. Scott Institute for Energy Innovation, has been awarded the 2017 Leigh Ann Conn Prize for Renewable Energy for creating the first mass-produced, low-cost, eco-friendly battery, called the Aqueous Hybrid Ion (AHI™). This $50,000 biannual award presented by the University of Louisville recognizes outstanding renewable energy ideas and achievements with proven global impact. Whitacre's sodium-ion batteries, which use water-based chemicals, are an economical way to incorporate renewable energy into the grid. The batteries do not feature lead, lithium or organic solvents. Whitacre has won several awards for his innovative battery, including the prestigious $500,000 Lemelson-MIT Prize and the Carnegie Science Center Advanced Materials Award. He received the Caltech Resnick Sustainability Institute Award "for research and development of scalable, environmentally benign, low-cost grid-scale energy storage." Fortune Magazine has named him one of the world's Top 25 Eco Innovators. He also was named a fellow of the National Academy of Inventors. Find out more.

Anna Fisher has received a four-year, $751,000 grant from the National Science Foundation to study the effect of pictures in books for beginning readers. Fisher, an associate professor of psychology, will work to understand whether design of reading materials for beginning readers can be optimized taking into account children's developing attention regulation skills. Her research will examine whether close proximity of text and illustrations, a typical layout in books for beginning readers, creates competition for attention and interferes with reading fluency and comprehension. She will then examine whether the layout of books can be optimized to reduce any attention competition to help young readers become more fluent and understand what they are reading more quickly. Find out more.

Romayne Botti, chief financial officer, chief operating officer and associate dean of the College of Engineering, has been elected to the Board of Directors of the Eastern Association of College and University Business Officers (EACUBO). EACUBO promotes effective and ethical business and financial administration in colleges and universities. EACUBO has a diverse membership of nearly 1,000 institutions and organizations.

Manfred Paulini, professor of physics and associate dean for faculty and graduate affairs at the Mellon College of Science, has been elected a fellow of the American Physical Society (APS). Paulini, who was nominated by the APS Division of Particles and Fields, was recognized for his leadership in large-scale physics experiments and his work connecting particle physics with cosmology. The APS Fellowship is a distinct honor signifying recognition by one's professional peers. Fellows are elected based on their contributions to physics through research, application of physics, leadership and service, or their contributions to physics education. Find out more.

Maureen Dasey-Morales has been named to the newly created position of associate vice president for Community Health and Well-Being and will be responsible for advancing the university's vision in this area, an important dimension of the CMU Experience. Dasey-Morales comes to CMU from Wichita Sate University, where for more than 16 years she has held leadership roles in health and wellness programs, including serving as director of Counseling and Testing for 10 years. She currently is Wichita State's associate vice president for Wellness. She also has been an adjunct assistant professor in the Psychology Department since 2000 and has worked as a staff psychologist in college and community health settings. Dasey-Morales received a Ph.D. in counseling psychology from the University at Albany, SUNY, and a bachelor's degree in psychology from Niagara University. She starts her new position at CMU on Jan. 8.

A team led by the SEI's Douglass Post has been honored by the National Defense Industrial Association (NDIA) for advances in the field of high performance computing. NDIA awarded Post and the Department of Defense (DoD) High Performance Computing Modernization Program (HPCMP) Computational Research and Engineering Acquisition Tools and Environments (CREATE) team with the 2017 Lt. Gen. Thomas R. Ferguson, Jr. Systems Engineering Excellence Group Award. Post and his CREATE leadership team received the award for outstanding achievement in the practical application of systems engineering principles, promotion of robust systems engineering principles throughout the organization, and effective systems engineering process development. Post launched CREATE in 2006 to develop and deploy software applications to improve the ability of the DoD acquisition engineering community to develop innovative military air vehicles, naval vessels, ground vehicles and radio frequency antenna systems. Learn more.