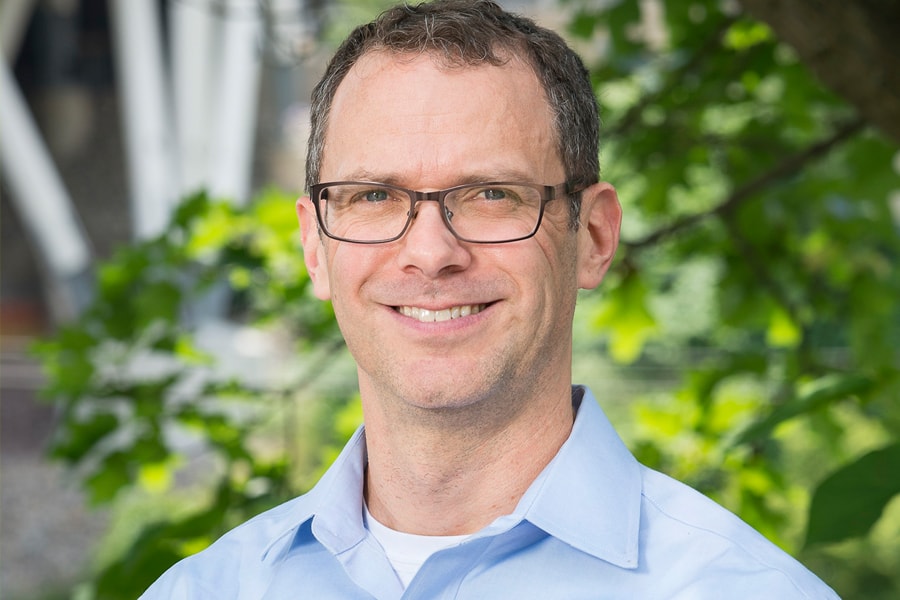 December 04, 2017
Whitacre Awarded $50K Energy Award for Creating Eco-friendly Battery
By Amanda King alking(through)andrew.cmu.edu
Media Inquiries
Amanda King
Wilton E. Scott Institute for Energy Innovation
Jay Whitacre, director of Carnegie Mellon University's Wilton E. Scott Institute for Energy Innovation, has been awarded the 2017 Leigh Ann Conn Prize for Renewable Energy for creating the first mass-produced, low-cost, eco-friendly battery called the Aqueous Hybrid Ion (AHI™).
This $50,000 biannual award presented by the University of Louisville recognizes outstanding renewable energy ideas and achievements with proven global impact. Whitacre's sodium-ion batteries, which use water-based chemicals, are an economical way to incorporate renewable energy into the grid. The batteries do not feature lead, lithium or organic solvents.
"Dr. Whitacre is a world-class scientist and entrepreneur dedicated to the viability of low-cost energy storage," said Greg Postel, University of Louisville interim president. "The University of Louisville celebrates his research and its positive influence. In a changing world of energy use, he is an outstanding winner of the Leigh Ann Conn Prize."
Whitacre, the College of Engineering's Trustee Professor of Energy in the departments of Materials Science & Engineering and Engineering & Public Policy, came to Carnegie Mellon in 2007. Shortly after, he debuted his unique battery — the only sustainable battery to ever be mass-produced and Cradle to Cradle Certified™.
Whitacre's battery is now manufactured by Aquion Energy, an energy storage technology company he founded in 2009. Among its many awards are the 2011 World Technology Award and the North American Company of the Year in the 2017 Global Cleantech 100. Aquion Energy was included on MIT Technology Review's list of the 50 Disruptive and 50 Smartest Companies.
The company was acquired in June 2017 by a U.S.-based branch of Titans Energy Technology Group.
In conjunction with a public lecture, Whitacre will receive the award and a medal at a ceremony in Louisville in March 2018. The prize, administered by the University of Louisville's Conn Center for Renewable Energy Research at the J.B. Speed School of Engineering, is named for the late daughter of Hank and Rebecca Conn, center supporters and the prize benefactors.
"This revolutionary battery technology and Jay's resilient entrepreneurial spirit demonstrate a vitality that resonates. It's what we all need," Hank Conn said. "It is exciting to recognize his innovations and their translation into impactful technology."
Previous prize winners include world-renowned chemist and Harvard University Professor Daniel Nocera who developed two energy storage systems, the "Artificial Leaf" and the large-scale flow battery, and Swiss chemist Michael Graetzel, developer of the dye-sensitized solar cell.
"With this award, Jay's track record of being a standout innovator in the world of energy technologies will continue to position the College of Engineering and Carnegie Mellon University as a leader in groundbreaking energy innovation," said James H. Garrett Jr., dean of the College of Engineering. "We in the college are very proud of Jay for winning the prestigious Leigh Ann Conn Prize."
Whitacre has won several awards for his innovative battery, including the prestigious $500,000 Lemelson-MIT Prize, and the Carnegie Science Center Advanced Materials Award. He received the Caltech Resnick Sustainability Institute Award "for research and development of scalable, environmentally benign, low-cost grid-scale energy storage." Fortune Magazine has named him one of the world's Top 25 Eco Innovators. He was also named a fellow of the National Academy of Inventors.
Whitacre has served on the boards of various energy technology companies and committees for the National Academies of Sciences, Engineering and Medicine. He has authored or co-authored over 70 peer review papers and is a prolific inventor who has authored or co-authored over 30 patents that are issued or pending.