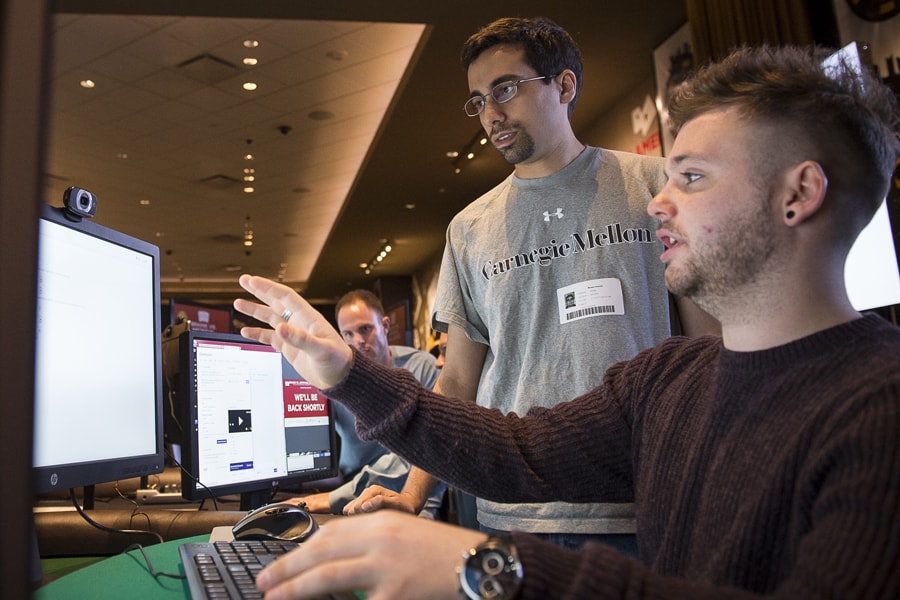 December 13, 2017
News Briefs
CMU Receives $7.5M in Federal BRAIN Initiative Funding
Researchers from Carnegie Mellon's departments of Biological Sciences and Chemistry, the Molecular Biosensor and Imaging Center (MBIC) and Pittsburgh Supercomputing Center (PSC) have received close to $7.5 million in new funding from the National Institutes of Health through the federal BRAIN Initiative to support innovative research and develop tools that will rapidly advance brain research.
"Carnegie Mellon's combined expertise in biology, psychology, computer science and engineering has positioned us to be at the forefront of creating new tools and technologies for neuroscience," said Alison Barth, professor of biological sciences, interim director of CMU's BrainHub neuroscience initiative and member of the Center for the Neural Basis of Cognition. "The federal BRAIN Initiative's support is invaluable to increasing our understanding of how the brain communicates."
GeekWire Chooses Pittsburgh for Temporary HQ2
GeekWire is coming to Pittsburgh — at least for a while.
The Seattle-based technology news hub has announced that it will establish a second, temporary headquarters in Pittsburgh for the month of February. The idea to create a reporting outpost was prompted by the much-publicized Amazon HQ2, with GeekWire placing special emphasis on choosing a city that it considers a strong contender for the Amazon prize.
Carnegie Mellon's School of Computer Science, with encouragement from colleagues at the University of Washington, last month submitted an invitation to GeekWire to consider Pittsburgh in its search. The SCS proposal emphasized local officials likely would not break their silence regarding details of the region's bid for the Amazon HQ2 bid, but contended the city had too many great stories to ignore.
Research Paper on Libratus AI Wins NIPS Best Paper Award
A research paper describing a key component of Libratus, an artificial intelligence that displayed its poker prowess earlier this year, won one of three Best Paper awards at the Neural Information Processing Systems (NIPS 2017) Conference last week in Long Beach, Calif. Tuomas Sandholm, professor of computer science, and Noam Brown, a Ph.D. student in the Computer Science Department, presented their paper "Safe and Nested Subgame Solving for Imperfect-Information Gamesa" at the conference.
Libratus bested four top professional players playing Heads-up, No-limit Texas Hold'em last January during a 20-day marathon competition, titled "Brains Vs. Artificial Intelligence: Upping the Ante." The AI led by a combined $1.8 million in chips after playing 120,000 hands. Libratus used the Pittsburgh Supercomputing Center's Bridges computer to compute its strategy before and during the Pittsburgh event.
The NIPS paper focuses on subgame solving, a process by which a game is decomposed into subgames that can be solved independently. Though it's not possible to solve subgames for an imperfect information game such as poker, it is possible to approximate solutions. Sandholm and Brown made subgame solving a key component of Libratus and developed new solving techniques that outperformed prior methods in theory and in practice.
EH&S Releases New Email Address for Questions, Requests
Environmental Health and Safety has created a new central email address — safety@andrew.cmu.edu — for members of the university community to use when contacting the department with questions and requests.
"By transitioning to a service management model, EH&S staff will be better positioned to respond to, track and manage the different requests for service that we receive," said Melanie Lucht, assistant vice president of Enterprise Risk Management. "This also will enable EH&S to identify trends to better understand and respond to service demands."
When an email is sent to safety@andrew, a service ticket will be generated and directed to the appropriate team member to address and resolve.
"Whether you have an indoor air quality question, a request for an ergonomic evaluation, or a request for a hazardous waste pickup, we are committed to providing health and safety services that protect the university community and the environment," Lucht said.
Have a question or request for EH&S? Send email to safety@andrew.cmu.edu.
Make an Impact; Help Those in Need Through United Way
Please help to make an impact in the quality of life in Pittsburgh and Southwestern Pennsylvania by giving to the United Way.
The United Way of Allegheny County addresses the most critical human needs in the region through its support of health and human service organizations and activities. Your generosity will provide meals for the hungry, beds for the homeless, care for young children, and new health care options for the sick and uninsured. For more information about the local charities the United Way supports, visit uwswpa.org.
Please help those less fortunate by making a donation to the United Way. CMU's United Way Campaign runs through Dec. 31, 2017.
Make a difference. Make your gift today.
Prep Work Underway for ANSYS Building; Hamerschlag Drive To Close
Campus Design and Facility Development will be conducting preparatory work for the ANSYS Simulation Building and Undergraduate Maker Center through Dec. 19.
The work will include widening the existing sidewalk from Scaife Hall to the Hamerschlag Hall C-Level entrance, installing sound dampening at select windows, miscellaneous HVAC work in the Porter Hall stair tower, and providing temporary barriers adjacent to the site within Hamerschlag and Porter halls.
Upper Hamerschlag Drive will close on Dec. 19 and will remain closed until August 2019. To access lower Hamerschlag Drive, and the Gates and CIC parking garages and loading docks enter via South Neville Street. Please redirect truck deliveries to Roberts, Wean and Scott Hall loading docks.
Questions or concerns should be directed to Jennifer McDowell at 412-268‐3763 or jmcdowell@cmu.edu.
Innovation in Teamwork Class Offered to Staff
Innovation in Teamwork (76-371/76-771), taught by English Professor Linda Flower, is being offered to staff next semester.
In this course, you will learn how to become more effective as a team member, project leader and group consultant in your work and workplace. Looking at films, case studies, research and your own experience, you will learn how to analyze how teams of all sorts are working, to communicate more effectively across different expectations and values, and to collaboratively innovate new ways of working together. Your final project will let you document your ability to be a knowledgeable team leader and effective collaborator.
The course is being offered from 10:30 to 11:50 a.m. Tuesdays and Thursdays. Information on tuition benefits for staff is available online. Questions about the course? Contact Laura Donaldson at ldonalds@andrew.cmu.edu.
Credit Union Offers New Low Personal Loan Rate
Carnegie Mellon's Federal Credit Union is celebrating 81 years of service to the university community with a special offer through the holidays. Now through January 31, 2018, the Credit Union is offering personal loans as low as 7.5 percent. Pay off your high rate credit cards or bank loans and save thousands in interest.
For more information and to join the Credit Union, go to http://www.cmufcu.org or call 412-268-2905.
Seeking Ph.D. Participants for Three Minute Thesis Competition
An 80,000-word thesis would take nine hours to present. Your time limit? Three minutes!
The Three Minute Thesis (3MT®) Competition challenges CMU doctoral candidates to present a compelling oration on their thesis and its significance in just three minutes, in language appropriate for a general audience. 3MT is not an exercise in trivializing or "dumbing-down" research, but requires students to consolidate their ideas and crystallize their research discoveries.
Any currently enrolled CMU Ph.D. student may sign up to compete. Register online. Registration deadline is Jan. 24. Preliminary heats will be held Feb. 8 – March 21 and the championship round will be held on April 10 during Graduate and Professional Student Appreciation Week.
Heat winners will win their choice of technology (iPads or Apple Watches) or travel/research funds. Championship winners will receive $3,000, $2,000 and $1,000 in research/travel grants and a potential $500 research/travel grant for the winner of the "People's Choice" and "Alumni's Choice" awards.
Contact David Scherer, daschere@andrew.cmu.edu, with questions about the 3MT competition.