April 24, 2017
Celebrating Excellence in Education
By Marilyn Rossa Kail
Every year Carnegie Mellon University recognizes individuals who exemplify the highest standards of excellence and commitment to students through its Celebration of Education Awards.
This year's event, which will take place at 4:30 p.m. Thursday, April 27, in Rangos 1 and 2 of the Cohon University Center, will celebrate the achievements of distinguished CMU faculty in six categories: the Robert E. Doherty Award for Sustained Contributions to Excellence in Education; the William H. and Frances S. Ryan Award for Meritorious Teaching; the Award for Outstanding Contributions to Academic Advising and Mentoring; the Barbara Lazarus Award for Graduate Student and Junior Faculty Mentoring; the Mark Gelfand Service Award for Educational Outreach; and the Teaching Innovation Award. In addition, Graduate Student Teaching and Service Award winners will be recognized.
Doherty Award:
Mary Shaw, A.J. Perlis University Professor of Computer Science, Institute for Software Research
Mary Shaw joined the faculty after earning her Ph.D. in computer science and has enjoyed an illustrious career, earning international recognition in the software engineering and the computer science communities for leadership in education, and her "principled pragmatism" approach. She and her colleagues developed innovative programs and courses at both undergraduate and graduate levels. Her ability to connect theory with practice in a way that works, not only for professional curricula but also for undergraduate and doctoral students, is particularly significant in computer and software engineering in which technical infrastructure can rapidly change, but principles persist in their applicability.
Shaw's research interests are in software engineering and software design, particularly architecture of systems.
Colleagues from the School of Computer Science, professors William L. Scherlis, David Garlan and Jim Herbsleb, cited her "extraordinary scope and depth of her contributions to excellence in education," in their nomination letter.
Shaw, who credits Robert Doherty's Carnegie Plan as a key influence on her work, led the design of the 1985 CMU Curriculum for Undergraduate Computer Science, restructured the Master of Software Engineering Program in 1991, and along with colleagues, collaborated on a model curriculum for professional master's degree programs in software engineering, endorsed by three professional societies. In addition to publishing numerous scholarly papers, her work led to the publication of the first textbook on software architecture, which she co-authored with David Garlan.
Her professional recognitions include the U.S. National Medal of Technology and Innovation, the IEEE Computer Society TCSE Distinguished Educator Award, the CSEE&T Nancy Mead Award for Excellence in Software Engineering Education, the George R. Stibitz Computer & Communications Pioneer Award, the ACM SIGSOFT Outstanding Research Award (with David Garlan), and Life Fellowship in the ACM and IEEE. Most recently, she received the School of Computer Science's Allen Newell Award for Research Excellence along with Garlan and Bradley Schmerl.
Ryan Award:
Laurence Ales, Associate Professor of Economics, Tepper School of Business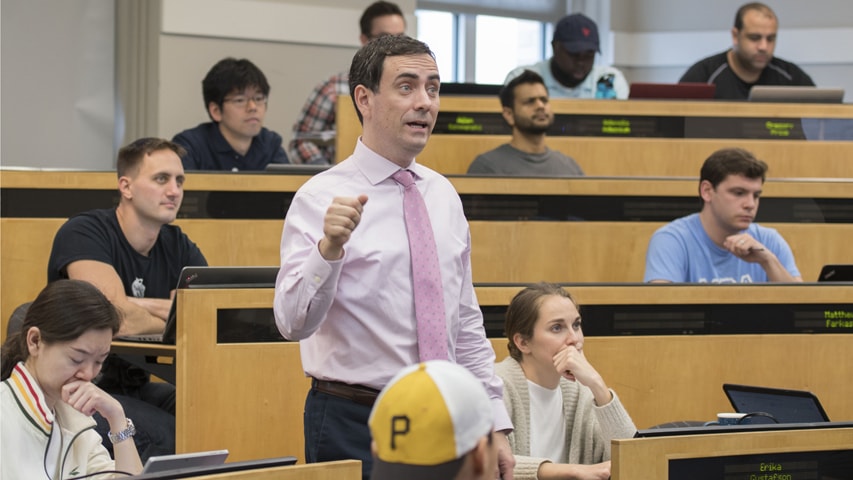 Laurence Ales joined CMU in 2008, teaching in the Tepper School's economics undergraduate and MBA programs. His contributions at the Tepper School span undergraduate, master's degree and Ph.D. programs, as well as the development of innovative formats for teaching, from large, required courses to smaller electives, to one-on-one mentoring and supervision through the research process. He also redesigned and launched courses in economics, with a unique attention to the integration of modeling and data analytics.
In their nomination letter, Senior Associate Dean of Education Laurie Weingart and Professor and Head of Economics Christopher Sleet said Ales has had an exceptional impact on Ph.D. education at Carnegie Mellon over the last six years.
Ales's fresh approach to content and delivery has made his classes more rigorous and popular among students, earning him consistently high teaching evaluations. He redesigned Intermediate Macroeconomics, a required course, and launched Emerging Markets, an elective. In these courses he exposes students to recent macroeconomic research and hands-on data analysis. Outside of the classroom, he has introduced a Twitter feed, which he uses to direct macroeconomic news to his student followers.
At the graduate level he has designed and taught MBA and Ph.D. courses, and remains involved in supervising student research at the graduate and undergraduate levels, while mentoring seniors through the senior project in economics, including 2016 student project winner Richa Mohan.
His honors include the 2012 Richard Cyert Award for outstanding teaching in undergraduate economics, and the student Panhellenic Council Role Model and Mentor Award, as well as publications in the American Economic Review, a top journal in his field.
His research focuses on the study of inequality and the design of tax policy. Current projects include studying the impact that future disruptive technologies will have on labor markets to determine best response for policymakers.
Academic Advising Award:
Emily Half, Academic Program Manager, Dietrich College of Humanities & Social Sciences, Institute for Politics and Strategy, Global Studies, Department of History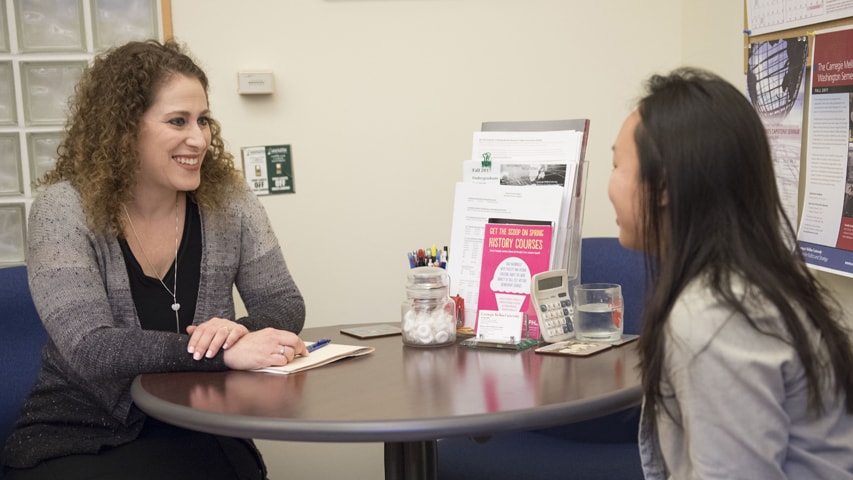 Emily Half joined the Dietrich College of Humanities & Social Sciences in 2009 as academic adviser for the undergraduate students in two of the college's majors: global studies and international relations and politics. During her tenure, she has earned a reputation as a dedicated academic adviser who stands out through her personal connection to students, and by advising them to seize opportunities that make sense to them, ensuring their success.
Half oversees the Washington Semester Program and serves as a liaison with the Office of International Education. She launched a number of successful new initiatives, including the Dietrich College Internship Insider, an annual web and print publication profiling undergraduate student internships and internship search techniques, and an ambitious exit interview exercise with each graduating senior to gather invaluable information about how Dietrich College can improve its student experience.
A large committee comprised of faculty, students, alumni and university administrators nominated Half for this award. "Emily excels on every front associated with her job description. … She is perhaps the single, most effective and highly rated academic adviser in the college," her nominators said.
One of Half's hobbies benefits CMU and others. She is an avid knitter and leads the Carnegie Mellon Women's Association (CMWA) Knit and Crochet Club, which provides hats and scarves to refugees in the Pittsburgh community.
In 2000, Half joined the staff of CMU's Division of Student Affairs, where she served in a variety of capacities, including study abroad, multicultural programming and residence life.
Barbara Lazarus Award:
Mitchell Small, H. John Heinz III Professor of Environmental Engineering, Departments of Civil and Environmental Engineering and Engineering & Public Policy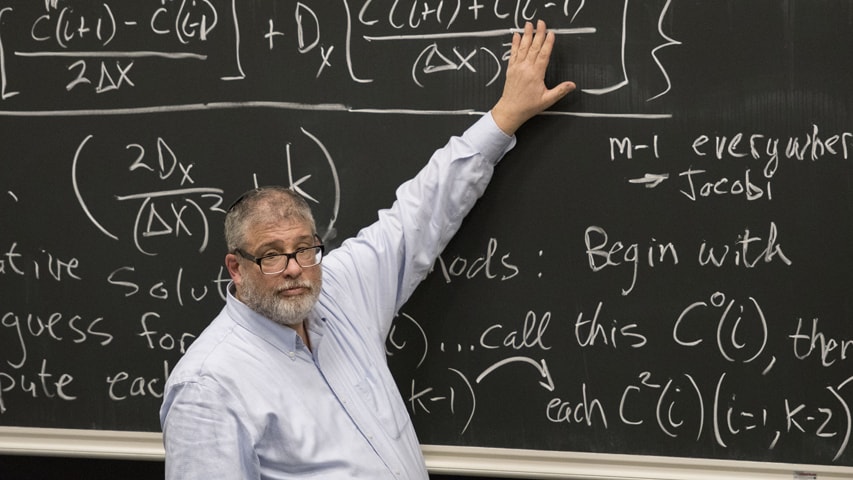 Mitchell Small's career spans more than 34 years at Carnegie Mellon. Since arriving as an assistant professor in 1982, he has served as the associate department head for graduate education in Engineering and Public Policy (EPP), an associate editor for the journal of Environmental Science & Technology, the Anderson Family Visiting Professor in Energy and Environment at Princeton University, and as a member of numerous U.S. EPA Science Advisory Board and U.S. National Research Council (NRC) Committees, including chair of the NRC Committee on Risk Management and Governance Issues in Shale Gas Extraction.
According to the seven senior faculty members who nominated Small, "he has made outstanding and sustained contributions to mentoring at Carnegie Mellon University." His reputation continues to grow as a dedicated adviser, who can be tough when he needs to be, but always caring in a way that inspires confidence in students. Former students speak of the impact Small has had on their lives and careers long after their time at CMU.
Students are not the only beneficiaries of Small's mentorship. He has been a critical mentor to junior faculty, also sharing with them the deep love of the work he does with students, while helping them to sharpen their research and teaching skills.
Small's research interests include climate, water and energy scenario analysis, and human risk perception and decision-making. He is a fellow of the Society for Risk Analysis, a recipient of its 2013 Distinguished Educator Award, and the first to receive CMU's College of Engineering Faculty Outstanding Mentoring Award.
Small earned a bachelor's degree in civil engineering and public affairs at CMU.
Gelfand Award: 

Catalina Achim, Professor, Department of Chemistry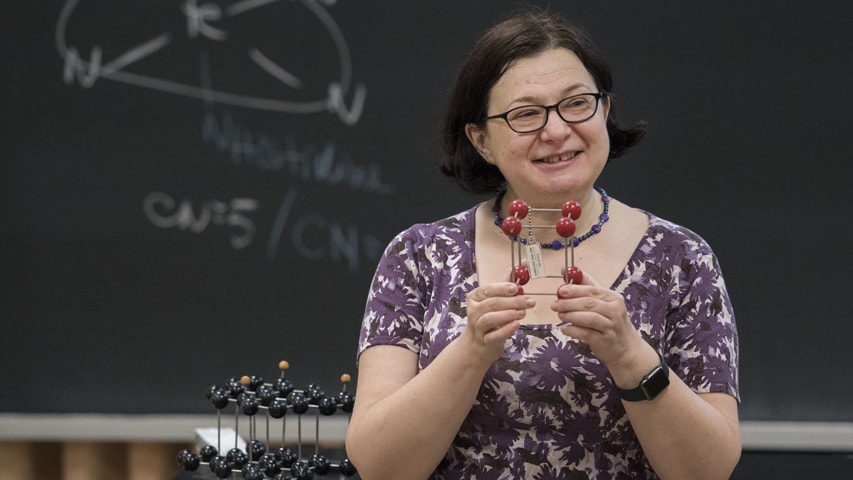 Catalina Achim joined Carnegie Mellon in 2001, carrying on a family legacy of education begun by her parents in Macin, Romania.
Achim has been described by her students as a professor who truly believes in her students. She is a proven leader in developing creative curricular approaches, including the Art and Science of Color course, in collaboration with colleagues at CMU's School of Art.
In 2007, as associate director for Outreach for CMU's Center for Nucleic Acids Science and Technology (CNAST), she founded DNAZone, the STEM outreach program based on science concepts in the K-12 curriculum, with the goals of lowering barriers to educational outreach for the CNAST researchers and generating excitement for science in students through hands-on classroom experiments. DNAZone works with teachers and organizations across southwestern Pennsylvania.
According to those who nominated her for this award, including Professor Bruce Armitage, Associate Professor Subha Ranjan Das and Ph.D. candidate Danielle Chirdon, "Catalina oversees an important and growing program that has a tremendous impact on students and teachers in the community, and also everyone around her at Carnegie Mellon."
Her research focuses on the way metal ions can change the course of nanotechnology for the better when used discerningly. Students in her lab identify ways in which transition metal ions can be placed in tens-of-nanometer structures based on nucleic acids with the goal to confer special electronic and magnetic properties to these structures.
Achim, who earned her Ph.D. in chemistry from CMU in 1998, has received several honors, including the 2004 National Science Foundation CAREER Award and the 2010 Julius Askhin Teaching Award from the Mellon College of Science.
Teaching Innovation Award:
Carnegie Mellon's strength in innovation in teaching is reflected by the nearly 20 individuals and teams receiving this year's Innovation Award
D.J Brasier, Assistant Teaching Professor, Department of Biological Sciences
Maggie Braun, Associate Teaching Professor, Department of Biological Sciences; Associate Dean for Undergraduate Affairs, Mellon College of Science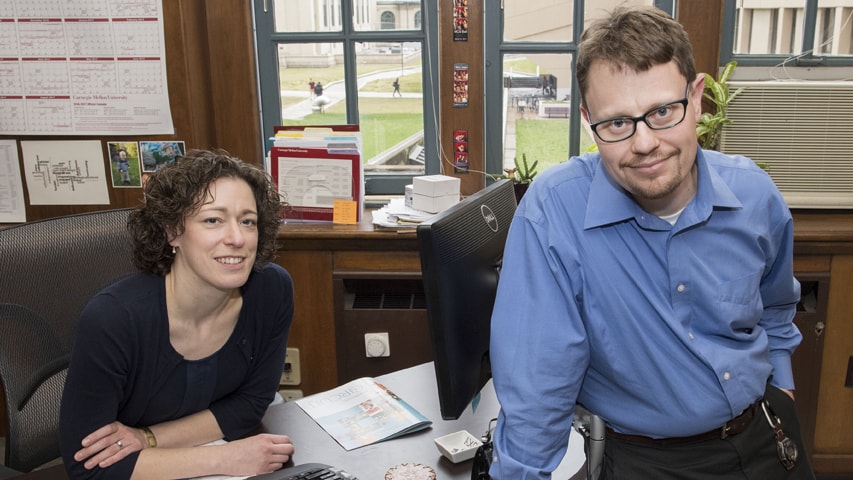 D.J. Brasier and Maggie Braun's project, "Small-group discussions substantially increase the value of a primary-literature module in a large introductory biology course," began as a convergence of two projects. Brasier's Wimmer Faculty Fellowship was focused on investigating how best to teach students from primary scientific literature in introductory biology. Braun was awarded a Simon Initiative ProSEED grant to expand active learning in the core biology curriculum.
Brasier and Braun are working to publish their results to encourage colleagues at CMU and around the world to use small-scale discussions to help students with challenging material traditionally taught in larger courses.
Their primary innovation was to rework an existing module designed for upper-division developmental biology courses to maximize its effectiveness in a large, heterogeneous introductory biology course, Modern Biology. They discovered that peer instruction at a critically challenging point in the module significantly increased student performance on assessments.
Additionally, they discovered that student success dramatically improved when a challenging point in the sequence of lectures was identified and replaced with small-group discussions. The duo believes that this approach can be adopted broadly in a wide range of courses.
Daragh Byrne, Assistant Teaching Professor, School of Architecture and the Integrated Innovation Institute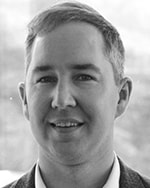 Daragh Byrne explores the design of experiential media systems through process-oriented methods and human-centered exploration of emerging technologies. He implemented the IDeATe (Integrative Design, Arts and Technology) Gallery as a curricular support to help students document, present, share and receive feedback on their work. Students also give peer-to-peer feedback, helping them develop and refine their own critiquing skills.
Byrne's Introduction to Media Synthesis and Analysis is a portal course for the IDeATe Network, designed to introduce engineers and computer scientists to the creative practice of artists and designers. His teaching and research reflects this interest with a current focus on the Internet of Things and tangible interaction design. At CMU, as he did in his previous role as an assistant research professor at Arizona State University's School of Arts, Media and Engineering, he manages the NSF-funded XSEAD project. This has led to a partnership between CMU and the Alliance for the Arts in Research Universities to extend this project and deliver a new online platform for arts-integrative scholarship.
Byrne also leads the MakeSchools.org effort to catalog Making in higher education.
MCS First-Year Seminar Committee:
William Alba, Director, Science and Humanities Scholars Program, Director, Advanced Placement Early Admission Program; Mellon College of Science Dean's Office; Dietrich College of Humanities and Social Sciences Dean's Office
Maggie Braun, Associate Teaching Professor, Department of Biological Sciences; Associate Dean for Undergraduate Affairs, Mellon College of Science
Amy Burkert, Associate Teaching Professor, Department of Biological Sciences; Vice Provost for Education, Carnegie Mellon University
Heather Dwyer, former Teaching Consultant, Eberly Center for Teaching Excellence & Educational Innovation
Eric W. Grotzinger, Professor Emeritus, Department of Biological Sciences
Kunal Ghosh, Assistant Head for Undergraduate Affairs, Department of Physics
John Hannon, Associate Dean of Student Affairs, Carnegie Mellon University
Jon Minden, Professor, Department of Biological Sciences
Veronica Peet, Senior Academic Advisor, Mellon College of Science
Karen Stump, Teaching Professor and Director of Undergraduate Studies and Laboratories, Department of Chemistry
Russell Walker, Teaching Professor, Department of Mathematical Science
Emily Weiss, Teaching Consultant, Eberly Center for Teaching Excellence and Educational Innovation
The MCS First-Year Seminar Committee worked for several years to create the EUREKA! Seminar course that has been required of incoming MCS students since 2015, easing their transition from high school to college, supporting the new MCS Core Education, and laying the foundation for the remaining MCS core education requirements.
Focusing on the habits of successful scientists and mathematicians, the course provides a unique opportunity to influence student development and the overall undergraduate experience of all MCS students.
"This distinctive course has transformed the first-year experience in MCS and has led to significant impacts in and out of the classroom," said MCS Associate Dean Maggie Braun in her nomination letter. "It also provides practice in building communication and teamwork skills that will be important at CMU and beyond."
Braun said the curriculum allows students to interact with faculty, alumni and their peers throughout the semester and, importantly, get to know themselves better through numerous reflective exercises.
Ryan Tibshirani, Associate Professor in the Department of Statistics and the Machine Learning Department.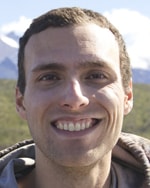 Ryan Tibshirani's work and teaching centers on the intersection of statistics and machine learning. He joined Carnegie Mellon's faculty in 2011.
"He is a dedicated and effective teacher, who has worked hard to introduce new pedagogical approaches and to innovate success in the classroom," wrote Christopher Genovese, professor and head of the Statistics Department, in his nomination letter.
Tibshirani's research interests lie broadly in statistics, machine learning and optimization. More specifically, he is interested in high-dimensional statistics, post-selection inference, nonparametric estimation, convex optimization and convex geometry. He also is interested in developing methods for epidemiological forecasting, particularly for flu outbreaks.
Tibshirani introduced the concept of "course conference" to structure students' final projects in the Convex Optimization class. This "course conference" is modeled on the structure of real, high-profile conferences in machine learning, computer science and statistics, encouraging students to develop effective and novel solutions to problems and improving communication about their work. It also provides students with an authentic experience that is critical to success in their future academic career, while motivating students to make the most of their final projects.
David Yaron, Professor, Department of Chemistry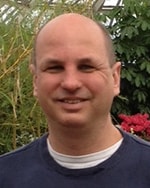 David Yaron has a reputation for excellence in teaching, innovation and collaboration. On behalf of the Department of Chemistry, he was nominated for this award by Rea Freeland, associate department head, who stated that Yaron's work "fundamentally improves introductory college chemistry by providing innovative online learning activities that shift emphasis from mathematical procedures connecting chemical concepts to real-world applications."
He focuses on computational chemistry and education research. In his computational work, he uses electronic structure theory to model the photophysical properties of organic materials. This includes the effects of disorder and dielectric screening on properties of relevance in light-emitted diodes and photovoltaics. More recently, he is exploring ways to use machine learning to lower the computational cost of electronic structure models.
His innovative ChemCollective project is a digital library supporting community use and authorship of these materials. A central feature of ChemCollective is a virtual laboratory that allows students to design and carry out their own experiments. The collection includes tutorials on difficult concepts and scenario-based learning activities. The materials are used worldwide, with over 900,000 unique visitors in 2016.
Yaron served as director of the Chemistry LearnLab within the Pittsburgh Science of Learning Center and has authored chemistry materials for Carnegie Mellon's Open Learning Initiative. He also co-chaired the College Board committee that redesigned the AP Chemistry course.
Graduate Student Awards:
The Graduate Student Awards encourage and recognize exemplary teaching and service to graduate students and the university. Recipients have displayed outstanding effectiveness in the classroom and have contributed to an improved quality of life for graduate students and the entire academic community. This year the university honors two outstanding doctoral students.
Graduate Student Service Award:
Travis Carless, Department of Engineering and Public Policy (EPP)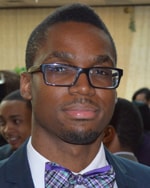 Travis Carless' commitment to service has spanned the entire CMU community. In fact, his nominator, Daniel Gingerich, a Ph.D. candidate in EPP, said, "I can think of no other eligible graduate student who has had this level of impact on their department, the student body, university committees, and the dialogues happening on our campus."
Carless played a key role in the development of the EPP Student Advisory Committee (EPP SAC), promoting town halls and policy recommendations to department leadership, and served as a powerful ally of the Doctoral Women in Engineering and Public Policy. Within EPP, Carless is also known for the "Travis Clause," encouraging students to apply for small scholarships that can be applied as a resource for research and/or travel funding, rather than limiting financial support for tuition or stipends.
He also serves as president of the Black Graduate Student Organization, served on the University Student Leadership Advisory Council and sits on two of the working groups for the CMU Experience. He is the longest standing member of the Call to Action Group on Campus, which has been instrumental in shaping the conversation about race on campus.
Graduate Student Teaching Award:
Doru Thom Popovici, Doctoral Student, Electrical & Computer Engineering (ECE)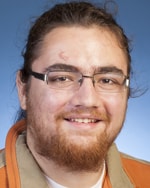 Doru Popovici earned his reputation for excellence as a teaching assistant for one of the most challenging core courses in ECE, Signals and Systems. The material is conceptually difficult, and the class size is large with more than 130 students. Popovici, voluntarily and unprompted, prepared notes for his students to help successfully bridge the lecture with the homework.
According to nominators Byron Yu, associate professor of electrical and computer engineering and biomedical engineering, and Pulkit Grover, assistant professor of electrical and computer engineering, "the end result of what he did was to effectively write a new textbook."
Yu and Grover cited Popovici's "deep and genuine passion for teaching," a sentiment supported by a number of letters of recommendation from students.
Due to his extraordinary dedication to his students and skill for teaching, ECE has seen a notable increase, not only in the number of students achieving an "A," grade, but also in the number of students taking the Signals and Systems follow-up course and in their desire to specialize in the area.
For more information about the Celebration of Education and Graduate Student awardees and the awards themselves, please visit www.cmu.edu/celebration-of-education.