April 20, 2017
News Briefs
Parking During Spring Carnival
With Spring Carnival taking place April 20–23, Parking & Transportation Services wants to highlight details about campus parking that may affect the university community:
Alumni House Parking Lot
Please be aware that the Alumni House Parking Lot will be unavailable for off-campus parking on April 20–23.
East Campus Garage
The East Campus Garage will be restricted to leaseholders only on April 17–24. If you have a downtown parking lease or an Alumni House hangtag, you will be permitted to park in the garage if space is available. The garage will fill up very quickly, so please plan to arrive early and allow extra time in case you are redirected to park elsewhere. The East Campus Garage will be available on Saturday, April 22, on a first-come, first-served basis. No lease or hangtag will be required.
Bob O'Connor Golf Course at Schenley Park
Free parking will be available at the Bob O'Connor Golf Course at Schenley Park on Thursday, Friday, and Saturday (April 20–22) from 6 a.m. to 10 p.m. A shuttle will run on Friday and Saturday on a continuous loop between the golf course and the Cohon University Center. No pass will be needed to park at the golf course.
Alternate Parking Options
Details on additional parking can be found online. These options require payment; reimbursement of your parking expense must be approved by your manager.
Please consider using the Port Authority bus system for transportation between PPG 6 and campus whenever possible.
"What Do We Know?" Opens April 27
Miller Gallery and the School of Architecture will jointly present "What Do We Know?" in the Miller Gallery from Thursday, April 27, through Saturday, April 29. The exhibition includes final thesis works and independent projects from 11 seniors in the School of Architecture.
The students describe their work as "reach[ing] far past the safe confines of conventional architecture." The projects expand the scope of the profession to address the "how and why" of design, "investigate the physicality of architecture," and to "question the goals of the design process itself, railing against latent hierarchies and demanding a more mindful process."
The exhibition features a reception from 6 – 8 p.m. Friday, April 28, and two full days of project reviews from 11 a.m. – 6 p.m., April 28–29. The exhibit, reception and reviews are free and open to the public.
"Roll Call" Opens May 5
The School of Art will feature the work of 34 graduating students in "Roll Call," the senior art exhibition in CMU's Miller Gallery. The exhibition, which opens with a reception 6 – 8 p.m. Friday, May 5, presents the work of students majoring in art and in the BXA Intercollege Degree programs.
Charlie White, head of the School of Art, said the exhibition "is a testament — a 'Roll Call' — to the vision and voices of those who bear witness to the present and offer us a brief glimpse of tomorrow."
Nominations Being Accepted for University Libraries Excellence Awards
The University Libraries Excellence Awards Committee is accepting nominations for awards from the CMU community through May 26. The annual Excellence Awards recognize library employees for exceptional performance in any of five categories: citizenship, customer satisfaction, innovation, outreach and productivity. Taking the time to nominate a person or team is one of the best ways to recognize superior performance and to thank the individuals or teams whose work you value most. Nominations for Excellence Awards may be submitted by any member of the Carnegie Mellon community, helping to ensure that all who most deserve special recognition are publicly acknowledged. Nominate a University Libraries employee or team.
Register Your Child for Take Our Daughters & Sons to Work Day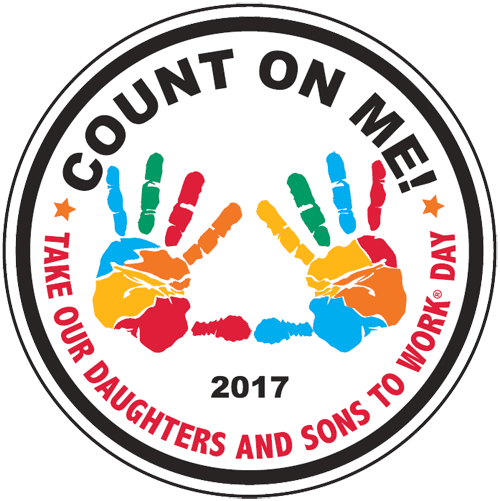 Registration is now open for Carnegie Mellon's Take Our Daughters & Sons to Work Day on Thursday, April 27.
 
The Take Our Daughters & Sons to Work program introduces girls and boys between the ages of 8 and 15 to what a parent or mentor in their lives does during the work day. The program also aims to show children the value of their education and make them aware of some of the many professions and fields they can pursue.
 
In the morning, the children "shadow" their campus host or attend initiatives such as a student panel or fitness workshop. Lunch includes a welcome from the campus community and entertainment. In the afternoon, participants can attend a variety of short presentations in areas such as the fine arts, business, and science and technology. Each presentation features engaging activities facilitated by faculty, staff and students.
 
Find out more and register your child.
CMU To Host Special Olympics; Volunteers Needed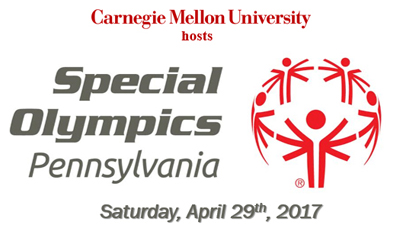 Volunteers are needed as Carnegie Mellon will host more than 600 athletes competing in the Pennsylvania Special Olympics Western Sectional Spring Games, Saturday, April 29.
 
If you would like to be a part of the Special Olympics event, complete the online CMU Special Olympics Sign-Up form. Please share the link with your friends and colleagues as volunteers do not need to be affiliated with CMU.
 
When competing the form, please be sure to indicate all activities that you'd like to be considered for, and if you are signing up as part of a group (CMU department, office, club, student organization, residence hall, greek organization, family, etc.). Please note efforts will be made to assign you to a volunteer opportunity with others in your group.
 
If you have any additional questions about volunteering, please contact our volunteer committee at SpecialOlympicsCMU@gmail.com.