October 21, 2016
Dining Delivers
Strategic Plan Responds to Community Feedback
By Mandi Semple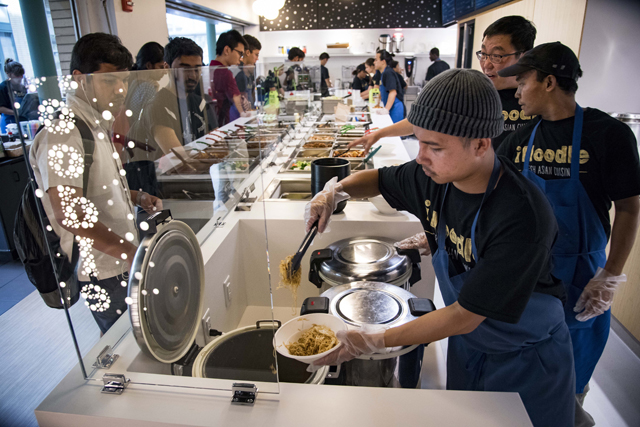 iNoodle recently opened in Newell-Simon Hall.
When Pascal Petter became director of Dining Services in 2013, he asked questions and listened to what students, faculty and staff had to say.
"It was important to me that our short- and long-term dining plans at Carnegie Mellon were responsive to the needs of our diverse community," Petter said.
After two years of listening, Petter developed a five-year strategic plan for Dining Services, focusing on enhancing the physical space of dining locations, improving customer experience through technology and communication, and refining its brand with healthy and nutritious food, culturally diverse menus and a commitment to sustainability.
Now the results of that plan can be seen all over campus. (See the dining directory.)
Answering a desire for more authentic Asian cuisine, The Tartan Express food truck rolled onto campus and has been a big hit with students. And after a complete renovation of the former Asiana/Mitchell's shared dining location in Newell-Simon Hall, iNoodle opened in September with a diverse menu.
Another new eatery is Rothberg's Roasters II in Scott Hall (pictured below, right), which adds a dining location to the west side of campus. In addition to offering a variety of cuisines and healthy vegetarian options, Rothberg's Roasters II is open until 10 p.m., Monday through Friday.
"There's been a renewed focus on meeting student needs when it comes to expanded hours in dining locations, with more vendors being open late or on weekends," said Assistant Director for Residential Education Bryan Koval. "Also, dining has put more focus on working with students with specific dining needs, like vegetarian and gluten-free options."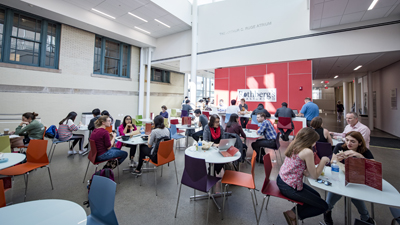 After a community-wide vetting process last spring, Au Bon Pain (pictured below) was selected to operate the renovated Skibo Café in the Cohon Center addition. Au Bon Pain offers a wide array of food that include low-sodium, low-fat, gluten-free, vegan and vegetarian options.
"Dining has changed a lot on CMU's campus over the past couple of years and the amount of diversity for different food options on campus is quite impressive," said Chetali Gupta, a materials science and engineering doctoral student. "Au Bon Pain has definitely been my favorite addition."
Petter said the Skibo Café renovation project has enhanced social interaction among diners and has contributed to the university's sense of community. The renovation has increased and improved seating with communal tables, soft seating, booths and café-style seating. Petter said the writable wall and tabletop surfaces, digital displays, and easy access to power and data have been well received among students.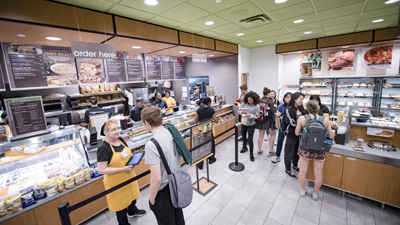 Dining Services has enhanced the customer experience through several digital initiatives. With GET Food and Funds, community members can add DineXtra to their accounts, view balance and spending history, and order food for pick up at participating dining locations, including iNoodle, Rothberg's Roasters II, Tartans Pizza in Resnik House and The Underground in Morewood Gardens.
Redesigned webpages for dining locations allow users to see what's open and what's closed in real time and search for food options using key words.
Dining Services also has strengthened its focus on health and wellness with its Nutrition Calculator app and the recent addition of registered dietitian Jessica Tones. Working with Health Services and dining vendors, Tones counsels students and organizes campus-wide health and wellness initiatives and outreach programs.
Another big step forward for Dining Services will be the addition of AVI Foodsystems Inc. as the food service provider in the new David A. Tepper Quadrangle. The Tepper Quad will be the first of AVI's 80 university dining programs to feature "AVI Pure," a new concept focusing on a modern and holistic approach to food that is free of artificial colors, flavors and sweeteners, and the use of antibiotics and growth hormones.
First-year student Zachary Rapaport is excited about the AVI Pure program.
"It's often difficult to find minimally processed, low-sodium, plant-based options at many of the eateries on campus. A commitment to locally sourced produce, among other health and environmentally conscious steps, will definitely attract me to those dining locations when they open," Rapaport said.
This month, the seating area for iNoodle in Newell-Simon was outfitted with new carpet and furniture, improved acoustics, window bar seating, power throughout the seating area and some 30 additional seats.
During the winter break, El Gallo de Oro in the Cohon University Center will get new cooking equipment, flooring, paint, furniture, digital menu boards and a refreshed look. In the weeks ahead, Dining Services plans to engage the community about changes they'd like to see in El Gallo's menu.
Angela Ng, a fifth-year senior and member of the Dining Services Advisory Council, is impressed with Dining Services' responsiveness.
"Every time I recommend something, dining seriously takes it into consideration and always tries to do the best thing for students," Ng said. "When students complained about not knowing soups all over campus, dining came back with Au Bon Pain and a full soup bar — something I know literally warms the heart of students.
"They work with student groups to cater to their needs and their events. They are some of the most thoughtful, caring and efficient people I know on campus," she said.