May 09, 2016
CMWA Awards Centennial Scholarships
By Abby Simmons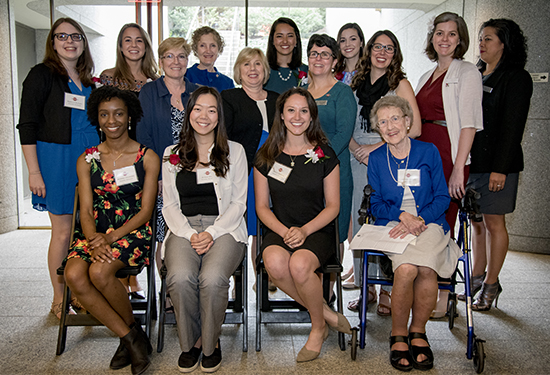 Front row (from left): Mopewa Ogundipe, Alyssa Wang, Ashley Sobhani,
Virginia Schatz. Back row (from left): Rebecca Alford, Allison McGugan, Pattye Stragar,
Mary Suresh, Alexa Hansen, Ann Rutt, Rita Ciccariello, Eleni Rodriguez, Christa Cardone,
Colleen Libertz, Lisa Georgi.
Carnegie Mellon Women's Association (CMWA) marked its 100th anniversary with a significant increase in student support.
On April 21, CMWA presented a graduating female student from each of CMU's seven schools and colleges with a $1,000 scholarship at its Centennial Awards Celebration.
"For many women, a CMU education is transformational, positioning them with the expertise, passion and direction to change the world. CMWA scholarships support their successful launches to careers in academia, the private sector, government and service," said CMWA President Alexa Hansen.
Member dues and donations fund the scholarships, which have been awarded since 1964. In previous years, CMWA provided three or four scholarships annually, alternating among academic disciplines.
Deans and department heads nominate students for the scholarships based on academic excellence, contributions to their schools/colleges or the university, service to others, and past and potential future impact.
Rebecca Alford | Mellon College of Science
Alford not only has a passion for science, but also for supporting underrepresented groups in science, technology, engineering and mathematics (STEM) disciplines. She was a speaker at the Grace Hopper Celebration of Women in Computing Conference, TEDxCMU and the Rosetta Conference for computational molecular modeling. Throughout her undergraduate career, the chemistry major has conducted computational biology research with Professor Jeffrey Gray at Johns Hopkins University. She was named first author on a peer-reviewed journal article and is working on a second manuscript.
Allison McGugan | Tepper School of Business
While pursuing a double major in business and decision sciences, McGugan was an integral part of elevating the women's soccer program to four NCAA appearances and two UAA championships. She was a member of Lambda Sigma national honor society and the Kappa Alpha Theta sorority. McGugan served as head teaching assistant for Organizational Behavior courses and worked with the Carnegie Mellon Business Association to plan the Tepper Business Dress Etiquette show. She also completed internships with Geneva Trading LLC and IBM.
Mopewa Ogundipe | School of Computer Science
Ogundipe possesses strong technical abilities and a desire to serve as a mentor to others. She was co-director of Strong Women Strong Girls and an outreach coordinator for Women@SCS. Ogundipe helped to launch SCS4ALL, which provides support for underrepresented groups and creates programming for all computer science students. She was a teaching assistant for two robotics courses and interned at Instagram, Kahn Academy and Waitr. She also received the National Award for Aspirations in Computing from the National Center for Women and Information Technology.
Eleni Rodriguez | H. John Heinz III College
A leader in the Healthcare Policy and Management Program, Heinz College leaders often called upon Rodriguez to represent the college and her program when prospective students visited campus. She was an active member of the Heinz Health Care Club and mentored first-year students. Last summer, she worked with the CEO of Allegheny HealthChoices Inc. to analyze and report on the impact of a managed long-term services and supports program for behavioral health. Following graduation, Rodriguez will join Booz Allen Hamilton's Health Policy team as an associate in Washington, D.C.
Ann Rutt | College of Engineering
This undergraduate researcher in the Materials Science Department is graduating as a co-author on three peer-reviewed papers. In addition to her major in materials science and engineering, Rutt completed a second major in biomedical engineering. A leader in CMU's Greek community, she most recently served as the president of the Panhellenic Council. Rutt was a founding member of Alpha Phi sorority at CMU and held multiple offices within her chapter. She also served as a resident assistant for two years.
Ashley Sobhani | Dietrich College of Humanities and Social Sciences
Global Studies major Ashley Sobhani is dedicated to addressing sexual assault and gender-based violence issues. She was a member of the Sexual Assault and Relationship Violence Committee, served as president of the Got Consent advocacy group and co-organized the first TartanHacks Social Impact category. Her senior capstone project explored the emergence of youth activists in modern Iran, with a focus on women. Sobhani also interned with the Tahirih Justice Center, a U.S. nonprofit that seeks to protect immigrant women and children from gender-based violence.
Alyssa Wang | College of Fine Arts
Wang is an accomplished musician who has performed around the world. The violin performance major minored in creative writing and conducting. She won first place at numerous competitions in California and Pittsburgh and served as concertmaster in orchestras such as the Carnegie Mellon Philharmonic and San Francisco Youth Symphony Orchestra. In 2015, Wang and three fellow students established the Heritage Scholarship Campaign, an undergraduate merit scholarship endowment fund for future School of Music students. The campaign has raised nearly $150,000 in direct and matching gifts to date.