March 01, 2016
Rockin' the Ph.D.
Roth Goes Nuclear, Eyes Pop's Profession
By Kelly Saavedra / ksaavedra@cmu.edu
The bridge from Newell-Simon Hall to Wean Hall is more than a physical connection for Ph.D. candidate Mike Roth. For him, the popular walkway is a bridge to his past and memories he shared with his late father, Steven F. Roth, who was a research professor at Carnegie Mellon until he passed away in 2005.

"I remember coming to Wean a lot throughout my whole childhood. My dad had an office there. I'd come in to work with him whenever I didn't have school. They had all these awesome supercomputers, and I got to play video games on them, which was really fun," Roth said. "And though I didn't fully understand it at the time, my dad showed me some of the earliest data visualization and human-computer interaction research, carried out by SAGE — System for Automated Graphics and Explanation — his research group in the Robotics Institute."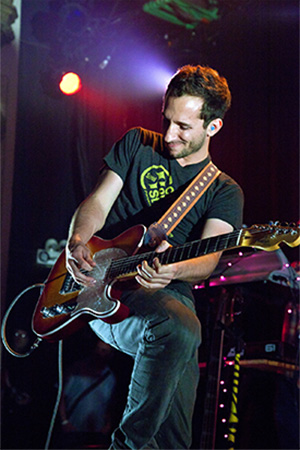 Mike Roth balances a music career with nuclear
power plant research.

They sat through Tartan football games together, and never missed a Spring Carnival.     

"I loved the food and the rides and running through the booths, especially the ones that were multi-level," he recalled. "We'd watch them build the booths, and we'd watch them tear them down. I remember seeing a guy break his hammer once and saying to my dad, 'Wow! He must be the strongest man in the world!'"

Roth is a second-year doctoral student in CMU's Engineering and Public Policy Department. He recently finished his qualifying exams and has been working on research that centers on how preserving nuclear power plants may be a good strategy to avoid carbon dioxide emissions.

"This is really important work," said his adviser, Paulina Jaramillo. "Nuclear power, a carbon free source of electricity, currently accounts for about 20 percent of generation in the U.S. The plants are being undercut by low electricity prices and may be at risk of retiring. If this happens, they would likely be replaced with carbon-emitting power plants."

Roth became passionate about energy during his undergraduate years at Oberlin College, where he balanced his studies with his other passion — music.

"I had two friends who needed a bass player, so I bought a bass, taught myself how to play it, and we started a band called Cobalt and the Hired Guns. We recorded four studio albums," he said.

He toured with them for a total of nine years based out of Chicago, leaving the band only because he wanted to go to graduate school.

Twice.

He enrolled in Duke University for a master's degree in environmental management focusing in energy. Then, he moved back to Chicago to get another master's degree, this time in public policy.

"Being in a band was a great experience for me for a lot of reasons," he said. "I learned how to talk about and manage feelings and disagreements and egos, and you know, the group dynamics involved in working with people. It really helped me learn to work with lots of different types of people despite us having very different backgrounds and personalities. You're living in a van with people on tour for a month. You get to know them very well, and that can be very challenging."

Roth released his first solo album, "Slow Down," this winter. He filmed the music video for the single in Haifa, Israel, after he conducted research on electric vehicle policy at Tel Aviv University.

"What's cool about Haifa is it's a city on a mountain. They have an incline, just like Pittsburgh, but it's a subway incline, so it's underground. So, we started at the top and over the course of two days worked our way down to the beach," he said.

"We didn't plan any of it. We didn't know whom we'd meet. We didn't know what was going to be in it. The culture is a bit different from the U.S., in that the country was founded with Kibbutzim and many socialist ideals, and so there is still an element of things being more communal there than they are here in the U.S. Some people didn't even speak English, but for example, we went to a Haifa fire station and they let us stand on all the trucks and capture video of that. It was really fun." 

The video can be found on YouTube and at www.mikerothmusic.com. The rest of the album is on Spotify, iTunes and can be downloaded on Bandcamp for free.

Roth has toured extensively throughout the U.S., opening for artists such as Josh Ritter, State Radio, Pete Francis of Dispatch and the Clarks.

A couple of summer internships with CMU's Scott Matthews are what led him back to Pittsburgh — where he now plays guitar for local act Rachel B — and to the university he refers to as "the best place on Earth" for him to be doing his work.

"I'm not an engineer, so traditional engineering departments at other universities wouldn't have been a good fit for me," he said. "CMU is very interdisciplinary and focused on exactly what I'm interested in, which is energy and environmental issues where there's an intersection of social science and engineering."

A two-year stint teaching elementary school ignited a spark in him for teaching, meaning he hasn't ruled out following in his father's footsteps and the idea of becoming a professor.

"I think about my dad a lot. I feel his presence here," he said. "It's reassuring when things get difficult, like when I was taking my qualifying exams. I could feel him reassuring me, patting me on the shoulder, reminding me I can do this. I'm meant to be here."

Now, the bridge from Newell-Simon Hall to Wean Hall, which leads to his past, also may lead to his future.

"Maybe I'll have an office here myself someday," he said. "If I'm lucky."