March 17, 2016
Commanding Presence
Decorated Veteran Presents Scholarship to NROTC Graduating Senior
By Carly Bair
Convincing a group of college students to show up somewhere at 6:45 a.m. often requires coaxing and the promise of free coffee and breakfast.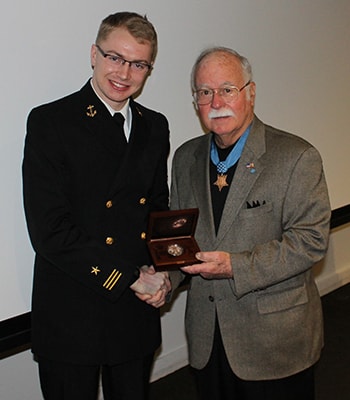 Grant Langevin (left) and retired Medal of Honor recipient
Col. Harvey Barnum.
But without any bribing on this February morning, about 100 students in the Naval Reserve Officers Training Corps (NROTC) program were seated in Rashid Auditorium, wide awake and ready to learn from the guest speaker of the day — Medal of Honor recipient Colonel Harvey Barnum — and to honor one of their own, Midshipman Grant Langevin.  
Barnum, who was awarded the United States' highest military honor, presented Langevin with a $4,000 scholarship from the Armed Forces Communications and Electronics Association in partnership with the Medal of Honor Foundation. Scholarship recipients must be of good moral character, exhibit academic achievement and have demonstrated potential to serve as an officer in the U.S. Armed Forces.
But before honoring Langevin, Barnum, with a strong voice and disciplined gaze, told his courageous story.
He attended Saint Anselm College and completed the Platoon Leaders Class program during his time in school, commissioning as a Second Lieutenant in the Marine Corps when he graduated with his degree. In December 1965, he was sent to the Vietnam War to serve as an artillery forward observer.        
When his company fell under ambush in the Vietnamese village of Ky Phu, Barnum made a reconnaissance of the area. After the company commander and radio operator fell under fire, he put himself in harm's way, providing aid to the dying commander and taking the radio from the operator who had lost his life, strapping it to his own body in order to continue communications. 
Barnum had no time to hesitate when his men were relying on him. His ability to stay calm and give orders stabilized the company, and he was able to call in helicopters to evacuate the wounded and eventually complete the mission. Two years later, he was presented with the Medal of Honor.
The Medal of Honor is the United States' highest military honor awarded for "conspicuous gallantry and intrepidity at the risk of life above and beyond the call of duty."
Although he proudly donned the light blue ribbon with a brass medal around his neck, Barnum was humble, speaking little of the importance of awards or ceremonies and rather about the importance of serving his country, leading his fellow Marines, and making a difference in the world.
As he spoke about his experiences in the Marine Corps, Barnum wove in pieces of advice about leadership, humility and patriotism for the future military leaders in front of him.
One of those future leaders was Langevin, a senior who will graduate with both his bachelor's and his master's degrees in mechanical engineering this May.
"Colonel Barnum was awarded the Medal of Honor for his extraordinary service during the Vietnam War. There are only 78 living recipients, to meet one in person was an incredible experience, and to be presented with an award by one was surreal," Langevin said.
"Listening to him recount his experiences and offer his advice to my fellow midshipmen and me was a truly special experience. Getting the opportunity to learn from someone who served his country with such distinction was a very humbling experience, because it showed us just how far some people have to go in the service of our nation.
"It was a motivating experience that has me looking forward to my future service in the U.S. Navy, and I can hope I can live up to the example that Colonel Barnum set during his service," Langevin said.    
After graduation, Langevin will commission as an ensign in the U.S. Navy, where he will work in the Naval Reactors program, the U.S. government office that has comprehensive responsibility for safe and reliable operation of the Navy's nuclear propulsion program.