June 09, 2016
News Briefs
ETC Student Projects Among Top 10 in Education Gaming
Four projects by students in the Entertainment Technology Center have been named among the top 10 Education Gaming projects of 2016 by the CREATE Festival, sponsored by the Pittsburgh Technology Council. The student projects are "Injustice," "Decisions that Matter," "Imago" and the "VR Rehearsal App."
Injustice is an interactive virtual reality experience that focuses on racially motivated police brutality.
 Decisions that Matter is an experience that educates people toward primary intervention against sexual assault on college campuses.
 Imago is a 3-D experience that puts the viewer in the shoes of a severely disabled person.
 VR-Rehearsal is a mobile application assisting the general public to practice presentations in virtual reality.
In addition to the student projects, "I Expect You To Die," a virtual reality puzzle game created by Schell Games, founded by ETC Professor of the Practice and 1994 Information Networking Institute alumnus Jesse Schell, was named among the top 10 Entertainment Projects of the Year. "Skill Arcade," a mobile workforce training game created by Simcoach Games whose CEO is ETC Professor and alumna Jessica Trybus, is among the top 10 projects in the communications category.
The projects will be honored at the CREATE Festival, part of the Three Rivers Arts Festival, today (June 9) beginning at noon at the Fairmont Hotel, downtown.
Find out more and watch the project videos. 
Get Your Student Off to College on the Right Foot
Let your graduating high school student benefit from the expertise of Carnegie Mellon's Academic Development Office by enrolling him/her in Academic Development's free Academic Success Workshop.
Workshop topics include time management, goal-setting, stress and procrastination, note-taking skills and exam preparation. Workshop sessions are from 10 a.m. – 1 p.m., June 28, 29 and 30 in the Academic Development Suite in Cyert Hall B5. Lunch is included.
To register, call the Academic Development Office at 412-268-6878 or send email to acad-dev@andrew.cmu.edu.
New Forms Improve Patient Consent Comprehension
When patients participate in a clinical trial, they are required — for legal and ethical reasons — to complete consent forms that are typically long, complicated and filled with technical language. Some experts fear these forms can lead some patients to enroll in studies without fully understanding them and others to miss valuable opportunities.
To improve patient comprehension, CMU researchers Tamar Krishnamurti and Nichole Argo have developed approaches to simplify the process by focusing on the information that patients need most when deciding whether to enroll in a trial. They let potential trial participants determine what information is most relevant and then created written and video versions of a shortened consent form focused on that information.
Published in the journal Medical Decision Making, Krishnamurti and Argo found that despite being 86 percent shorter, the new consent forms were equally effective at securing patient understanding and more engaging for the patients.
CMU Leadership and Negotiation Academy for Women Offers Staff Discount
The Carnegie Mellon Leadership and Negotiation Academy for Women is offering a 33 percent discount for CMU staff. The academy was created specifically to address the distinct challenges faced by motivated, goal-oriented female leaders, helping women surpass both personal and organizational growth objectives. With a focus on practical implementation, the academy begins with a 360˚ assessment to help women assign benchmarks and identify areas of focus with their personal executive coach.
Several CMU staff link their success directly to the program.
"The Leadership and Negotiation Academy has made a tremendous impact on both my professional and personal life," said Kathryn Heidemann, assistant dean of Heinz College and College of Fine Arts initiatives. "I was able to apply negotiation strategies with a near-immediate 'return on my investment,' and also make lifelong friends that will likely be champions for my whole career and beyond."
The academy is now enrolling candidates for a September start. For more information, visit the academy's website or contact Leanne Meyer at leanneme@andrew.cmu.edu.
Join CMU in Pittsburgh Pride Parade
Allies-Grad, an LGBT and allies organization for graduate students, is organizing "CMU Pride," a group of CMU students, staff and faculty that will be participating in this year's Pittsburgh Pride Parade at noon, Sunday, June 12.
If you'd like to show your pride for CMU and the LGBT community and join CMU's contingent in the parade, complete a Google form.
Say "Thank You" With an Andy Award Nomination
The Andy Award nomination period is now open through July 6. Named for Andrew Carnegie and Andrew Mellon, the Andy Awards are a tribute to the spirit of teamwork and dedication embodied by the staff at Carnegie Mellon. Individual staff members and teams of colleagues whose work has had a significant impact on the university are recognized for their outstanding performance and commitment to excellence through the Andy Awards program.
Awards are given in five categories: Commitment to Excellence, Commitment to Students, Innovative and Creative Contributions, Spirit, and Teamwork and Collaboration.
For more on the program and categories, nomination criteria and nomination forms visit the Andy Awards website.
Last Call for Tickets: CMU Day at Kennywood Park is June 11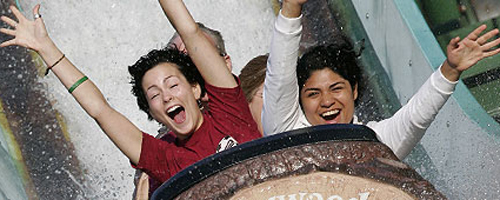 Carnegie Mellon Day at Kennywood Park, presented by Staff Council, is this Saturday, June 11. Pavilion 7, behind the Skyrocket rollercoaster, will be reserved all day for the CMU community. At 1 p.m., all children 10 and under will receive a prize and everyone will get an ice cream treat.
CMU employees presenting their own CMU ID may purchase two tickets for $15 each (valid only on June 11). Additional tickets (limit 10), valid any day in June and September and weekdays in July and August, may be purchased for $23 each.
Ticket sales (cash only) are as follows.
11:30 a.m. – 1 p.m., June 9, Cohon Center
11:30 a.m. – 1 p.m., June 10, Cohon Center
Learn more about Kennywood and other employee discounts to Sandcastle, Idlewild, Hershey Park and Cedar Point.