June 23, 2016
News Briefs
CMU, White House To Co-Host Artificial Intelligence Workshop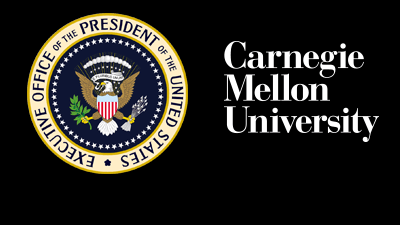 Carnegie Mellon and the White House Office of Science and Technology Policy (OSTP) are co-hosting "Safety and Control for Artificial Intelligence" a workshop that will bring together 17 technical experts from across the country to address an issue considered by some in the field to be more important to the future of AI than improvements in AI algorithms themselves.
"We have a window of opportunity to take on these issues of safety and control in a fundamental way, and explore how we can integrate safety and control considerations into the emerging practice of design and engineering for AI-based systems," said William Scherlis, director of the Institute for Software Research in CMU's School of Computer Science and organizer of the June 28 workshop.
Stormwater Tanks Installation Underway
The installation of four massive storm water tanks under the Mall, between the College of Fine Arts lawn and Hamerschlag Hall, is underway.
Four concrete, waterproof sectioned tanks, 80-feet long, 16-feet wide and 10-feet tall, will help to mitigate flooding in that area during severe storms by collecting water runoff from the downspouts and catch basins at Wean, Doherty, Porter and Baker halls. The underground tanks can collect up to 275,000 gallons of water, which may be reused for the campus chilled water cooling systems. Excess water will be diverted to the city storm water system.
SEI Security Services Team Earns Defense Security Service Honor
The Defense Security Service (DSS) recently presented the SEI Security Services team with the James S. Cogswell Outstanding Industrial Security Achievement Award. The SEI team was one of 42 honorees chosen from approximately 13,500 cleared facilities, all of which undergo recurring assessment by the DSS through the National Industrial Security Program.
The DSS bestows the honor to security services teams that maintain the highest standards for security, exceed National Industrial Security Program requirements and demonstrate leadership in establishing best practices. The DSS presented the award earlier this month at the annual NCMS training seminar in Nashville, Tenn. Find out more.
Mindful Living Summer Series Begins June 30
Mental health professional Deanna Burkett is leading a free five-week Mindful Living program for faculty and staff. The program is highly experiential with in-class and at-home meditation practice, facilitated discussion, guided reflection and outside assignments.
The program will run from June 30 through July 28. The class will meet every Thursday from 10:30 a.m. to noon. Location will be determined. RSVP by noon, Friday, June 24.
Participants should wear comfortable clothing and bring a yoga mat and water bottle.
Questions or comments should be directed to Angie Lusk at alusk@andrew.cmu.edu or Helen Wang at hyw@andrew.cmu.edu. The program is sponsored by the Division of Student Affairs.
Abandoned Bicycles To Be Removed July 13
University Police and Facilities Management Services will be removing abandoned bicycles from the main Pittsburgh campus on Wednesday, July 13. University Police will identify and tag the abandoned bikes on Saturday and Sunday, July 2 and 3.
Abandoned bikes are those that are in poor condition from not being used. Bikes in poor condition are identified by such features that include, but not limited to, two flat tires, missing major parts, frozen brakes and rusted chains that make the bike unusable.
Tagged bikes, bike parts, and locks will be removed July 13. Those that are deemed to be operational will be stored on campus for six months. Owners seeking to claim their bikes should contact University Police at 412-268-2323. Non-operational bikes and bike parts will be donated to approved charitable or neighborhood organizations.
A separate round up of bikes stored at Housing Facilities will be scheduled in the near future.
Get Your Student Off to College on the Right Foot
Let your graduating high school student benefit from the expertise of Carnegie Mellon's Academic Development Office by enrolling him/her in Academic Development's free Academic Success Workshop.
Workshop topics include time management, goal-setting, stress and procrastination, note-taking skills and exam preparation. Workshop sessions are from 10 a.m. – 1 p.m., June 28, 29 and 30 in the Academic Development Suite in Cyert Hall B5. Lunch is included.
To register, call the Academic Development Office at 412-268-6878 or send email to acad-dev@andrew.cmu.edu.
CMU Leadership and Negotiation Academy for Women Offers Staff Discount
The Carnegie Mellon Leadership and Negotiation Academy for Women is offering a 33 percent discount for CMU staff. The academy was created specifically to address the distinct challenges faced by motivated, goal-oriented female leaders, helping women surpass both personal and organizational growth objectives. With a focus on practical implementation, the academy begins with a 360˚ assessment to help women assign benchmarks and identify areas of focus with their personal executive coach.
Several CMU staff link their success directly to the program.
"The Leadership and Negotiation Academy has made a tremendous impact on both my professional and personal life," said Kathryn Heidemann, assistant dean of Heinz College and College of Fine Arts initiatives. "I was able to apply negotiation strategies with a near-immediate 'return on my investment,' and also make lifelong friends that will likely be champions for my whole career and beyond."
The academy is now enrolling candidates for a September start. For more information, visit the academy's website or contact Leanne Meyer at leanneme@andrew.cmu.edu.
Say "Thank You" With an Andy Award Nomination
The Andy Award nomination period is now open through July 6. Named for Andrew Carnegie and Andrew Mellon, the Andy Awards are a tribute to the spirit of teamwork and dedication embodied by the staff at Carnegie Mellon. Individual staff members and teams of colleagues whose work has had a significant impact on the university are recognized for their outstanding performance and commitment to excellence through the Andy Awards program.
Awards are given in five categories: Commitment to Excellence, Commitment to Students, Innovative and Creative Contributions, Spirit, and Teamwork and Collaboration.
For more on the program and categories, nomination criteria and nomination forms visit the Andy Awards website.
Defensive Driving Classes Offered
Environmental Health & Safety (EH&S) is offering four defensive driving classes for those who drive a vehicle on behalf of the university. The course is classroom instruction only.
Classes will begin at 8:30 a.m. in the EH&S conference room on Aug. 9, Sept. 13, Oct. 11 and Nov. 8.