June 22, 2016
Storm Water Tanks Installation Underway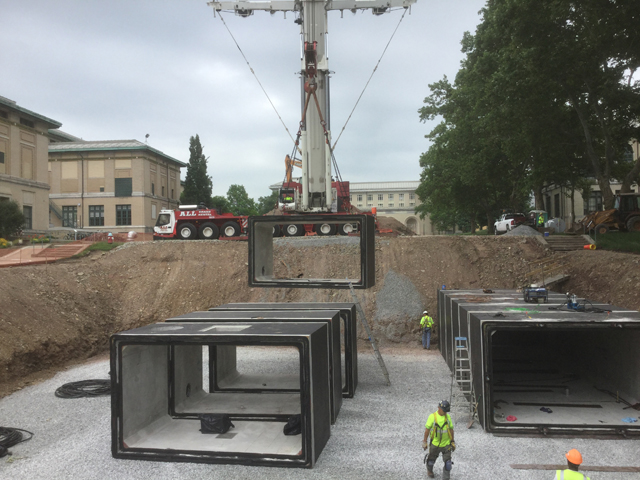 The big dig has been completed, and now the installation of four massive storm water tanks under the Mall, between the College of Fine Arts lawn and Hamerschlag Hall, is underway.
Four concrete, waterproof sectioned tanks, 80-feet long, 16-feet wide and 10-feet tall, will help to mitigate flooding in that area during severe storms by collecting water runoff from the downspouts and catch basins at Wean, Doherty, Porter and Baker halls. The underground tanks can collect up to 275,000 gallons of water, which may be reused for the campus chilled water cooling systems. Excess water will be diverted to the city storm water system.
That area of the campus was hit hard by flooding during major storms in 2004, 2009 and 2011.
A 550-ton crane has been erected on the Mall to install the tanks. During the delivery of the tanks and installation process, parking and deliveries on Frew Street will be impacted for short intervals from 6 a.m. to 6 p.m. daily.
Once the tanks are in place, backfilling will begin, followed by work to restore the Mall back to its original state.
The project is expected to be completed by early August.