December 08, 2016
News Briefs
Program Gives Staff View From Different Lens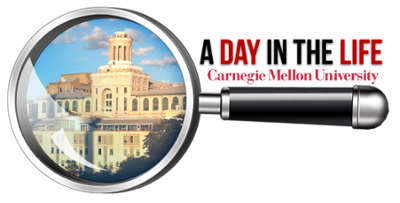 Staff members across the campus community dedicate themselves each day to supporting Carnegie Mellon's mission and goals. A new pilot-shadowing program, called "A Day in the Life," is being introduced to provide an opportunity for staff to learn about how others are contributing to CMU.

Sponsored by Staff Council and Professional Development Services, A Day in the Life is modeled after a program initiated by Amy Yearwood, associate director of Enrollment Services for Summer Studies, and successfully implemented in Enrollment Services. The program is designed to provide staff with an opportunity to experience the university through a different lens and to engage in sharing ideas and forming relationships with colleagues throughout CMU. Participants will gain a deeper understanding of the many ways in which all staff support and advance the mission of the university.

As a shadower, you will meet with a host department over the course of a semester to gain insight into how it contributes to the university. To be considered as a shadower, please email ADayintheLife@andrew.cmu.edu by Friday, Dec. 16.  

Find out more online.
Organizational Realignment Announced
Provost Farnam Jahanian and Vice President for Operations Rodney McClendon have announced a change in the reporting structure for the Division of Enrollment Services and the Naval ROTC program.
The six departments in Enrollment Services — The HUB, University Registrar's Office, Student Financial Aid, Student Accounts Office, Summer Studies and Enrollment Systems — currently housed under Operations, will report to the Office of the Provost, effective Jan. 1, 2017. Lisa Krieg, associate vice president and director of Enrollment Services, will report directly to Provost Jahanian.
The Naval ROTC program also will report to the Office of the Provost, and will be supervised by Amy Burkert, vice provost for education. Operations for NROTC will continue to flow through Enrollment Services.
"Bringing these two units into the academic leadership structure is a natural realignment that will support CMU's educational mission," said Jahanian and McClendon in an email to senior administrators, deans, department heads and those affected by the restructuring.
The Office of Risk Initiatives and the Campus Services group, under the direction of Greg Billy, will remain within the Division of Operations.
New Tool for Faculty Helps with Courses Involving Student Teams
Collaborative U is a new tool for teaching students to work effectively in diverse teams. It requires less than two and a half hours of the students' time and even less of the professor's. When you create teams for projects lasting six weeks or more, assign the two OLI course modules for homework in the first two weeks. These take about 45 minutes each to cover key factors and basic skills that can improve the way teams interact.
Each module also has a brief activity (15-20 minutes) that teams do in face-to-face meetings during class. The OLI course modules work with Blackboard and feed information about student learning back to faculty. Students report the training is fun and engaging, and preliminary analysis of data from a controlled study in the Mellon College of Science shows gains in understanding and motivation.
For more information and access to a demo version of the course on OLI, email Martha Harty at mharty@cmu.edu.
Register Your Child for Gelfand Center's Saturday Classes
CMU's Gelfand Center Spring Series Classes for K-12 students are STEM focused and highlight the research and work of Carnegie Mellon faculty and staff. They are developed by CMU faculty and staff to be fun, engaging, rigorous and hands-on. Classes are conducted on select Saturday mornings (Jan. 28, Feb. 18, March 25, April 29) during the spring and registration is first-come, first-served. Student scientists will explore, investigate and discover exciting topics in each workshop. Spaces fill quickly so don't delay, register today!
Staff Discounts to Kennywood's Holiday Lights
Staff Council is offering discounted tickets to Kennywood's Holiday Lights events, 5 - 9 p.m., Friday, Saturday and Sunday through Dec. 24. Tickets are now on sale for $16 and must be purchased by Dec. 23. Purchase your tickets online.
Holiday Sale at the University Store
Visit the University Store through Friday, Dec. 16 for its annual Holiday Sale, and get special discounts on some of your favorite items. Guests will receive a free CMU notecard with total purchases over $25, and a free 16 x 13 inch plaid gift bag with total purchases over $75.
The store also will be launching their new Scotty Rewards Program, which is a points system that rewards you when you shop at the University Stores. During the Holiday Sale, guests will earn double points toward future purchases.
The University Store is located in Cohon Center. Store hours during the Holiday Sale are Monday through Friday from 8:30 a.m. to 5 p.m.; Saturday from 11 a.m. to 4 p.m.; closed on Sundays. For more information, visit the University Store website.