April 28, 2016
News Briefs
Championship Pitch Sends Team to World Finals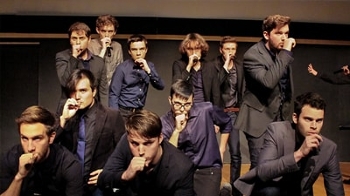 The Originals, an all-male a cappella group, will compete for the International Championship of Collegiate A Cappella, a first for a CMU a cappella organization.
The team, which won the central semifinal, will compete for the world title against nine other teams from the United States, Canada and Europe on April 30 in New York City. The championship will air on season two of "Sing it On" on Pop this fall.
The groups' membership includes students from many disciplines. The Originals have members studying everything from business to engineering, industrial design to math, all who come together through their love of singing.
"As a senior, I'm freaking out internally because I have no idea how I'm going to get this kind of musical outlet after I graduate. In a creative growth mindset, this has been invaluable for me," said Gene Hua, a senior industrial design major.
Find out more and watch the video.
New Policy Website Launches; Two Policies Up for Review
A new Policy website has been launched with enhanced functionality and new features. A key feature is a place for the campus community to provide input on any new or revised Policy as it is going through the approval process. Your input is welcomed and we suggest that you check the site periodically for new Policies undergoing review. 
There are currently two Policies posted for review: Policy on Protection of Children in Carnegie Mellon University Programs, Activities and Facilities, and Policy Against Retaliation. See the details of both, which will be posted through mid-May.
Heinz College Named Top Analytics Program
Whether it's better understanding consumer behavior, improving health care for veterans or finding ways to save taxpayer money, operations research plays a critical role. And now Carnegie Mellon's Heinz College can claim some of the best operations researchers in the country.
The college won the UPS George D. Smith Prize from the Institute for Operations Research and the Management Sciences (INFORMS). The prize, named for the late UPS chief executive officer, includes a $10,000 award.
Heinz College's analytical education, experiential learning activities and collaborations with partner organizations played an important role in the win. Find out more.
VentureBridge Team Wins $65K Fellowship for Data Analytics Startup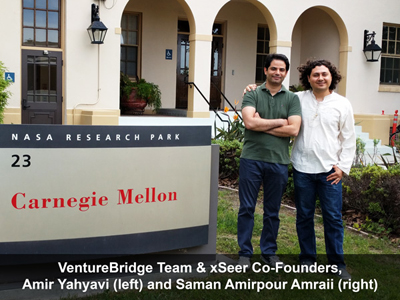 CMU students
Amir Yahyavi
and
Saman Amirpour Amraii
were recently awarded a $65,000 fellowship from Lightspeed Venture Partners (LSVP) to continue their business xSeer, a company that was developed through the Integrated Innovation Institute's VentureBridge program. This competitive summer fellowship selects only 10 of more than 300 team applications each year that best exemplify entrepreneurship and innovation.

The technology behind xSeer was developed by Yahyavi and Amirpour as postdoctoral researchers and Ph.D. candidates working at Carnegie Mellon's CREATE Lab (Community Robotics, Education and Technology Empowerment Lab).
The platform, Explorable Visual Analytics or "EVA", is a powerful tool that can take billions of rows of data with more than 100 dimensions or columns and present it in a visual format that users can better analyze and leverage.
EVA displays five dimensions — color, time and 3D (x,y,z) space — that the user can adjust to be able to turn a massive amount of data into valuable, action-ready information.
EH&S To Conduct Building Evacuation Drills May 20
To comply with the City of Pittsburgh's All Hazards Plan, Environmental Health & Safety (EH&S) will conduct building evacuations in five of CMU's high-rise buildings on Friday, May 20. The building and evacuation schedule is as follows:
Mellon Institute, 9 a.m.;
Gates/Hillman centers, 10 a.m.;
Doherty Hall, 11 a.m.;
Wean Hall, 12:30 p.m.;
Hamerschlag Hall, 1:30 p.m.; and
Scott Hall, 2:30 p.m.
An evacuation announcement will be made over the building's voice alarm system, (with the exception of Mellon Institute) followed by the sounding of the buildings fire alarm. Once the fire alarm sounds, occupants should quickly leave the building via the nearest exit and assemble in the building's designated assembly area, which can be found online.
Failure to leave a building when the fire alarm sounds is a violation of a City of Pittsburgh ordinance and may result in a fine and court appearance.
The back-up rain date for these evacuation drills will be Monday, May 23. We will follow that same schedule as above.
Questions about the evacuation should be directed to Richard Caruso at 412-268-9404 or rmcaruso@andrew.cmu.edu.
Say "Thank You" With an Andy Award Nomination
The Andy Award nomination period is now open through July 6. Named for Andrew Carnegie and Andrew Mellon, the Andy Awards are a tribute to the spirit of teamwork and dedication embodied by the staff at Carnegie Mellon. Individual staff members and teams of colleagues whose work has had a significant impact on the university are recognized for their outstanding performance and commitment to excellence through the Andy Awards program.
Awards are given in five categories: Commitment to Excellence, Commitment to Students, Innovative and Creative Contributions, Spirit and Teamwork and Collaboration.
For more on the program and categories, nomination criteria and nomination forms visit the Andy Awards website. 
Last Call: ProSEED/Crosswalk Proposals Due April 29
ProSEED/Crosswalk announces a supplemental round of funding. Proposals are due April 29. This program aims to foster and promote new ideas that cross boundaries within and outside of CMU. Funds ranging from $500 - $2,500 may be requested to support the development of new initiatives in areas such as quality of campus life, service learning, student competitions, new course development, entrepreneurial activities and pilot projects.
Learn more about ProSEED. Email questions to proseed@andrew.cmu.edu.
Staff Receive Discount to Tepper Executive Education Programs
All CMU staff are eligible for a 33 percent discount off open enrollment programs offered by Tepper School Executive Education. Programs are offered in Advanced Analytics and Leadership for Women.
Featured Program: Women on the Rise: Leadership for Emerging Women (May 11-13)
Are you ready to move from doer to leader? Do you have a team member with leadership potential? Carnegie Mellon's Women on the Rise: Leadership for Emerging Women enhances the skill set of women on the way up. Participants gain mastery from building networks of influences and developing an authentic leadership brand to working with teams and managing conflict.
Visit the Tepper School Executive Education website for details on the above program as well as additional programs, such as Advanced Analytics for Operations and Marketing, Leadership and Negotiation Academy for Executive Women and a Networking Workshop.