November 17, 2015
Distinctively CMU
Strategic Plan Lives, Evolves on the Web
By Bruce Gerson / bgerson@cmu.edu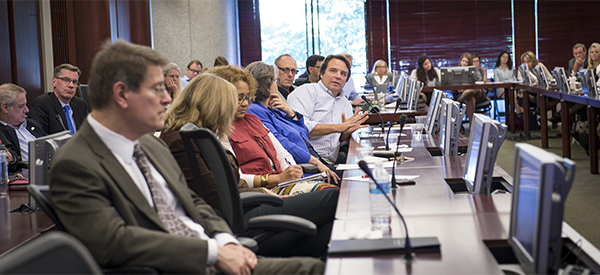 Carnegie Mellon's strategic plan is unlike any other.
It's not bound. And it's not in a slick and glossy publication.
Instead CMU's Strategic Plan 2025, the result of a yearlong, university-wide conversation about future ambitions, will live and breathe on an innovative website that allows users to see the connections across a rich web of goals and strategies. The web presentation will change and evolve over time, reflecting plans for realizing these ambitions, and progress toward goals.
CMU's Board of Trustees approved the plan at its Oct. 30 meeting.
"This plan has engaged the community in an unprecedented way," said President Subra Suresh at the celebration launching the plan. "I'm deeply grateful to all of you for your ideas and your commitment to making sure Carnegie Mellon takes the next step to realize our aspirations."
President Suresh, who noted that more than 1,200 students, faculty, staff and alumni participated in more than 100 committee and town hall meetings, called the interactive web-based plan dynamic, creative, thoughtful, pragmatic, ambitious and very distinctive.
"The 2025 plan is a product of your dedicated work. It has CMU culture and CMU DNA all over it," he said.
Suresh specifically thanked Rick Siger, director of Strategic Initiatives and Engagement, for leading the development of the plan. He commended Siger for his leadership and diligence in guiding the effort over the past 12 months.
Siger deflected the praise.
"Enormous thanks are due to the more than 150 individuals who have served as committee members, to the more than 1,200 people that attended town hall meetings, and to countless other members of CMU's global community who offered thoughtful input to the strategic planning process this past year," Siger said.
The plan's 12 goals and 24 strategic recommendations are focused on the connections between the individual experience, the university community and societal impact.
For the individual experience, the university is committed to cultivating an active, technology-enhanced, "know how to learn" environment in which each individual can grow and thrive.
For the university community, CMU will continue to focus on attracting a diverse and inclusive community willing to cross academic boundaries in a culture where innovation, entrepreneurial thinking, and action are valued and fostered.
For societal impact, CMU will expand its leadership in knowledge creation for the 21st century and continue to pursue strategic partnerships focused on solving societal challenges.
Goals for the individual experience are: Deep Disciplinary Knowledge; Leadership, Communication and Interpersonal Skills; Knowing How to Learn; and Personal Development, including physical and emotional health and well-being.
Goals for the university community are: A Diverse and Inclusive Community; A Concentration of World-Class Talent; A Culture of Interdisciplinary Approaches to Problem-Solving; An Interconnected Network for Research and Creativity; and A Destination of Choice for Innovation and Entrepreneurship.
Goals for societal impact are: Leadership in Research and Creativity; Regional Impact; and Engaging and Impacting the Global Community.
"Each goal has very specific, concrete action items, and each strategic recommendation supports several goals," said Siger, who noted that many university plans are not as detailed.
Siger said existing measures and new metrics will be established to track progress on the website. Senior leadership will meet annually to evaluate progress, and implementation efforts will seek to engage the entire CMU community.
"Each of us must now work to make these aspirations real, to hold ourselves accountable for our parts of this dynamic plan, and to embrace our individual and collective responsibility to the university," said President Suresh in an email to the university community.
"These are not additional tasks or extraneous duties. This is intrinsic to the way we conduct our work and life every day. The success of the plan will require a commitment from the university community to work together to implement the plan, and to help make this aspirational vision a reality," he said.
Visit the Strategic Plan 2025 website at http://www.cmu.edu/strategic-plan/
The photo above was taken during one of the strategic plan town hall meetings this fall.