November 12, 2015
A Hunger To Serve
By Abby Simmons / 412-268-4290 / abbysimmons@cmu.edu
Partners Allied in Civic Engagement (PACE) hoped to recruit 400 volunteers as it led CMU in becoming the first university to host a Stop Hunger Now meal-packaging event in partnership with The Kraft Heinz Company.
When registrations surpassed 700 a week prior to the event, leaders of the student-staff initiative knew they had found a cause that resonated with the university community's commitment to addressing and solving real-world problems.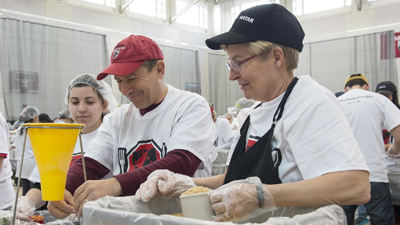 "Students are eager to participate in large-scale events because they create a sense of momentum and purpose," said PACE's Educational Programming Chair Mikaela Wolf-Sorokin, a sophomore in the Dietrich College of Humanities and Social Sciences.
Students, faculty, staff, alumni and their families, including children as young as 4, packaged more than 125,000 meals in two hours on Saturday, Nov. 7. As volunteers danced and sang along assembly lines in the Cohon University Center, a loud gong crashed and clanged in celebration of every 12,000 meals packaged.
Pascal Petter, director of Dining Services, volunteered with his wife, Heather Stupak-Petter, a 1997 graduate of the Dietrich College, and children, Naia (12), Eli (8) and Ali (6).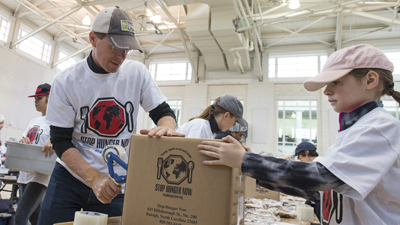 "We truly saw the Stop Hunger Now food-packaging event as an opportunity to teach our kids that even a small amount of time and effort can make a large impact," Petter said.
Steven Guenther's children had helped to make bagged lunches for a local homeless shelter with their church just prior to the CMU event. When the scale of their next service experience came up at the dinner table, his daughter wondered how volunteers could make so many peanut butter and jelly sandwiches in two hours.
"That question generated some giggles and a trip to the Stop Hunger Now website, where we all learned about the challenge of world hunger and what this great organization is doing," said Guenther, director of Facility Operations.
According to Stop Hunger Now, which has provided food, essential aid and disaster relief to individuals in 71 countries, approximately 795 million people in the world are chronically malnourished.
PACE chooses a theme for its educational and service programs each year, and this year's focus on world hunger made the partnership with Kraft Heinz and Stop Hunger Now a natural fit. Elizabeth Vaughan, director of Student Activities, and Kristine Kengor, housefellow for The Residence on Fifth and coordinator of residential service learning, are PACE's staff representatives and support a steering committee of seven students.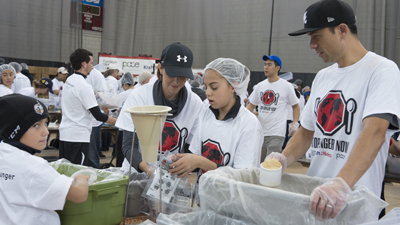 "Elements of food insecurity touch upon a wide range of academic disciplines," Vaughan said. "We are able to engage conversations around the complex causes and repercussions of food insecurity, including climate change, fair labor practices, food waste, power imbalances that control agricultural and food practices, and preventable deaths related to malnutrition."
As a global food company, Kraft Heinz has embraced Stop Hunger Now as part of its signature corporate social responsibility program. Each dehydrated Stop Hunger Now meal is comprised of rice, soy, vegetables and a micronutrient packet developed by Kraft Heinz food scientists and donated through the company's Micronutrient Campaign. The packet, known as the "heart of the meal," includes 19 essential vitamins and minerals, which are mixed into the rest of the ingredients after they are cooked.
"Our employees have been involved with meal-packaging, and we wanted to expand this with a community partner to inspire more people to get involved with the cause. We know that college students are eager to address social change, and many of our employees went to CMU," said Jenece Upton, Kraft Heinz manager of Corporate Affairs. "We hope to engage more colleges and universities in this program in the future."
In addition to the meal-packaging event, PACE has hosted discussions with Pittsburgh nonprofits, such as Just Harvest, and is collecting donations for Thanksgiving meals for area families.
CMU's annual Staff Council Food Drive runs through Monday, Nov. 16. Now in its 22nd year, the campus community has donated more than 300,000 meals to the Greater Pittsburgh Community Food Bank.
Top Photo: Greg Billy, director of Campus Services, and Pattye Stragar, operations manager for Fitness and Aquatics.
Middle Photo: Steve Guenther, director of Facilities Operations, and his daughter.
Above Photo: Pascal Petter, director of Dining, and his family.