November 20, 2015
Picking Up the Pace
"NoWait" Entrepreneur To Speed Up Startups
By Kelly Saavedra / ksaavedra@cmu.edu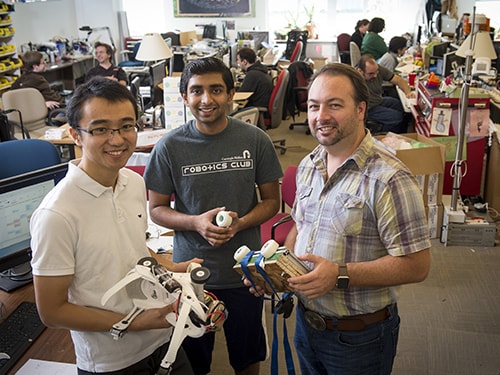 Robb Myer was just a guy waiting in line at a San Francisco restaurant when the idea occurred to him: an app that lets you get on a restaurant's waitlist — or choose not to — before you even arrive.
"I wanted to know what was happening at the restaurant without having to go their first," said Myer, a 2006 graduate of the Tepper School of Business.
His NoWait app allows walk-in guests the freedom to leave and get notified by text when their table is ready. And it enables users to get on the list to be seated before they arrive, allowing them to avoid the wait all together.
From humble beginnings in its hometown of Pittsburgh, NoWait is now in the hands of diners and restaurant owners across the U.S. and in Canada, including a slew of popular chains such as Buffalo Wild Wings, Chili's and T.G.I. Friday's.
Todd Sapet, managing partner of Texas Roadhouse in Monaca, Pa., is one of many restaurant operators praising the app's ability to improve bottom-line earnings.
"NoWait seats guests faster, so we can serve more guests," Sapet said.
Given the success of NoWait, it's no wonder CMU looked to Myer when the university sought experienced entrepreneurs-in-residence to help guide students with their startup ideas.
The new role was launched by the Center for Innovation and Entrepreneurship, and Myer said he is thrilled to be among the first tapped to participate.  
"I'll be working with a variety of teams across campus looking to get real-world start-up advice. I will also be holding bi-weekly office hours at Project Olympus," he said.
Among his first advisees are computer science student Xunjie Zhang and engineering student Anand Kapadia, who want to build a business around Nimbus, intelligent electric shoes that double a pedestrian's walking speed.
Nimbus is their answer to reducing commute time, a major pain point for today's workforce.
"The average American commuter spends over half of their time walking to and from mass transit stops during their commute," Zhang said.     
Zhang points out that existing solutions in this space have limited uptake due to the inconvenience and skill required.
"Bikes require risky travel in the street and are too large to bring on most mass transit or cars. The Segway doesn't fit well on sidewalks and also is too large to bring on mass transit or cars, and is too expensive.
Skateboards and rollerblades — powered and not — are difficult to learn, somewhat unsafe, and can't be used on high-density sidewalks," he said.
Myer called Nimbus "an amazing combination of technology, innovation and design that approaches a common problem in a new way," and said his role is to help Zhang and Kapadia think though all the aspects of starting and building a business.
"In this case," he said, "we are starting with identifying a target market and building the right team."     
For Myer, the enjoyment of his work comes from creating a new product or service experience that improves the lives of those who use it.
"The customer experience," he said, "is what wins today."
Pictured above: Computer science student Xunjie Zhang (left) and engineering student Anand Kapadia get advice from Entrepreneur-in-Residence Robb Myer (right) on building a business around their electronic shoe, which can speed up the wearer's gait. Photo by Tim Kaulen